Meeting Agenda Template: Effectively Organize and Execute Meetings
Maria Kharlantseva, November 21, 2023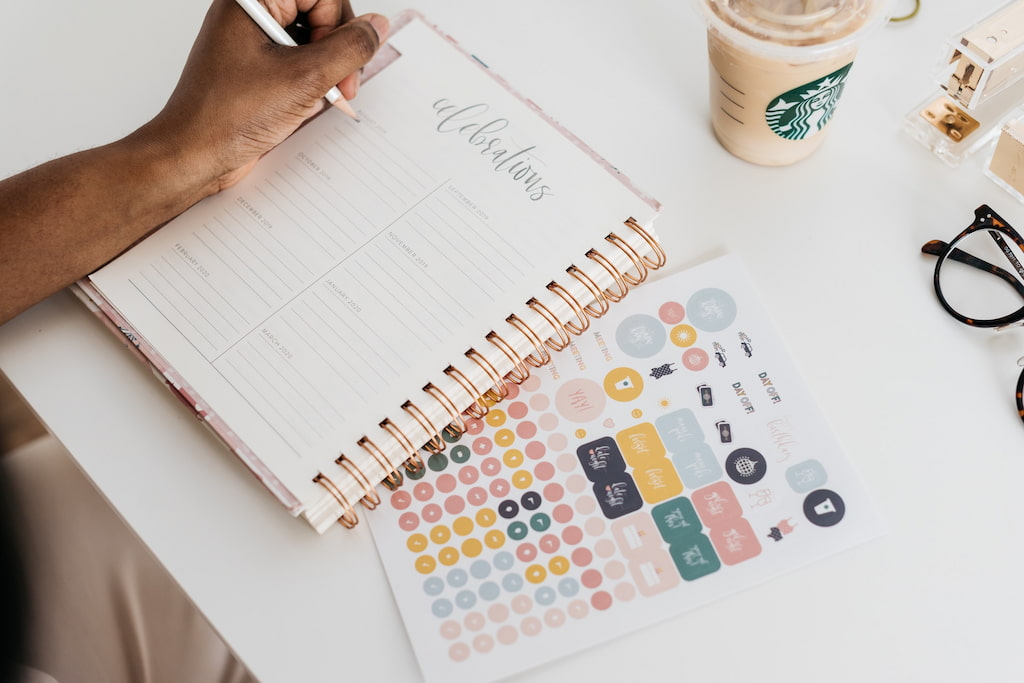 In a time where employers are fast-moving from individual-based tasks and projects to groups and teams, it takes more than a couple of systems to organize meaningful meetings. Meetings provide a means to chat about a way forward, discuss vital information, and generally update your team. However, participants in such meetings can be painfully unaware of the purpose of the meeting or the proper conduct of virtual meetings.
With a clear meeting template agenda, your team can set what to expect before, during, and after the meeting. This will help you avoid social loafing and having participants with no incline of the meeting agenda.
In this article, you'll learn why these templates are important, how to write one, and 16 options you can explore for your team and organization. Read on!
Why Use a Meeting Agenda Template
When a meeting is called, every participant eagerly anticipates some form of information or laid out agenda they can follow. Sitting through such a meeting without a plan or agenda keeps everyone in the dark, and even second-guessing themselves. You can avoid all that with an agenda for the team meeting template. Here are significant reasons why you should use a meeting agenda template:
It allows your team to plan and set the tone for the meeting and its topic. This ensures that everyone is reading from the same script. It also contains action items and activities to guide the team through the meeting.
It helps your team stay on course to achieve the objectives. Participants will not deviate from the goals, thanks to a clear template.
An agenda template for meetings helps you define responsibilities. This is especially important in diverse and large workplaces where individuals are assigned roles.
The template is built around your team and its capabilities, ensuring the template you pick fits your team, and what it was set up to achieve. Whether you run a formal, semi-formal, or informal organization, rest assured that a meeting agenda template will contain parts unique to your team's needs.
It provides a standardized format and essential items you can use from one meeting to the next. With this sense of consistency, important topics are discussed promptly.
Having a well-structured meeting agenda format template can enhance the efficiency of meetings and assist participants in remaining on task. A concise agenda also helps you maintain focused discussions and guarantees that all important information is addressed within the given timeframe.
---
How to Write a Team Meeting Agenda Template
Whether it's a paid or free agenda template for a meeting, you still have to figure out the steps to take when writing one. Apply the following steps.
✍️ Set the meeting type
There are several meeting types you can establish. However, it's even more essential to inform your team about the type you've chosen. For example, it could be an executive or regular meeting. The point is to keep your team members in the loop about the type of meeting they're attending.
It's not ideal to have them attend a regular meeting with a whole new agenda they were unprepared for. You can avoid such scenarios by ensuring your entire team knows the meeting type to expect. An agenda for meeting template can be any of the following or more:
Team meeting
Scrum meeting
Board meeting
Brainstorming meeting
Feedback meeting
Onboarding meeting
Committee meeting
Project meeting
🤔 Outline the objectives of the meeting
Calling for a meeting is one thing. Why have you called it? What are the objectives of the meeting?
For example, providing an update on an ongoing project and assessing team performance are clear objectives of a meeting.
When the objectives of a meeting are clearly outlined, your team knows what to expect and prepares accordingly. Certain objectives determine whether your team comes with working tools, reports, their favorite mugs for coffee, or whatever the scenario demands.
📙 Identify specific meeting topics
Your agenda meeting template needs specific topics tailored around the objectives. At different points of the meeting, you can include discussion topics you want your team to cover.
Topics help you stick to the goals of the meeting and get everyone involved in the session. The meetings are also more engaging when you introduce topics affecting everyone present, allowing participants to form part of the discourse.
⏰ Allocate time to each topic
A template meeting agenda must consider the time to be spent on discussions. Even if you plan to use all day for a meeting, some topics are more important than others, meaning they deserve more minutes. Further, meetings have the potential to derail from the focus. If you want a productive time with your team, make the clock your friend.
Each topic gets a time allocation wrapped around the whole time set for the meeting. If you're meeting for an hour, you won't end up going beyond this time, and each topic stays within its limit. You can also try a consent agenda to save time during meetings. It helps you to group recurring discussion topics into one agenda item and mark it.
📃 Add a list of necessary documents
Some documents are necessary for the meeting process, so it's best to consider them in the team meeting agenda template. Sharing documents also makes the meeting more productive and provides context, especially when projects are part of the discussions.
Further, including a list of documents sets the right context for participants in the meeting. This helps them to effectively contribute to the discussion.
---
Example of an Agenda
Now that you know how to write a meeting agenda template, an example of an agenda helps you to understand how to apply one in your organization. Here's a simple example you can always reference.
IT Project Team Meeting

Date: 04/08/23
Time: 08:30 am – 10:00 am
Meeting Participants: @Mr. Alex, @Mrs. Porter, @Mrs. Corban @Ms. Annie @Mr. Fred @Mr. Jude
Meeting's Purpose: Assess the ongoing IT project


Meeting Agenda:

1. Before the Meeting:
Meeting participants must review necessary documents linked to the IT project and its implementation.

2. Topics for Discussion:
– Introductions and brief pleasantries (5 min)
– Review documents and information related to the IT project (25 min, open to all participants)
– Discuss products and procedures to implement (15 min, Mr. Jude)
– Discuss previously executed and successful IT projects (10 min, @Mr. Fred)
– Present sample equipment and technology for IT (25 min, @Mrs. Corban)
– Exchange ideas and share suggestions for continuous installation of IT systems (10 min)

3. Action Items:
– Create a timeline for achieving results – @Mrs. Porter
– Share progress on installation – @Ms. Annie
– Make plans and schedule dates and times for the last meeting to finalize the project – @Mr. Alex
This example has the qualities of a proper meeting agenda. It will guide you towards making clear ones for your team.
---
16 Meeting Agenda Templates
If you're itching to create a meeting agenda for your organization and teams, below are 16 meeting agenda templates you can use for different circumstances.
1. All Hands team meeting agenda template by ClickUp
The all-hands meeting agenda template from ClickUp helps you to keep communication open across the company. It also ensures that everyone is aligned and up to speed with individual goals they have to meet, as well as group goals.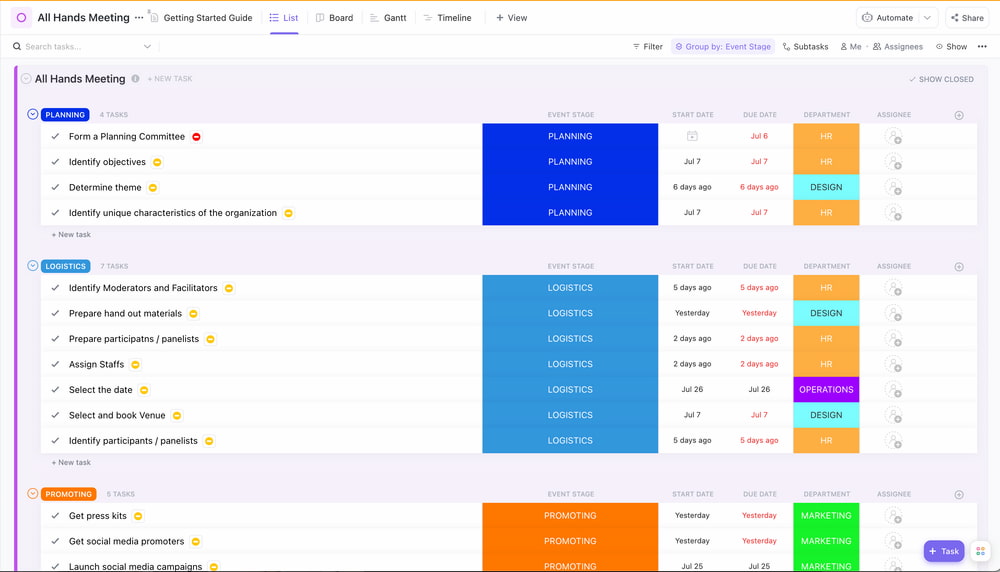 In addition, your team has enough room to share information, including updates, announcements, and more about future agendas. It's all designed to encourage alignment and collaboration throughout the team, with all hands on deck.
2. Printable team meeting agenda template by Microsoft Word
This meeting agenda free template is a printable option available on Microsoft Word and Google Docs. To use it, simply print out the template. There are a bunch of features and essential sections to capture your organization's needs. For example, the duration of the meeting, attendees or participants, agenda items, and more.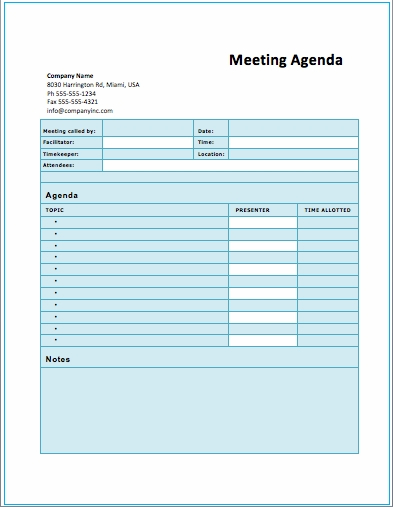 The printable meeting agenda template comes with a space to provide information on virtual meetings. That means you have access to features such as a call-in number, a call-in code, and an online meeting link.
3. Team meeting agenda template by Microsoft Excel
The meeting agenda template in Excel can be accessed also via Microsoft Word, PowerPoint, and Google Docs platforms. You can create your team meeting agenda with this seamless template.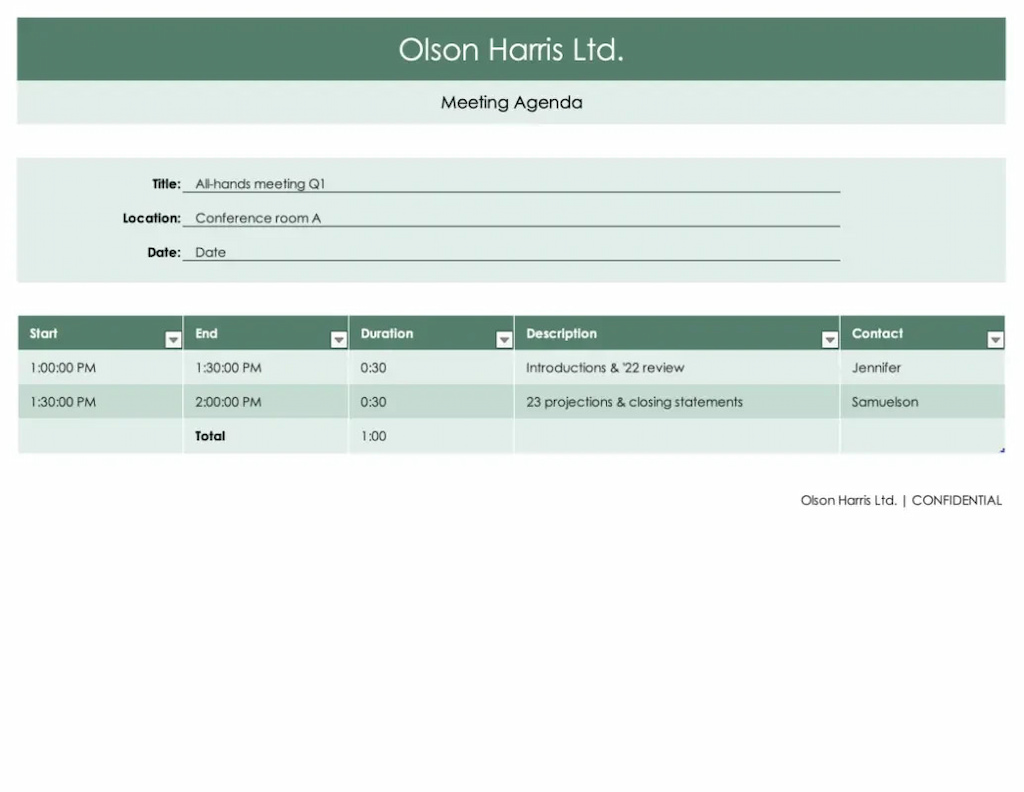 This template also notes the presenters and the duration of time for each item. Also, the item subheadings provide a guide to keep your meeting moving as planned, while team members are well-informed about the meeting goals.
Overall, this Excel meeting agenda template is a vast improvement on regular agenda templates, and beats using your hands.
4. Weekly meeting agenda template by Status Net
A weekly meeting is often conducted to address recurring problems or issues which are tabled before team members that possess shared knowledge and experiences. For a smooth and efficient process, a weekly meeting agenda template word will come in handy. You can use it to monitor your organization's key performance indicators and to remind each team member of their responsibilities towards achieving team goals.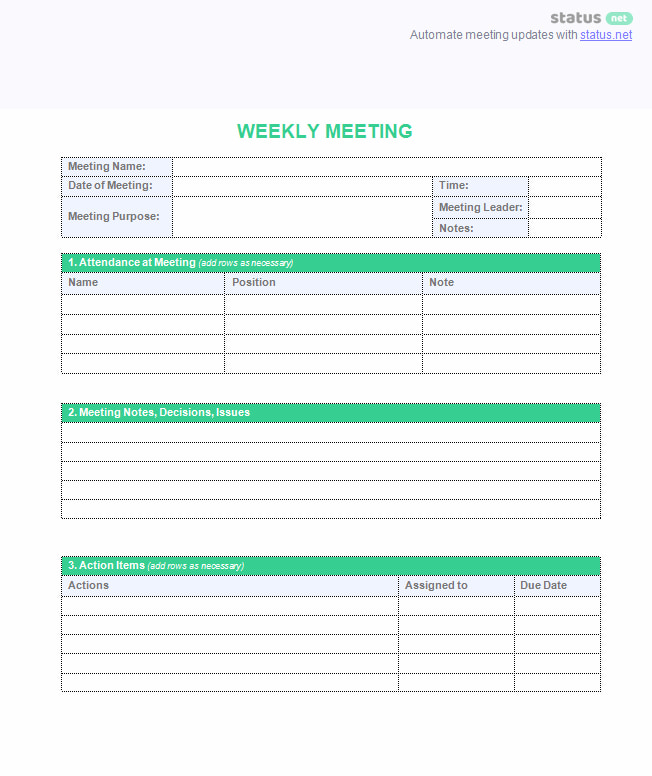 Reviews and feedback from members and customers naturally form part of the process. When people with common vision and goals come together to discuss areas of mutual concern, it leads to many possibilities and positive results.
5. Peer one-on-one meeting template by Airgram
The peer one-on-one meeting is an effective way to improve communications throughout the organization. Thankfully, Airgram has put together this peer one-on-one meeting template, boosting teamwork and collaboration across teams and in your organization.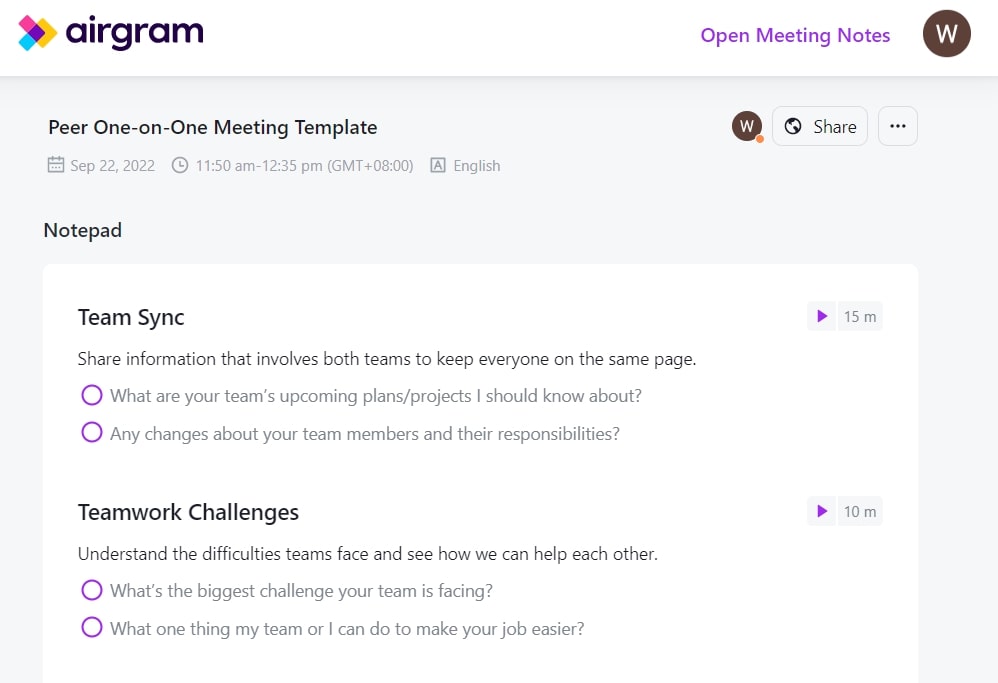 Internal communication is a crucial part of any company, and this template encourages that and team alignment. This free meeting agenda template will also help to facilitate conversations and includes every necessary talking point.
6. Board meeting agenda template by Template Lab
With a board meeting agenda template from Template Lab, you can schedule your next board meeting to stay on track and finish on time. Board meetings are fundamental parts of any organization where leaders get to meet and make decisions to drive the organization forward. A meeting template keeps things formal and well-planned.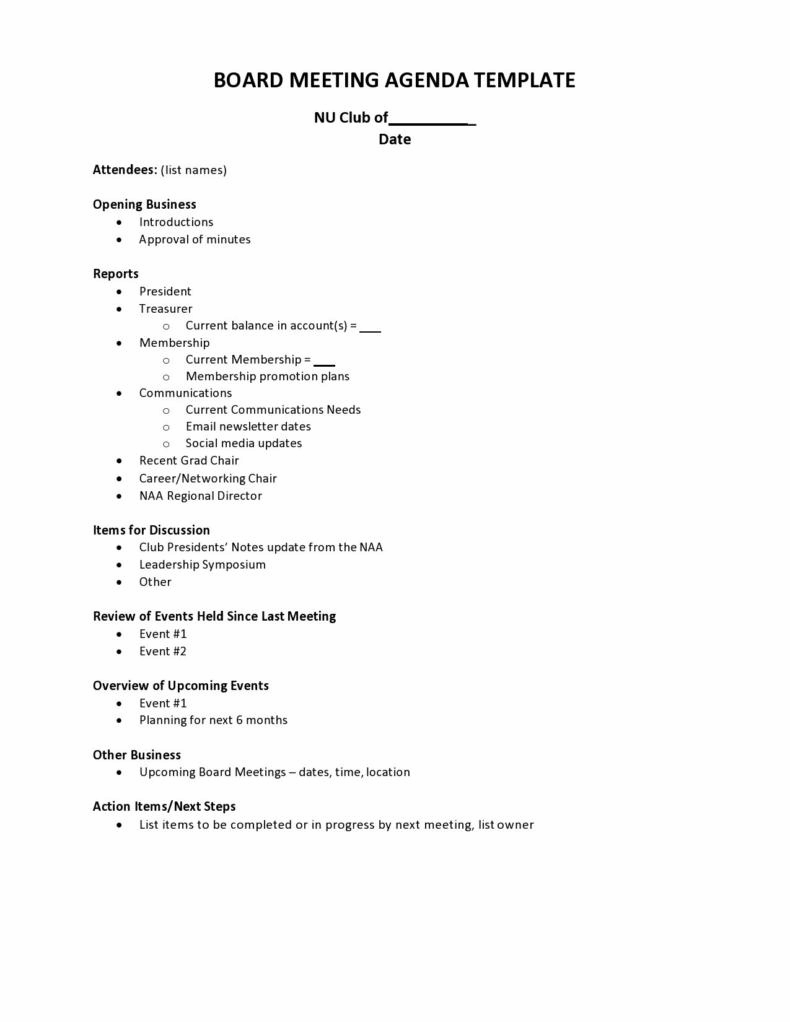 7. Staff meeting agenda template by Microsoft
Microsoft Word and Google Docs are two platforms for this template, which comes in handy to share important staff updates, announcements, and other related information. You can also get this staff meeting agenda template pdf that includes staff-specific agenda items, such as training, housekeeping, and administrative reviews.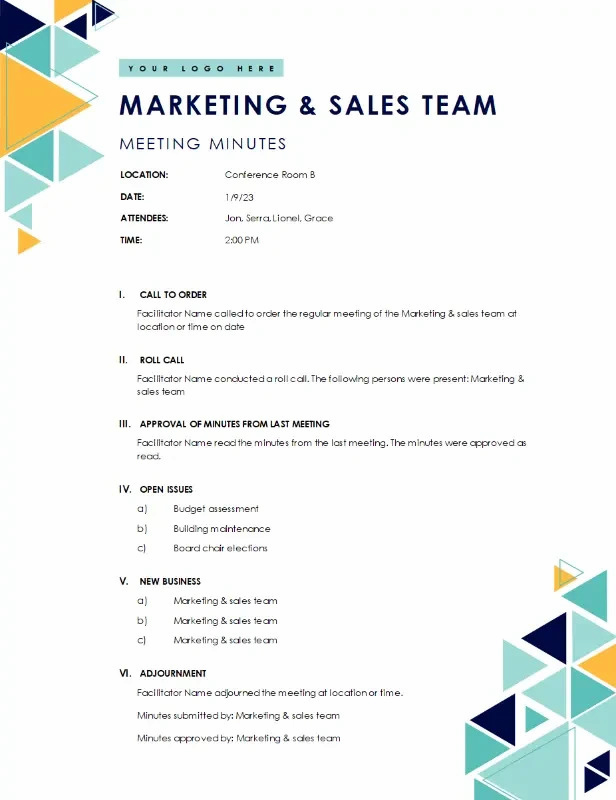 It carries a breakdown of agenda items and presenter information. This way, you can keep meetings on track. What's more, this editable staff meeting agenda template is free and accessible to all kinds of companies.
8. Brainstorm meeting agenda template by Fellow.app
The Brainstorm meeting agenda template is a creative way to get your team involved and push for the progress of your business. Some meetings need intellectual input from participants. However, you must explore the best ways to keep the meetings on track whenever they're held. You can do that with this template, as it makes it easy to orchestrate your meeting and stay focused on brainstorming.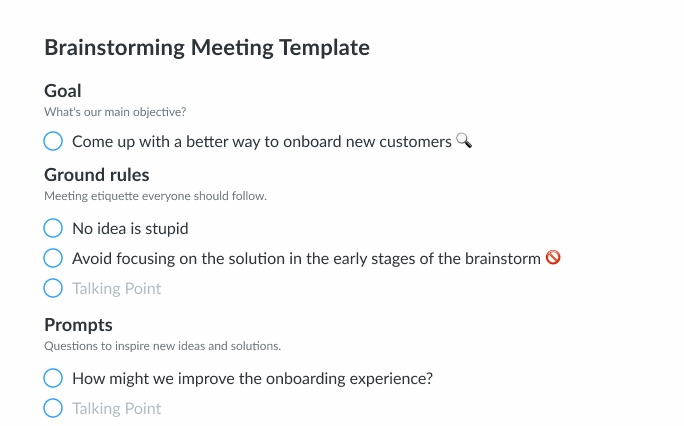 The Brainstorming template from Fellow.app helps you and everyone else understand the key objectives and goals of the meetings.
9. Project management meeting agenda template by Hypercontext
This meeting agenda template gives you a chance to highlight objectives and deadlines for your team project. You can also understand your team, find the right collaboration tools, and micromanage aspects of your meeting with great success.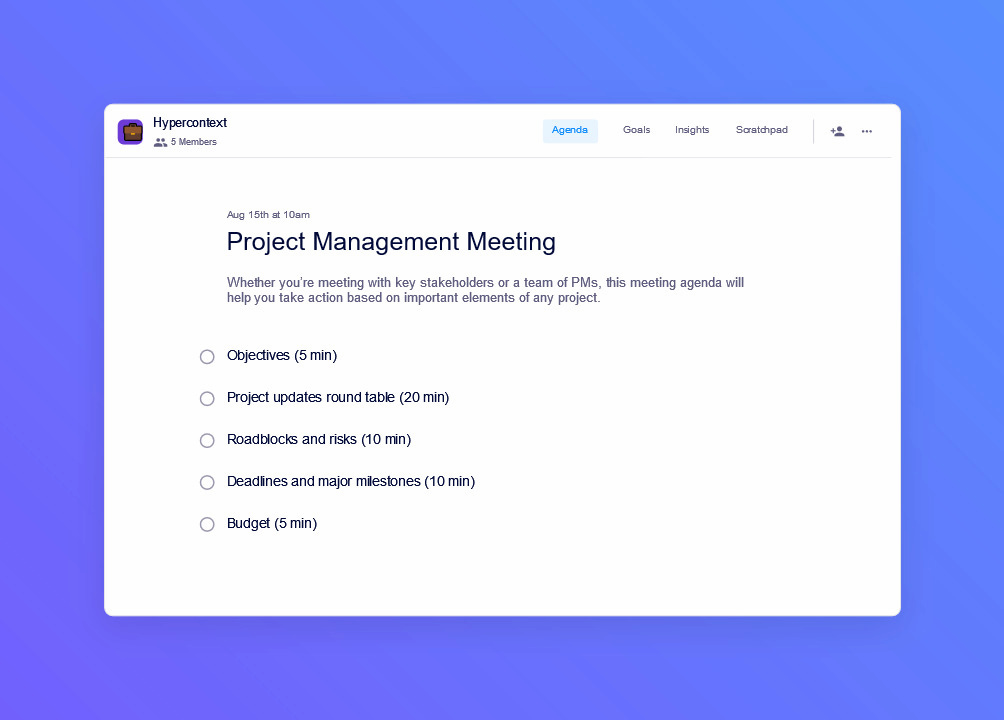 10. Remote one-on-one meeting by Hypercontext
A lot gets done in the office but remote meetings will continue to be a mainstay in present times. Considering some circumstances, many organizations hold remote meetings. For remote one-on-one, there are some small changes you can make to your office meeting agenda template to make a difference. One of them is extending your meeting time to more hours, and allocating more time for rapport building.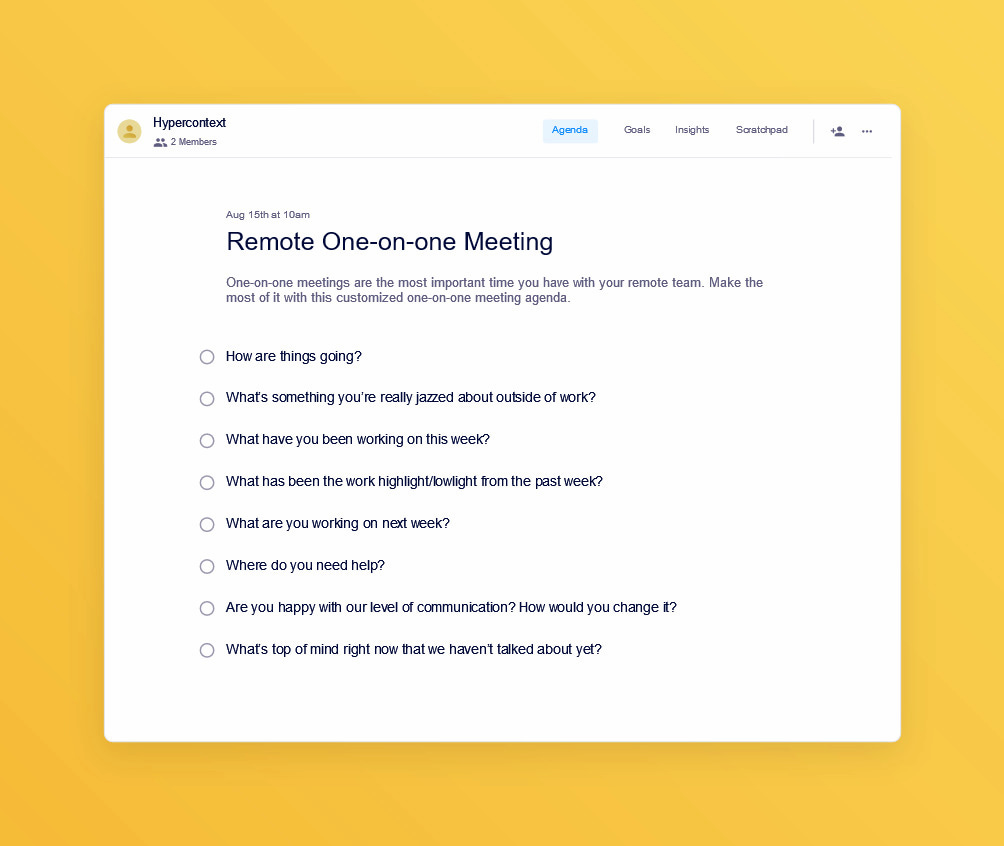 This agenda template by Hypercontext lets you use a shared online agenda that you and other team members can easily access and track, especially remotely.
11. Project status meeting by Project Templates Guru
Consider this template by Templates Guru as a way to 'check in' on any project you're running. You can call a meeting to understand the current state of your ongoing project, celebrate wins, address challenges, and find deficiencies.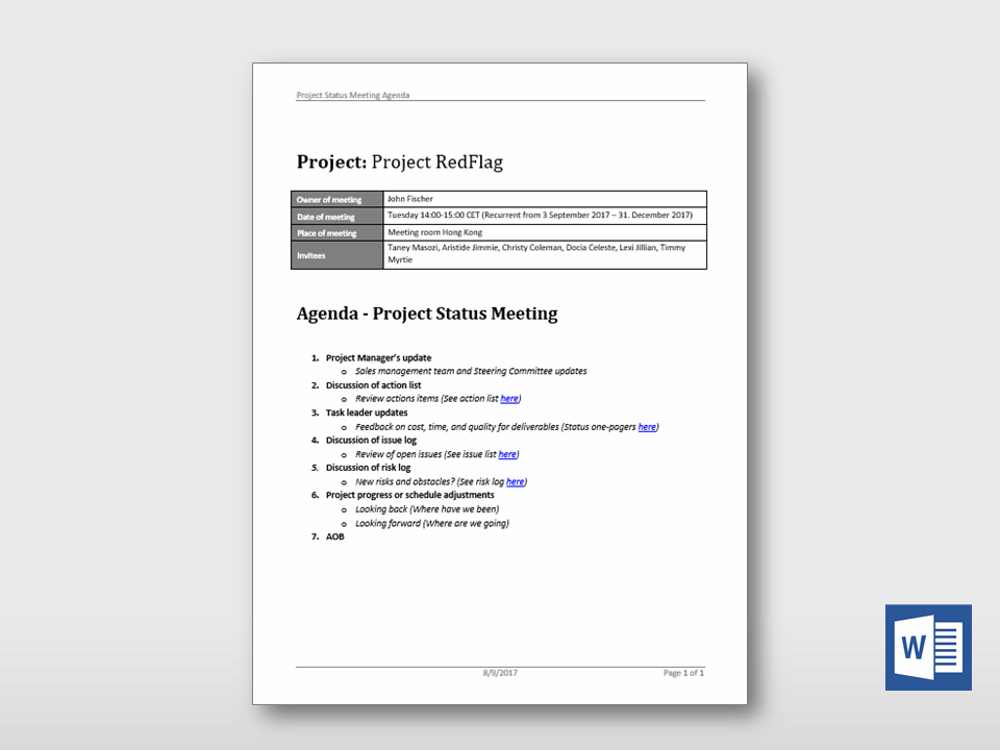 In addition, this template builds team confidence to go ahead and achieve more. When you know the current state of your project, you can prepare for the upcoming parts and have your team working in the same direction.
12. First team meeting template (New Managers)
The first team meeting agenda template pdf helps you plan for a meeting with your new team. To this end, the template can help you achieve some goals, including the following: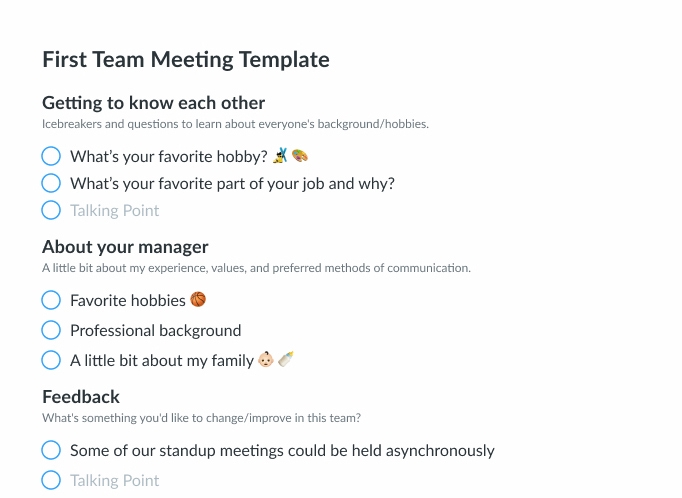 Make a strong first impression on your team
Establish some measure of trust and respect
Communication and rapport
Outlining expectations for the short and long-term
The template is often short and a bit casual, with the major focus on getting to know your team and listening to them.
13. Performance review meeting template by Plai.team
The performance review meeting template from Plai.team includes prompts and questions to run an effective and meaningful employee review. It's ideal for any level of the corporate ladder and includes space for notes on past reviews. Also, you can use it to provide feedback to your team members.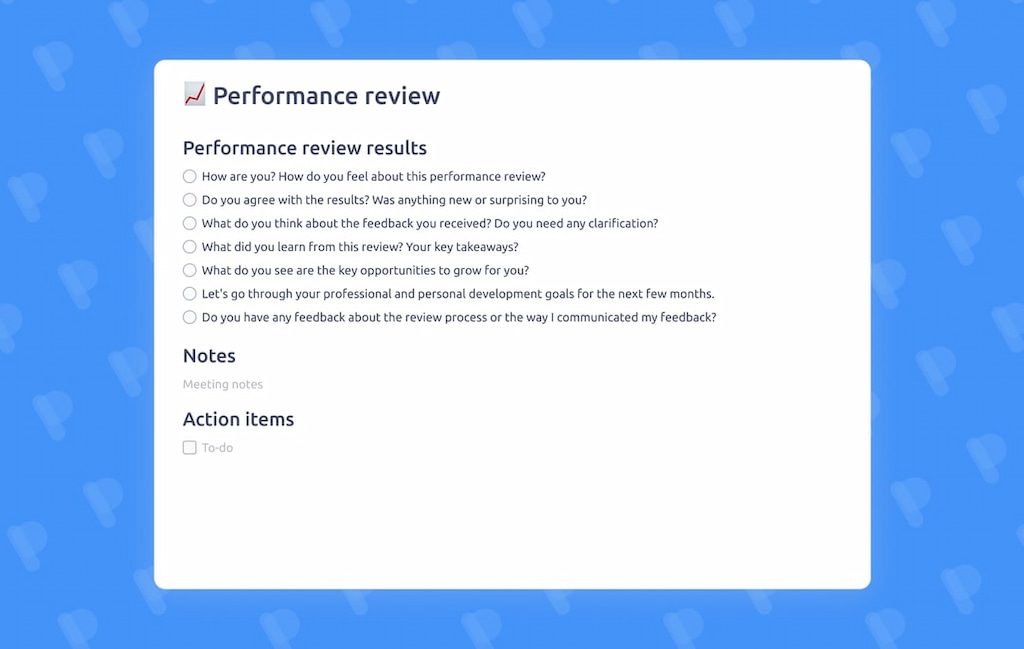 Preparation is key to the success of a performance review meeting. Some things to help you prepare for a performance review meeting include the following:
Collect data on the employee's performance for a specific period, such as performance metrics, completed projects, and even feedback from colleagues and customers.
Previous performance records of your employees and how they achieved different goals.
14. Executive team meeting agenda by Hugo Team
The executive teams meeting agenda template created by Hugo Team gives you an edge to prepare for your next executive meeting. Executives are core parts of any company, and this group often meets in the interest of the employees and the company.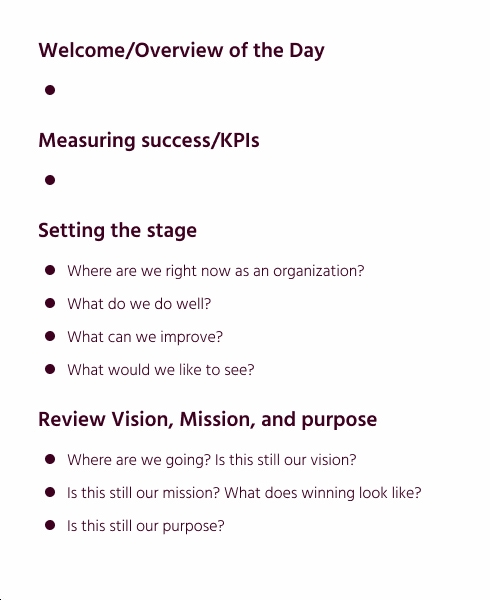 Executive meetings are mainly formal, so it's best to use a template to set the right tone and standards for the meeting. With clear topics, items, and presenters, it's easy for the participants to review performance, raise and resolve issues, and discuss new organizational plans.
15. Meeting minutes template by ClickUp
The meeting minutes template by ClickUp helps you create the perfect outline for a successful meeting summation. Oftentimes, emphasis is placed on the meeting itself. However, a record of activities during the meeting is just as important.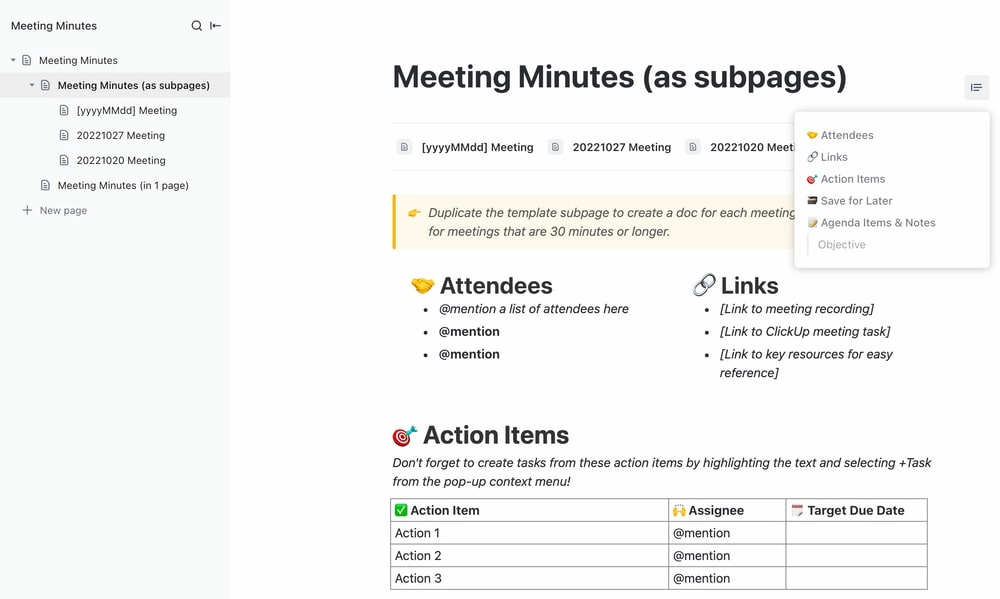 This meeting minutes template comes with pre-designed pages for organizing individual meeting notes, and other details to help you get the most out of your meeting. Some things you must consider for your meeting minutes template include the following:
Date and time of the meeting
Names of the participants
Agenda items and topics discussed
Action items
16. Daily scrum meeting agenda template by Fellow.app
Daily scrum meeting presents the opportunity for team members to report their progress. Using the information provided, it's easy to measure the overall level of progress toward the sprint goal.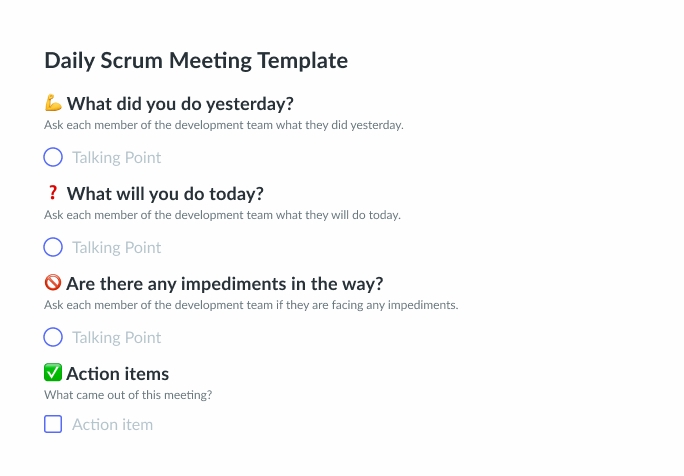 The template sets the tone for daily check-ins with your team members. This way, team members can synchronize the work they did the previous day and what they plan on accomplishing with their day. It's mostly described as a modern meeting agenda template because it fits various scenarios, including remote meetings.
During the meetings, topics or action items on your template can include the following:
Blockers that prevent a team member from getting a job done
What was done yesterday
The plan for the present day
How to hit sprint goals
---
Conclusion
With a working and efficient meeting agenda template, you can handle any kind of meeting without hitches. The templates come in different formats, including a meeting agenda Excel template. They are all designed to make team collaboration and communication easy and smooth. This way, your team can focus on tasks that improve their creativity and productivity. The meeting template agenda carries necessary information, gives the participants direction, and ensures the meeting goes as planned.
With any of the templates, you can add a tool like Everhour into the mix. Everhour provides a means to track meeting hours and run effective integrations. Further, most meetings need reports to track progress. Everhour is a leading platform you can use to create reports your team can reference in subsequent meetings.