What is the most important thing to have for any SaaS startup? It's definitely venture capital users. If there are no customers, the whole point of starting a company is lost. Unless of course, it's only the idea itself that matters to you.
At a certain stage of development, most businesses begin to get consistent organic traffic. It's that moment when you no longer work for a reputation, but the reputation starts working for you: niche sites and blogs regularly review or feature your product and the word of mouth gets unstoppable.
However, as the time machine hasn't been invented, you can't obviously just jump right into this heavenly stage. So what to do when you've got a newborn startup on your hands that is known only among your own team and their friends and family? How do you pave your way to sustainable growth?
Unfortunately, I can't give you a simple answer and offer a panacea solution that works in 100% of cases. And I doubt anyone can do that. What I'm going to do is to share our own experience at Everhour, describe what we've tried lately, and tell if these promotion tactics have been a boon or a bane.
The majority of first-time IT entrepreneurs believe that the key to success is getting publications on such media giants as TechCrunch or Mashable. They think that once the story is there, nothing can stop their startup from having it all.
First of all, the chances that they will write about you are not so high, let's be realistic. They get dozens of thousands of emails daily and reject how much, like ninety-something percent of them? We've also made several attempts to reach out to editors, and those emails are still waiting to be replied to. We're not going to harass reporters with any more letters, I guess when the time comes, the news will appear on their own.
Secondly, getting mentioned on a top-rated resource is not equal to long-term success. Yes, you'll have a surge of visits on your page, but no, this temporary boost won't necessarily lead to skyrocketing conversion rates. And on the whole, traffic acquisition from the press, blogs, and social channels doesn't guarantee either uses activation (signing up for your service) or retention or revenue.
Speaking about roads to success, Paul Graham describes a startup life through the following curve: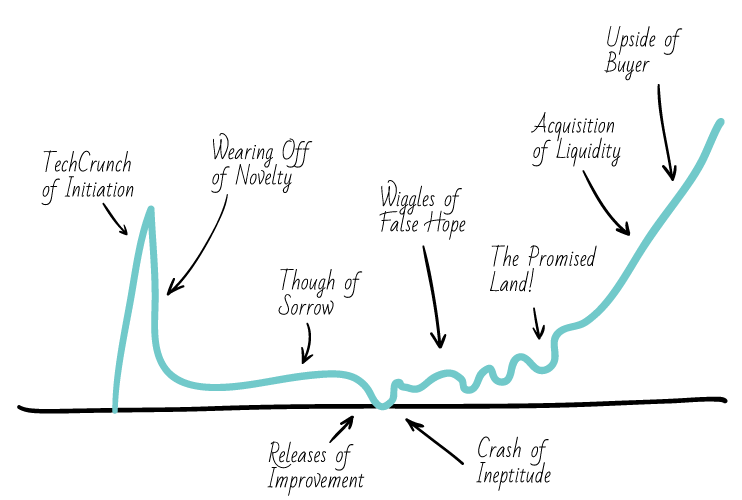 The graph illustrates hot initial growth might be followed by a plunge. In the ideal world, a growth curve will look like the pink one below, however, in reality, it's similar to the green line: systematic development involving lots of hard work, trial and error, analysis.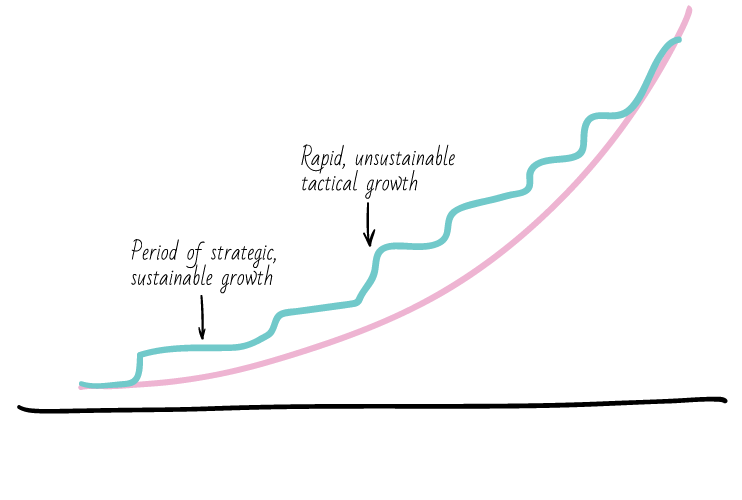 One thing I know for sure – you need to experiment with different tactics and approaches to come up with a perfect balance. Below I'm revealing what kind of promotion we've been up to for the last month.
Reviews
One of our first activities was submitting Everhour to a number of blogs and sites reviewing startups or web apps.
Obviously, you come across both free and paid options. We've personally decided to pay 3-4 times and haven't actually been impressed with the results, to say the least. Honestly, we've received tons more traffic from free articles while the highest number of visits and conversion rates was from independent reviews we had nothing to do with.
However, we should still give credit to the paid blogs since it's very likely that thanks to them these "independent" traffic boosting articles have appeared.
In terms of reviews, I'd point out two things to keep in mind:
Reach out to blogs beforehand: it might be a few weeks till the article will eventually get published because of the number of submissions. For instance, we wanted to get a paid sponsored post on WebAppStorm and at the very last moment found out that the sponsorship option had been suspended which was quite frustrating.

Don't be shy to ask for site analytics: views, visits, uniques, etc. By seeing these stats, you'll be able to decide if a resource is worth spending money on.
Some of the sites we looked into boasted a pretty good Alexa rank but after we contacted the resource representatives for details, we saw that, for instance, the daily visitor figure was around 200. Which doesn't seem impressive at all when you're asked to pay $80 for posting an article.
Blogging
Blogging and guest posting are great free ways to attract visitors by generating quality content. We've witnessed how such companies as Mint, BufferApp, Groove have gained recognition and acquired a huge audience with their corporate blogs.
Though customers acquisition is vital, remember that your blog should not look like a pure marketing and promotion tool. Always take existing users and readers into account and share thoughts and plans regarding your product, give your opinion on topics that might be interesting for the blog readership to keep them engaged.
Advertising
I know some people have negative feelings about ads but they are a fast and in most cases, guaranteed-results way to gain traffic. It's a good thing to invest in before other promotion activities start bringing a non-stop user flow.
We've tested the waters with three popular options: Reddit, StumbleUpon, and Google Adwords.
I'd highly recommend that you set up quality analytics before proceeding with ads. By quality, I mean that you not only track the total number of visitors to your site but also see conversion rates (a number of signups, for example) for each traffic source, be it Adwords or Reddit. It'd also be great to track referral paths for every visitor you get so that afterward you will be able to make a deeper analysis of churn rates, LTV, etc.
StumbleUpon
We got inspired to try the paid discovery on this site after coming across this success story and thought we'd enjoy the same magic results.
The campaign lasted for three weeks with the $50 budget for each week and we rotated ads for the app landing page and blog posts.
The results: 1,200 visits and an average CPV of 13¢. Unfortunately, of all the visitors only ~10 did sign up while the average visit duration was just 30 seconds.
Note: I'm not sure if it's us or the service, but we haven't managed to pay with VISA after trying to do it several times, so we had to use PayPal.
Reddit
Here is a case study that urged us to go with Reddit ads. We've tried displaying the ad both on the main page and in subreddits and limited the budget to $40.
The main page ad slots are available for almost every day BUT! here you pay per impressions and, given the number of Reddit visitors, you can imagine how much money you'll need.
Finding a free slot in subreddits is not as easy. We've chosen 5 or 6 of them relating to our app purpose but eventually managed to buy ads only in two since all the others weren't available for almost a year ahead. Besides, we had to wait for over a month for the ad to appear and got disappointed with a small number of available impressions.
The results: CPC of around 20¢, average visit duration of ~1.5 min, but only about 10 signups in the end.
Google Adwords
Google Adwords advertising is in fact not as complicated and expensive as many may think. We had already had experience in dealing with the service so we launched the campaign really quickly. Since our knowledge of the subject is quite comprehensive, we thought it'd be helpful to describe the whole setup process and share some tips & tricks in one of the next posts.
Here the budget turned out to be the biggest, so in total, we spent $500 in a month but we got 4 campaigns with a $40/day limit for the price.
The results: AdWords ads have been boasting the best figures so far, namely, CPC of 20¢, 2,300 visits, and over 100 signups.
Other ideas
Finally
Promotion and acquiring customers are important for startups, but make no mistake – the most sophisticated marketing strategies will just suck without a truly great product. So make sure you offer users a quality solution to their needs and have a crystal clear understanding of what your unique selling point is, since this is what your whole campaign will be based on – telling people why they should use exactly your product.
What has been your experience with startup marketing? What works best, in your opinion?