With the rise of social media and other online channels, some people have abandoned email marketing in favor of newer digital marketing strategies. But email marketing continues to be one of the simplest and most effective methods of marketing your business online. According to McKinsey, email is 40 times more effective at acquiring new customers than Facebook or Twitter, when done right.
There are a lot of things to take into account before you start your email marketing campaign.
Usually, you will need to decide who your target audience is. Your next step then would be coming up with a content strategy and scheduling your weekly or monthly newsletter items.
It's not an easy task, but it's definitely worth it. Email marketing might help boost lead generation and increase your conversion rates. Moreover, it is very targeted, measurable and it's an easy way to start reaching consumers without investing a lot in new technology or software.
On your way, however, you will need a few tools to help you get things done. So, let's see what are the best email marketing tools for you to use?
MailChimp
OK, MailChimp might be one of the most popular tools out there since it is good for both remote teams and small projects. MailChimp's user interface is really intuitive and super easy to use. And the functionality is excitingly powerful too.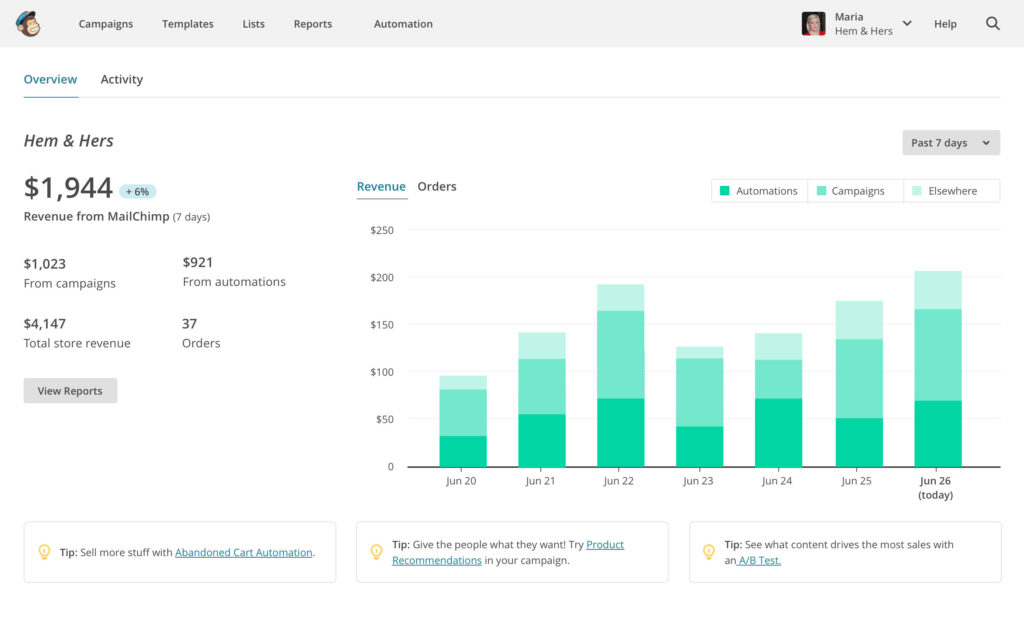 Below are a few facts you should know about MailChimp.
MailChimp is an easy and a down-to-earth tool. Even a total beginner can use it and build effective campaigns with the help of it. In addition, you can easily import and export any kind of list.
MailChimp is exceptional in the fact that it is the only email marketing tool that offers a completely free account. For the first few hundred contacts, you will enjoy MailChimp free of charge. It makes sense to start with them since it will allow you to learn, experiment with figuring out what works for you without costing you any money. Then, at a later date, if needed you can move to a more powerful or affordable service. MailChimp Pro is $199 per month.
Another benefit of MailChimp is that it allows a lot of integrations. There are hardly any services MailChimp cannot be connected to. For example, let's take WordPress, Hubspot, Facebook, Instapage etc. This list can go on and on and on.
Along with its advantages, MailChimp has got a few drawbacks too. For example, it forces users to first join your list by getting subscribed on your website, and then by confirming their email. MailChimp does this to make sure its email delivery servers are not spamming. However, a considerable number of subscribers might just skip double signing and might simply leave.
MailChimp newsletters are of course customizable but since a lot of marketers use them, they seem to look very similar to one another. If you want to really stand out with your newsletter design, maybe you should opt for another email marketing tool.
GetResponse
GetResponse just like MailChimp is good for small and mid-sized businesses. Unlike many other email marketing tools, the pricing of GetResponse remains affordable even for a growing number of contacts in your list. And just like MailChimp, GetResponse is intuitive and easy to use.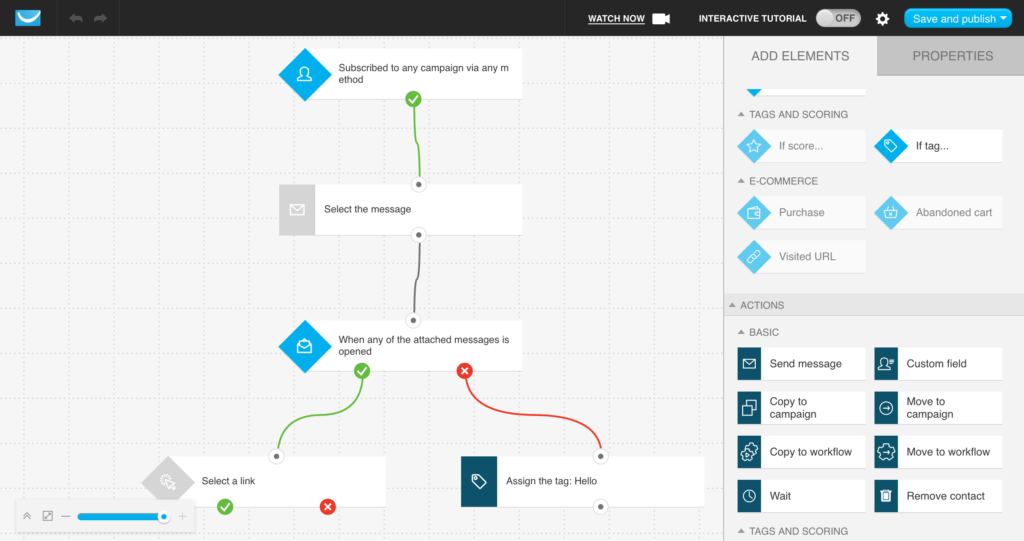 You can enjoy the variety of more than 500 nicely-designed email templates. They all make it really painless for beginners to come up with gorgeous newsletters and even autoresponders.
And again, just like MailChimp, GetResponse can be integrated with a lot of other tools and services like WordPress, Zendesk, Shopify, PayPal and many others.
"Which one is better, Getresponse or MailChimp?" you may ask. This is a tough question.
Using Getresponse might work out cheaper than MailChimp, particularly for larger lists. Getresponse offers far more email templates than MailChimp. Getresponse is a bit more flexible when it comes to form design.
On the other hand, MailChimp generally integrates better with a wider range of third-party tools. You can use web fonts out of the box and it provides translation functionality. Last but not least, it is free to start.
We would recommend that you try both services and choose the one that you like best.
ConvertKit
If you are a blogger or a media product marketer, then ConvertKit might be just for you. This tool has been designed with bloggers in mind. That's why it has got a range of tools to make it easy for writers and authors alike to build their contact lists and to promote their books or pieces of writing or whatever it is.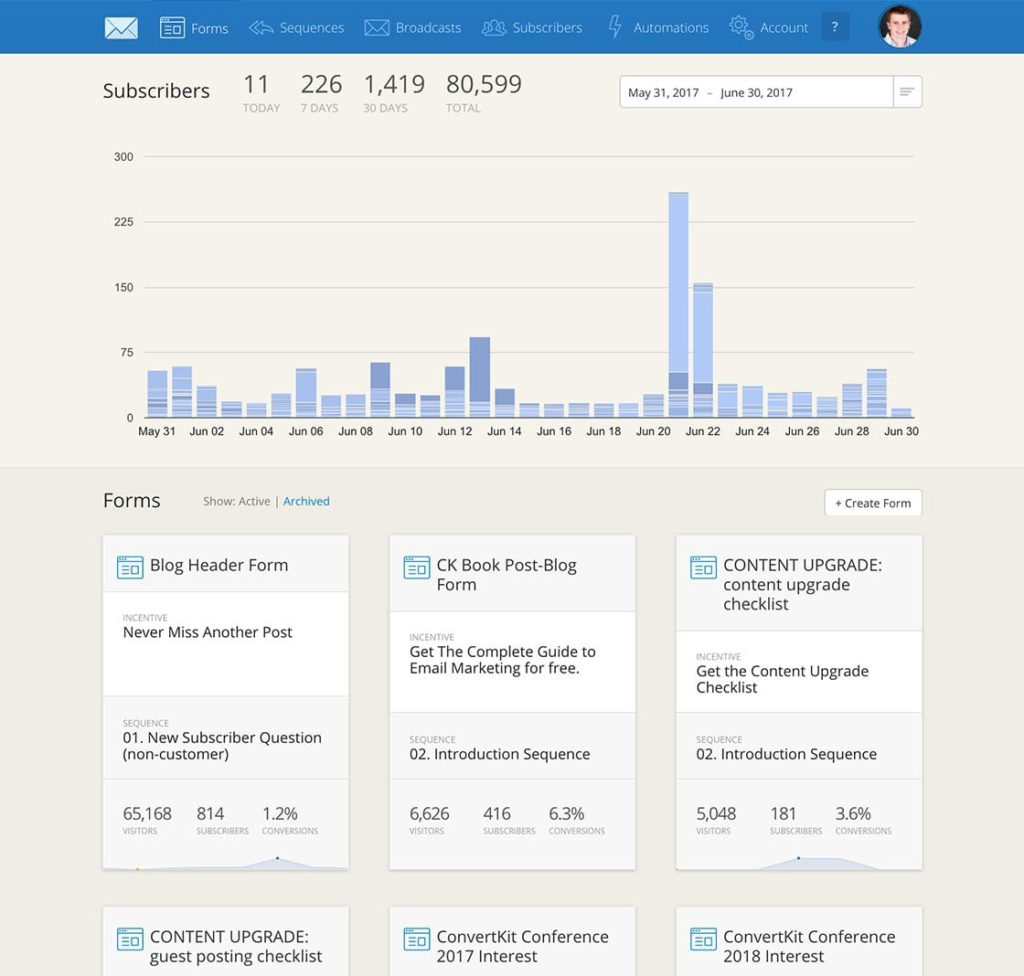 ConvertKit has got one really valuable feature: it helps build email campaigns for online courses. This is an awesome feature for media marketers, bloggers, and writers.
The functionality is powerful enough. However, the automation features are done just right too. It is easy to create segmented campaigns for different occasions and different marketing needs.
Also, this email marketing tool prides itself with a range of non-standard integration services. For example, BookLaunch is a tool that many bloggers and authors might use.
You can also tag and untag your subscribers. For example tag people who visit your sales page and then untag them if they buy. You cannot do it with MailChimp.
However, again, ConvertKit cannot be just perfect. Like any other email marketing tool, it comes with a few drawbacks which we cannot but introduce to you. One such drawback is that ConvertKit is quite expensive. If you have 3k-5k subscribers, you will have to pay $79 per month. But there is a reason for that – it does more.
Constant Contact
Are you a total beginner? If yes, then this email marketing tool is just for you! Constant Contact provides a personal coach for every user. However, most Millennials might find the user interface really outdated and the service of low-quality.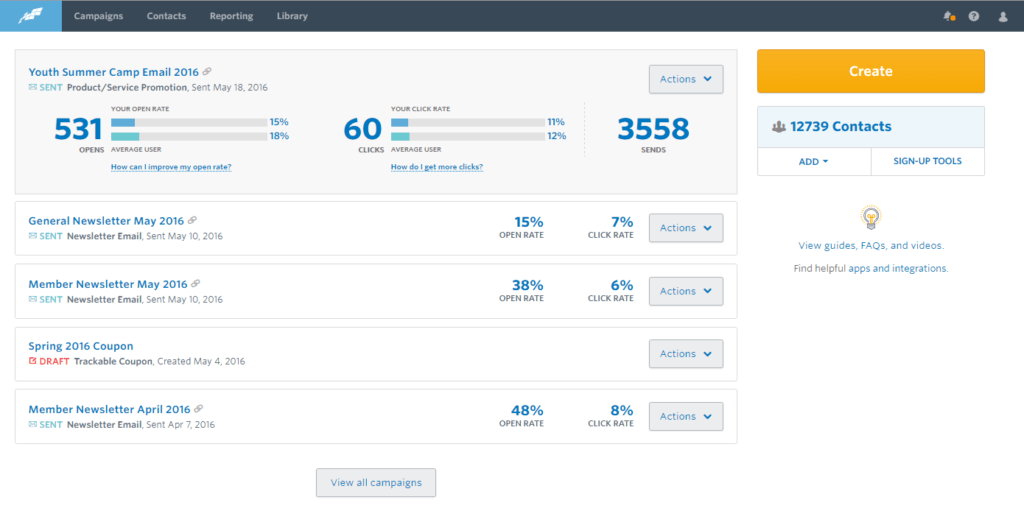 However, not even considering these drawbacks, Constant Contact is expensive. It charges $50 per month for 2,501-5,000 users. That's a lot, right?
But at the same time, this email marketing tool does offer a few interesting features that are worth mentioning.
As mentioned above, it's the marketing coach that is assigned to each customer. This can make using Constant Contract a really nice experience. If you are doing this all for the first time, then autoresponders and newsletter can be quite hard to configure. So, maybe this is what makes Constant Contract such a valuable tool for many beginners.
In terms of features available, MailChimp might work better for eCommerce companies, while Constant Contact works for companies hoping to integrate their social media and email marketing.
MailChimp has built in A/B testing of subject lines and will test your emails in 10 popular email clients (called Inbox Inspector) if you have a paid account.
But, some marketers preferred Constant Contact because they saw greater email deliverability with Constant Contact. And Constant Contact has a wider variety of templates.
As a conclusion
Hopefully, this article was helpful and has given you at least some insights on which email marketing tool to choose.
Marketing in general and email marketing specifically would be really hard to carry out without the right tools, strategies, techniques, and services. So, if you are really into it, then make sure you take your time to do proper research and to find the best tool that fits your business needs.
If you are a beginner marketer, maybe you had better start off with Constant Contract and make use of their awesome feature of providing a marketer to each client.
Or if you are a blogger or a writer, you might want to try out ConvertKit since it is all for writers and has cool integrations with other services that bloggers and writers regularly use.
Or if you have got a small project and you want a really simple tool, maybe MailChimp is the best option for you. Do not forget that its user interface is too intuitive, even dummies can use it. And you might not want to waste time on figuring things out or setting up difficult configurations.
GetResponse, on the other hand, can be quite handy for mid-sized projects. And it has a lot of customizable templates to offer.
As you can see, the choice is all yours. If you are not yet sure which tool to choose, feel free to go on with the search. And if you have already chosen your tool, make sure you share your ideas about it.
Let us know what its drawbacks are or what its benefits are? Are you satisfied with your choice or not? Leave us a comment below. And do not forget to share this article. Cause, yes, we all know that sharing is indeed caring!