Simply put, today's participant of our case study is a technology company that helps organizations solve challenges. To do that, they combine both IT and digital expertise to find and create the best solutions. This company is called Alloy Digital.
We are pleased to talk to Lynn Worrell, who is their Director, Project Management.
Hi Lynn, let's start the story with some words about your company. What makes you unique?
We have spent the last two decades delivering hundreds of technology products, from websites and enterprise integrations to game camera control systems and first responder apps.
We pride ourselves on a unique, agile approach that creates successful launches and lasting partnerships. A Partnership for Innovation & Growth. We get to know you and your business very well. You will have a dedicated client partner in charge of understanding your goals and vision throughout the project.
Why does employee time tracking matter for your company?
We pride ourselves on our ability to accurately estimate scope, and the ability to track actual time against specific tasks is very important to make sure our projects stay on track, especially with new information and ideas that emerge mid-project.
How do you manage all your tasks and projects?
We have tried several different task tracking tools over the last several years. We stopped on Pivotal Tracker when development teams understood how to structure the workflow and use it consistently and efficiently.
Our Project Managers work with the Dev teams to create each project board and identify the epics of a project and then the workable stories within each epic. The project team meets regularly for backlog grooming to estimate, prioritize and/or flesh out the story cards. Then during each Sprint, they add their time to Everhour within the Pivotal Tracker card.
For the majority of our team, they never have to leave Pivotal Tracker to complete their work or track time. The credit goes to your product which proves to be a great employee time tracking tool!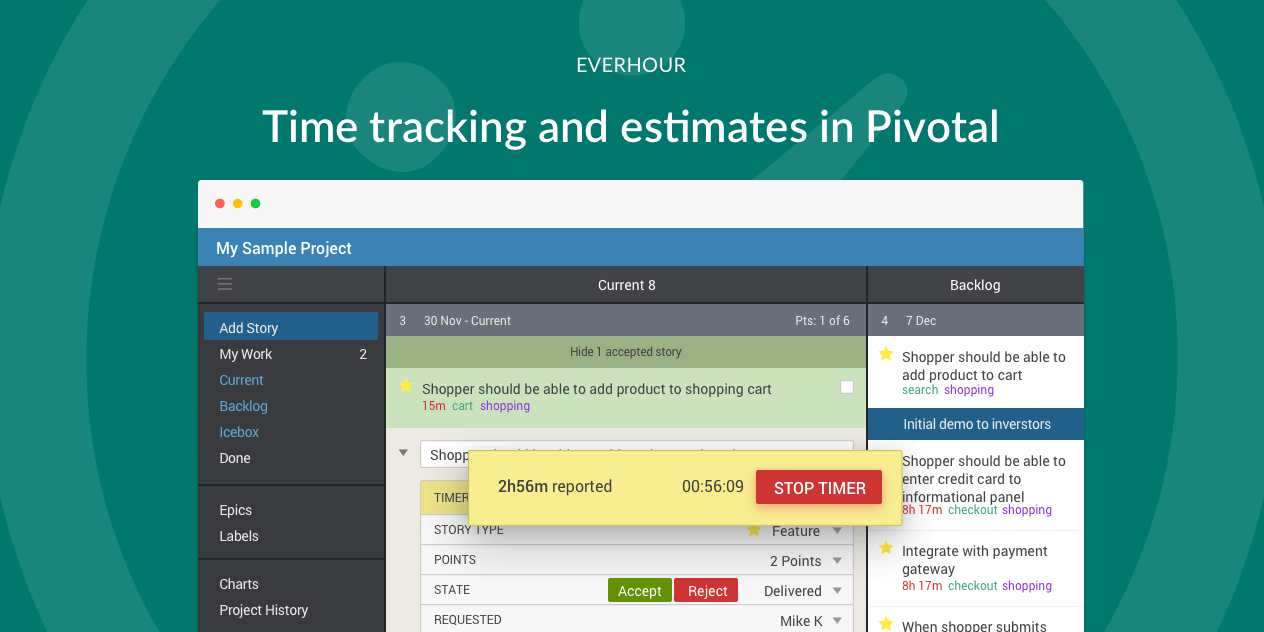 Why does your team choose Everhour above all other employee time tracking tools?
The Integration within Pivotal Tracker is key for us.
Getting the project teams to enter their time accurately in a stand-alone tracking software was not working very well for our needs.
The ability to create/save/share reports has been very beneficial. Being able to answer 'easy' questions quickly has helped keep projects on track and clients happy.
The ability to easily explain how to track time to new teammates quickly set up new members and having them easily set up their own Pivotal Tracker integration, without needing documentation or explanations has made the adoption and use of the product virtually painless.
Thanks, Lynn!