New Everhour Browser Extension for Time Tracking (v.1.5.1)
April 20, 2018
Hi, this Friday blog post tells about a new version of the Everhour browser extension.
Why Do I Need to Have an Everhour Browser Extension?
Our extension appears as a green/red icon on your browser toolbar. When you click on it, you can see some additional info.

The color of the icon signals the status of your timer. Red – the timer is running, green – the timer is stopped. You can check if you track time by simply looking at this icon.
If you have a lot of extensions on your toolbar, there is always a way to prioritize what extensions appear first. Navigate a cursor on an icon and toggle it (at least it works for Chrome time tracking).

The icon popover shows the recent tasks you worked on with their links. As a result, you can quickly restart a timer or log time without opening your PM tool and finding the task.
We have a hack for Chrome users regarding opening the extension without clicking. Just head to chrome://extensions/ in your browser's address bar to open up the extensions page. Click "☰" on the top left and you'll see a Keyboard Shortcuts option. Click on it, and you can set up your shortcuts, ex: Alt + Shift + T (t stands for time tracking).
The most important function is that it is the browser extension that places our timer button on your Asana tasks or Trello cards and other tools we integrate with. When you don't see a timer, please check if you install our extension. You should have it on every browser (read computer) you work on.
Ok, What's Changed?
A lot. Let's take a closer look.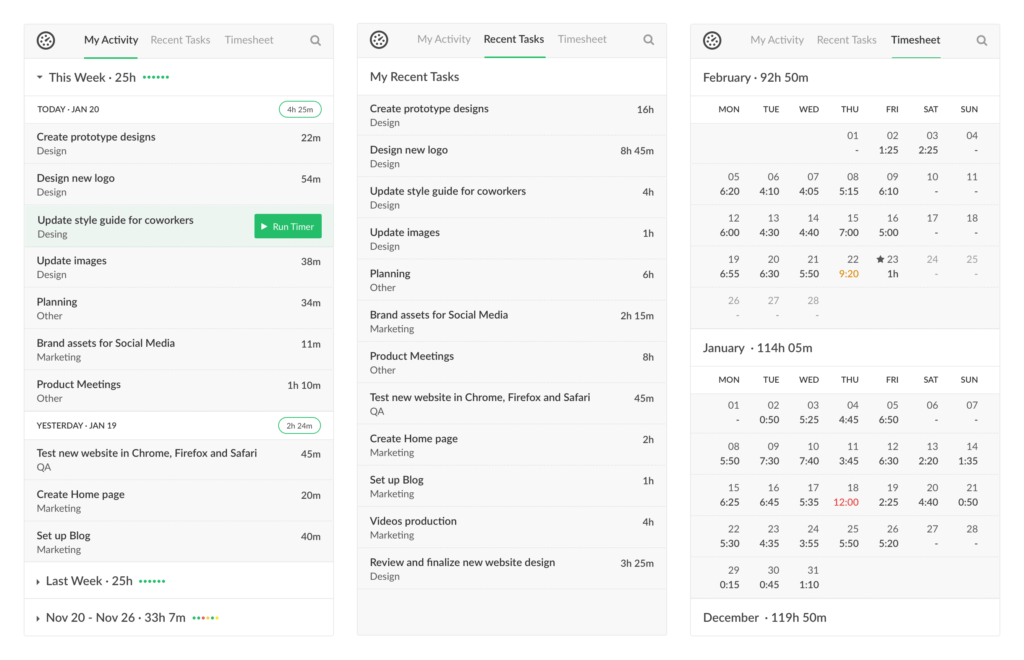 Now you see 3 tabs.
My Activity shows time entries for the last 3 weeks, grouped by week and by day. You can see grey and green spots next to week totals. They indicate whether you reported time on a particular day or not, and how many hours were logged.
Recent Tasks replace the previous look with time entries and show tasks you have recently worked on, with their total time.
Timesheet is a calendar view showing 3 months where you can see your daily totals.
When you hover over a task, you can see a timer and start it. If you click on a task title, you will get to task details.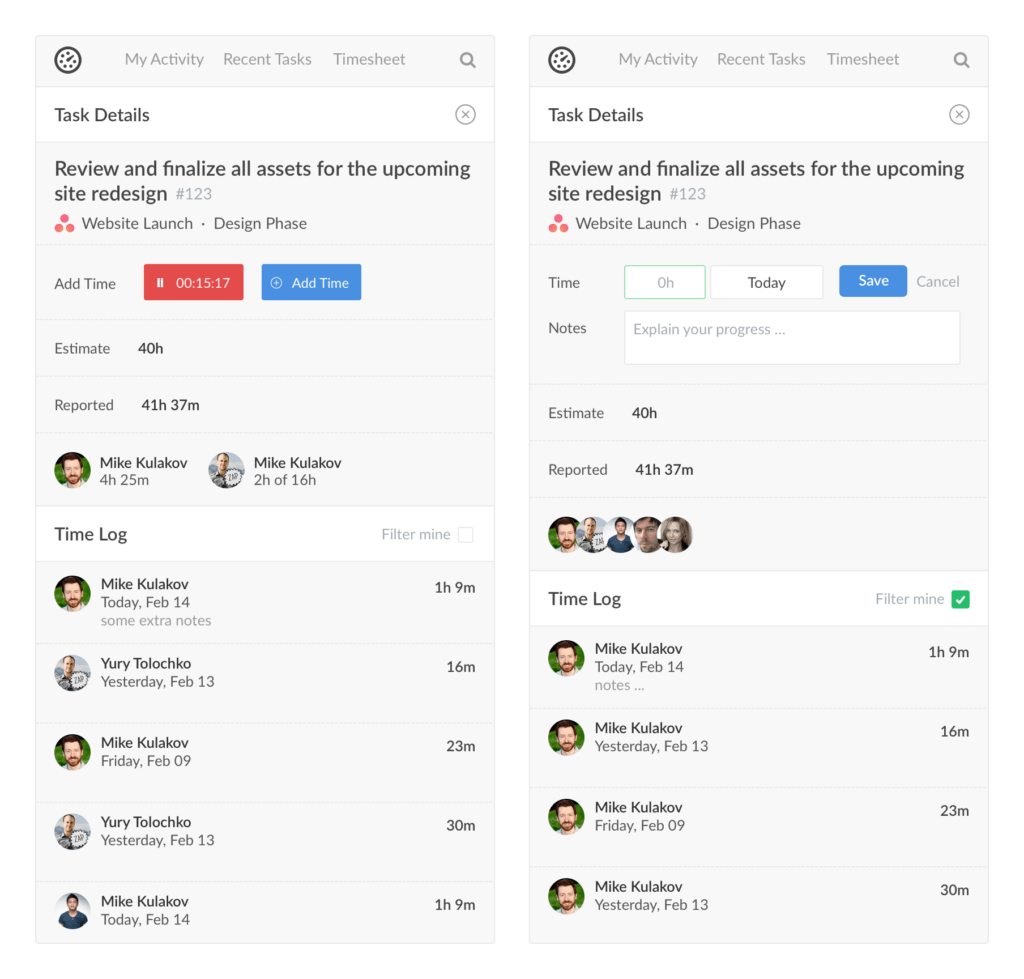 The details show you:
Task title, id, a project title and a milestone;
Start/stop the timer or add time manually;
The field with estimates, progress and who reported time;
Time log shows the date and time reported by a task assignee. Check filter me to hide the time of others.
How to Update
New version of our browser extension is 1.5.1. You can see which version your browser runs on an extensions page:
Chrome: Settings > More Tools > Extensions > Everhour > Options;
Firefox: Settings > Add-ons >Extensions > Everhour > Preferences;
Safari: Safari > Preferences > Extensions > Everhour.
If it's not updated automatically, install it from our extensions page.
Future Improvements
We would like to add the task search through our extension, as well as the option to edit time. Let us know in the comments below what do you like to make with our browser extension!