Technology changed almost every aspect of our lives, including the way we deal with documents, legal or otherwise.
Until recently, only handwritten signatures had legal binding. That, however, has changed since e-signatures were introduced to the public. Various apps were developed throughout the years, each of them with its own set of perks.
Just imagine. If you get most of your documents through your email, now there is a way to sign them right from your browser and send them back to your recipient. You have the option to sign any PDF that comes your way in Gmail.
While many people are still reluctant to use them, either because they think they are illegal or simply not as awesome as they are pictured to be, e-signatures are superior to handwritten ones in terms of advantages.
The Cons of Handwritten Signatures
It's quite difficult to get people off a habit that has endured ever since we can remember, but maybe enumerating the advantages of digital signatures can make them change their minds.
Paperwork with physical signatures goes through a quite lengthy process. It needs to be printed, scanned, signed, sent, and re-sent all over again. This is a rather time-consuming practice we can all do without.
Using this approach is also more costly because you must purchase a scanner and a printer. Ink cartridges must be changed on a regular basis, which translates as an additional cost.
An e-signature allows you to sign paperwork on the go. A handwritten one does not.
With a digital signature, on the other hand, you can sign hundreds of documents in a matter of minutes and you won't need to check them again. In this light, it makes so much more sense to give up handwritten signatures in favor of digital ones.
Now that we've seen the undeniable superiority of the electronic signature, let's answer some of the most frequent questions in regards to this scheme.
E-Signature Q&A
Millennials are familiar with the notion of e-signature, there's no doubt about that. They're always riding the technological wave, but boomers probably need some explaining.
What is an E-signature?
An E-signature is the computerized equivalent of a handwritten signature. It is used to authenticate any type of document and it is usually drawn with a stylus on a pad that connects to the computer and then it's processed using various software.
Unlike its version on paper, the e-signature can actually carry information about the owner. If you don't have the necessary equipment, you can scan your signature and then process it using PhotoShop or a similar image-altering program.
All you have to do after that is upload the signature unto the e-signature solutions you're using and it will be placed on all your documents whenever you please.
How does the process work?
You upload a document — Word or PDF — to an online service, then you tag it with special annotations/placeholders where signatures eventually need to go.
The service sends this marked-up file to your specified recipients, who then "sign" it with a few clicks. They can either use stock cursive fonts or a scrawl they draw with their mouse (or a finger) on the fly.
When finished, the signed file is sent back to you. Most systems even feature a periodical reminder that some document requires a signature.
Is it secure and legally binding?
Believe it or not, an e-signature is more secure than its handwritten version, because it is encrypted. What does that mean? When you sign with your e-signature, you may be required to enter personal info to prove it's you.
Therefore, no one can use it or replicate it. The e-signature uses all sorts of security mechanisms that ensure it will not be copied by anyone else. In a sense, e-signatures are more secure than handwritten ones.
In respect to the legally binding aspect of it, e-signatures are as valid as handwritten ones, thanks to the E-Sign (Electronic Signatures in Global and National Commerce) Act, a federal law according to which e-signatures cannot be rejected by authorities or institutions.
The Cons of E-Signatures
They're not many, but they're definitely worth your attention.
For starters, some countries do not accept e-signatures as valid evidence in court. You must make sure you can use one before you send it to a jury. In 27 countries — including China, the United States, Russia, Australia, Canada, and those in the European Union — an electronic signature is legally binding.
Secondly, there are various legal documents that require in-writing signatures. Including wills, trusts, powers of attorney, and some real estate transactions.  At least for the U.S., you still need to print and ink-sign your tax forms.
Government agencies may apply specific e-signature rules to regulated industries or transactions.
That is why you should talk to a professional first anyways.
Top 5 Best Software for E-Signatures
Until now, we've presented some generic information concerning e-signatures. It's time to show you five of the best apps for e-signatures on the market. You cannot go wrong with any of them.
All of these can be used for free as trials, so you don't actually need to spend any money until you've found the best solution for you. And because they are the best, the difference is actually infeasible and mostly depends on your particular needs and personal preferences.
DocuSign
DocuSign is, at the moment, a leader in the industry of e-signature software, being used by more than 200 million people. What makes it stand out from the rest is that it actually replaces devices like printers and scanners and does it all by itself.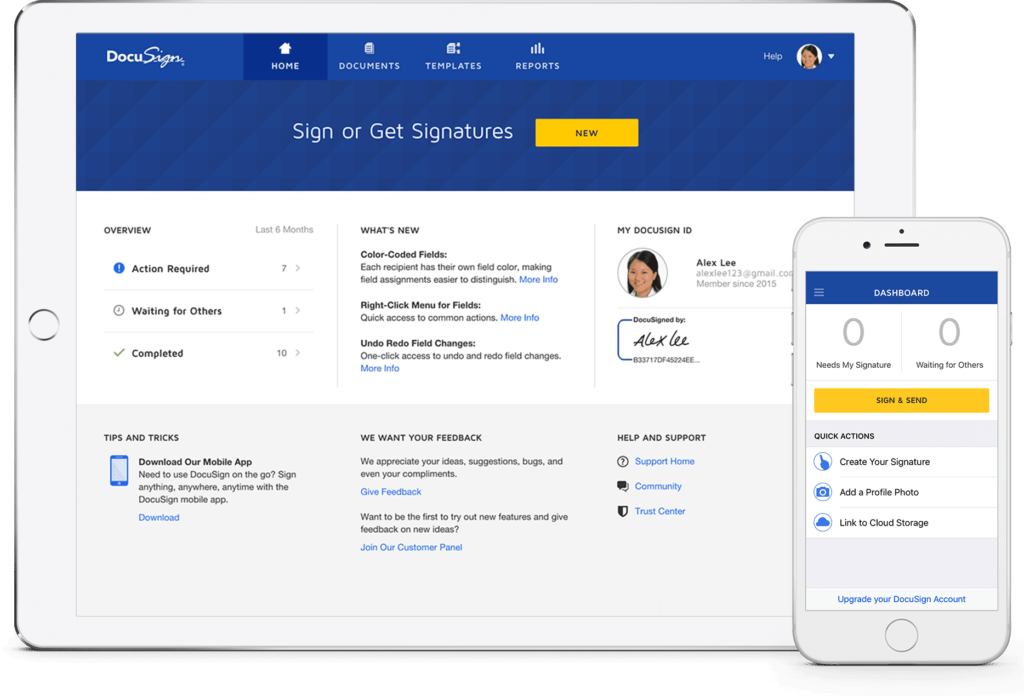 It is also among the most user-friendly signers out there. All you have to do is upload your document, either from your computer, cloud account, or phone, add your recipients, fill out the form and add the signature with a click or the press of a button.
The app works on the Web as well as on iOS and Android-native smartphones. If somebody is neck-deep in work and has forgotten to sign a certain paper, that person will receive reminders to sign. Mails will not be forwarded unless all the spots are signed.
Even though millions of people worldwide use it, there have been some minor complaints in regards to the time it takes one to get accustomed to it. Fortunately, there are plenty of tutorials for you to learn from until it becomes a habit.
Rating: 4.5 out of 5 (129 reviews on Capterra)
Complexity: Moderate
Pricing: $10 per user/per month
Signs Docs from iPhone and iPad: Yes
eSignLive
eSignLive is used by gigantic companies like IBM, BMW, Wells Fargo, or Country Financial. It kind of gives you a hint of the reliability of the software. It's one of the oldest e-signature providers in the world at the moment speaking.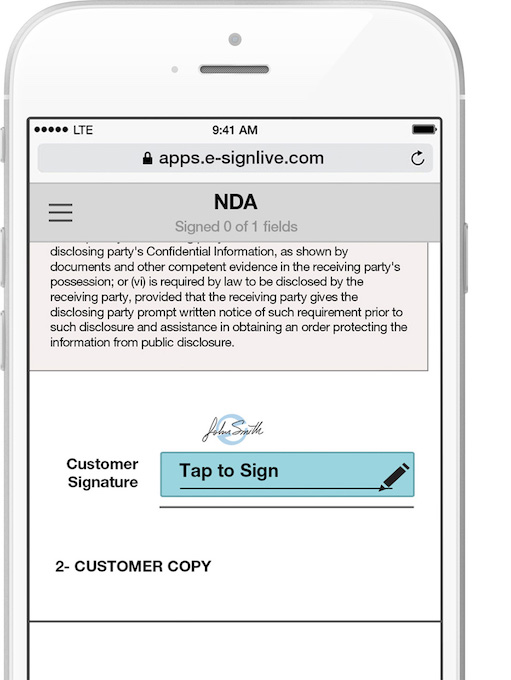 It works on the web, as well as Mac and Windows if installed. Like DocuSign, it offers authentication for extra security, audit logs, mobile signatures, progress tracking, templates, and more.
It can be used on your phone and it allows you to sign your documents with the press of a button. It can deal with a large volume of documents, which is undoubtedly one of the reasons why industrial, technological titans like IBM used it.
eSignLive has enjoyed widespread fame ever since it first appeared, and you'd have to waste a lot of time to find even a single negative review of it. If you want to try it out, opt for the free trial or the free demo on the app's website.
Complexity: Low
Pricing: $20 (1 user/ month)
Signs Docs from iPhone and iPad: Yes
SignEasy
Even though it does not have a catalog of services as large as the other pieces of software in this top, SignEasy is still being used by thousands of customers in approximately 150 countries.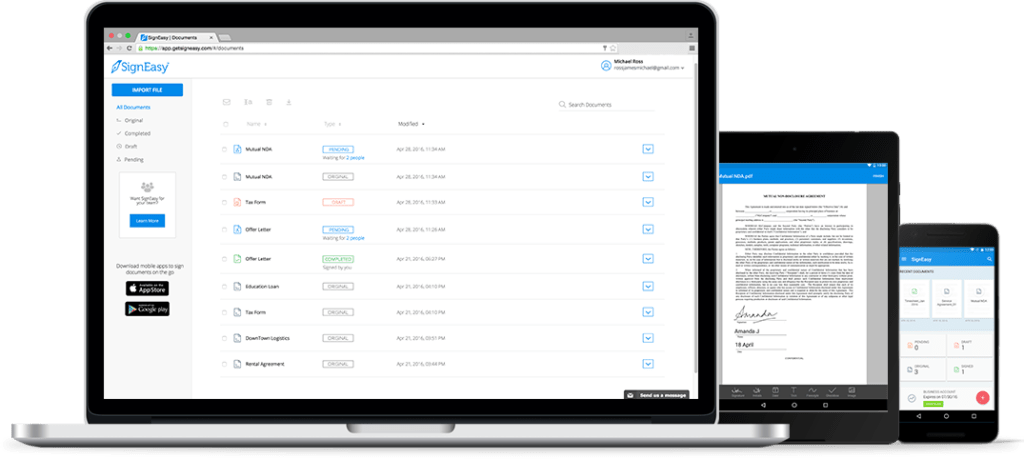 The tool works on computers, but also on iOS and Android-native smartphones, which is a great perk when it comes to signing documents on the fly. Those that are not made for mobile use are not worth the money in this day and age.
Since Internet traffic is gradually moving towards mobile phones, software that is mobile-friendly is a keeper. It doesn't help if you're not able to sign your documents unless you're in front of your computer.
If it's to believe that the number of documents that have been signed with SignEasy is actually over 11 million, as the company specifies, it means you can use it too without a problem.
Like other companies, SignEasy allows you to use the software for free for 14 days, after which you will decide if it does the trick for you or not. If you aim for software with more features, we're sorry to say SignEasy is not for you.
Complexity: Low
Pricing: $15 (1 user/ month)
Signs Docs from iPhone and iPad: Yes
RightSignature (by Citrix)
RightSignature is online software that hasn't gotten anywhere near as much credit as it really deserves. Coming with a monthly user fee of $11, it is probably the cheapest e-signature solution on the Internet.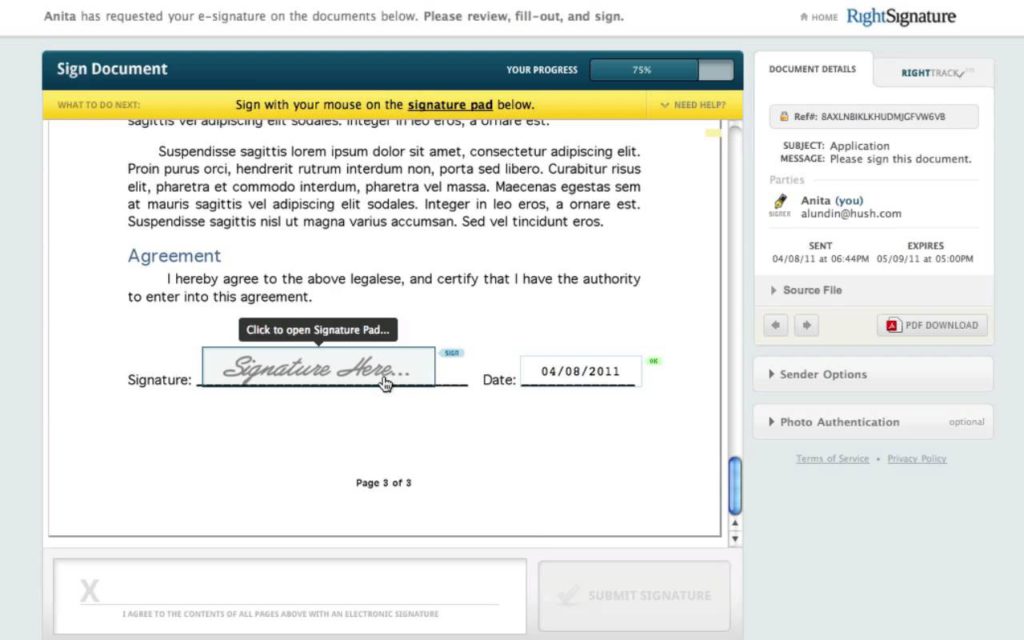 It provides a wet, i.e. pen-like concreteness to the signature, which adds something to its authentic look. All you have to do is upload your document on the website and use your touchscreen, iPad, or iPhone to sign your documents.
The company has been around since 2009, but it hasn't been used by too many people. And for no good reason actually, because it's a simple, efficient, and affordable e-signature provider.
I don't know about you, but I like wet signatures because they look a lot more… real than the other types of e-signatures. If you do, too, consider this and it can become your go-to helper.
Rating: 4.5 out of 5
Complexity: Low
Pricing: $11/per month
Signs Docs from iPhone and iPad: Yes
PandaDoc
PandaDoc is yesterday's news for some, but a brilliantly kept secret for others. Why is that? Because PandaDoc is not only an e-signature software but one that incorporates everything that pertains to your documents.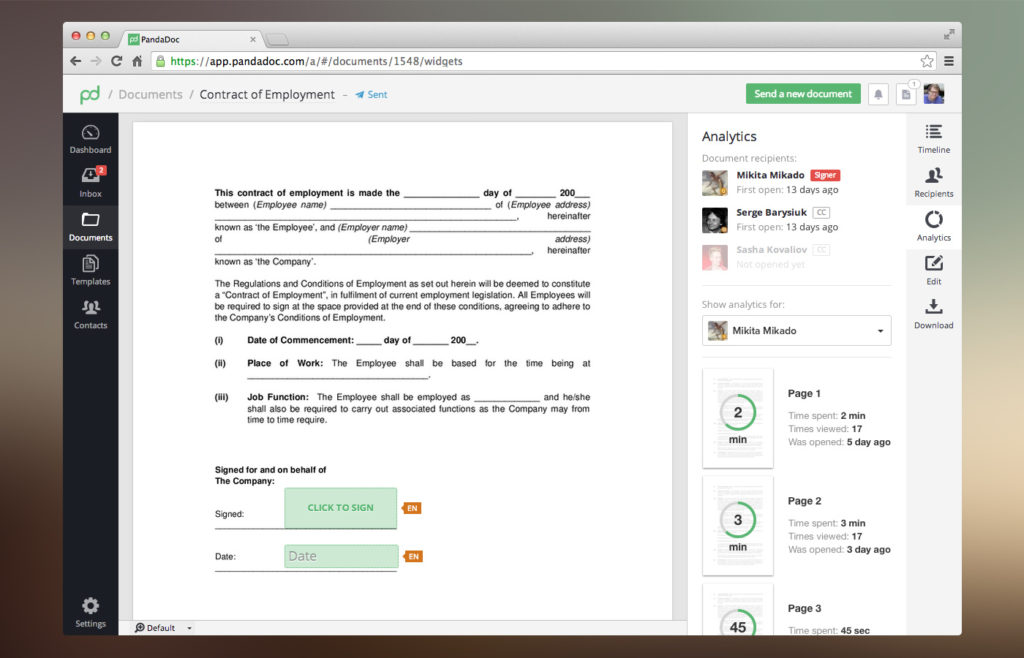 If you're sick of putting hundreds of documents and spreadsheets together, it's time for you to break the habit. PandaDoc offers a large supply of templates you can use to facilitate your job.
Just some of the features of this app: document assembly, delivery and indexing, e-signature, version control, archiving, access controls, and collaboration.
"The complete digital document solution" is right.
You can request a free trial or free demo on the website. Afterward, you probably won't stop using it. Even though it's the last place in our top, PandaDoc is highly recommended.
Rating: 4.5 out of 5 (243 reviews on Capterra)
Complexity: Low
Pricing: $19 (1 user/ month)
Signs Docs from iPhone and iPad: Yes (on Android-native mobile phones, too)
Concluding Remarks
We do realize that there are thousands of people who don't want to use e-signature software because they're fond of handwritten ones. With all these, they might have no choice but to comply with the evolution of technology.
An e-signature program like any of the above can make a huge difference in your life. Just think of how much time you'll be able to save by outsourcing the signing of documents. You can spend the rest organizing your tasks better. Everhour can also help in this respect.
There are tens – if not hundreds – of similar applications, but we chose these 5 because we think they are the most feasible ones. That is not to say that you can't go against the grain and do some research of your own.
We hope this brief guide helped you find the best solution for your bureaucratic problems.