We're super excited to announce that Everhour is integrated with FreshBooks which means all our users can now export their time reports directly to Freshbooks and then send client invoices with this cool tool. Yay!
FreshBooks as well as Xero is one of the most popular accounting software for small and medium-sized businesses. Since we first introduced Xero sync to test out the whole concept of invoicing integration, we've been getting too many requests to add FreshBooks, so many that we couldn't simply neglect them.
By implementing the invoicing, we help you fight time-consuming and tiring copy-pasting. Instead of switching between Everhour/FreshBooks tabs to fill in an invoice, you can properly complete all the steps in Everhour right away: select the required time period, check filters, set data grouping, and choose your client. Voilà!
How the integration works
We've made the process as simple as it could be. Go to the Reports page and select Invoicing from the menu. After that you will need to log into Freshbooks: just enter your domain name and click Authorize.

Once it's done, we'll pull up a list of your clients so that you can pick the one you need.
Note: the rate and payment amount will be measured in generic units. You'll have the necessary currency set in FreshBooks.
Choose a task type, customize the billing rate and select an option for grouping time entries (by project/member/week/each line separately/etc.). As soon as the necessary parameters are defined, ​​we'll generate a real-time preview based on your selection.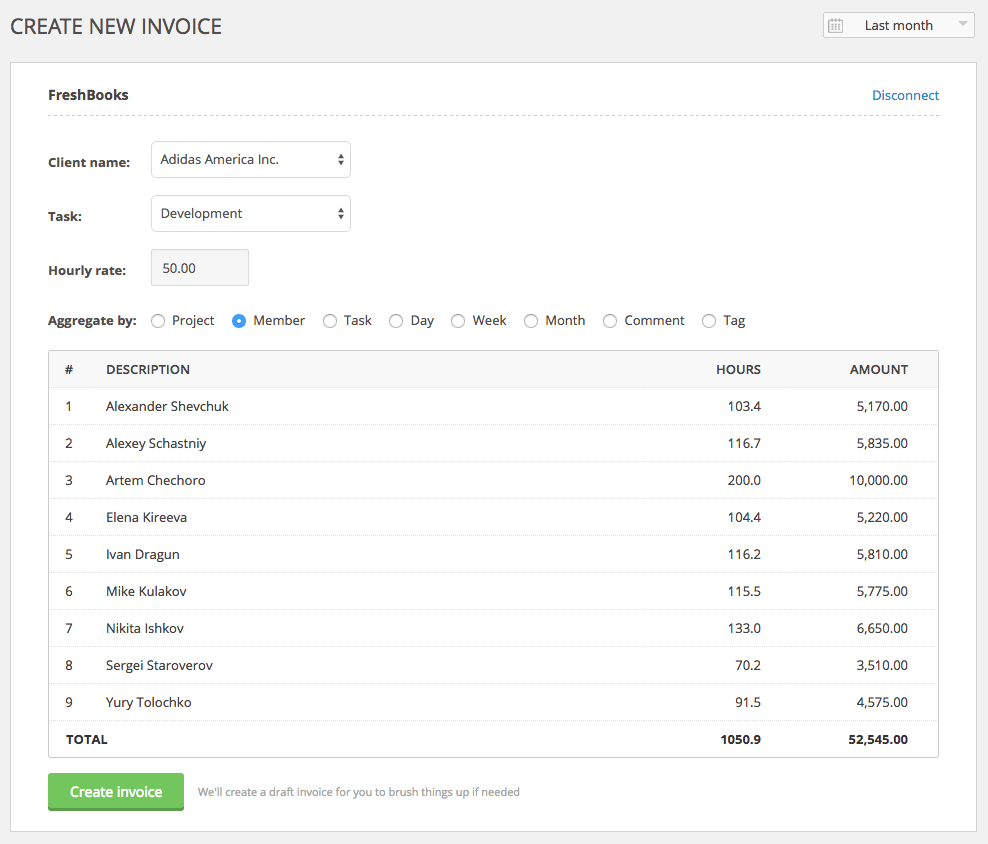 Finally, clicking the Export button will generate a new draft invoice in FreshBooks.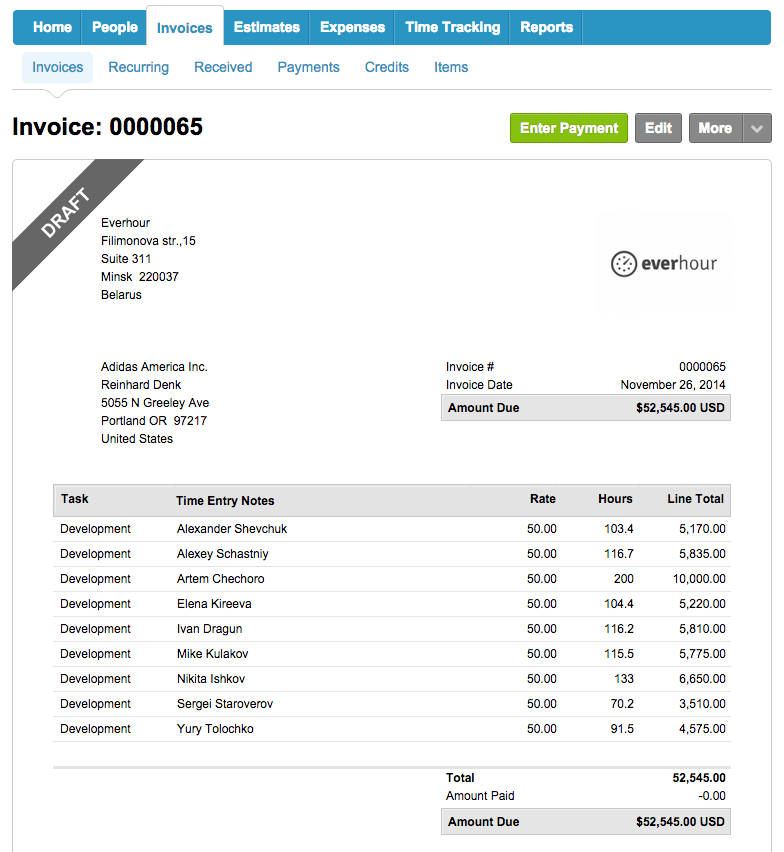 You can either continue editing this very invoice or move on to exporting other ones from Everhour.
Everything is so crystal clear, isn't it?
We've started with a very straightforward integration allowing for now to only export time spent. There is no opportunity for storing rates, discounts, currencies, or syncing invoices that have already been sent.
But of course, we understand there is a lot of room for improvement and we are open to discussing that – check a dedicated blog post on the matter. So if you feel like you have reasonable and realistic ideas in mind, go ahead and tell us why they are worth implementing. We are always happy to make the product better 🙂