ClickUp vs Monday: Comparing the Top Project Management Platforms
Maria Kharlantseva, September 7, 2023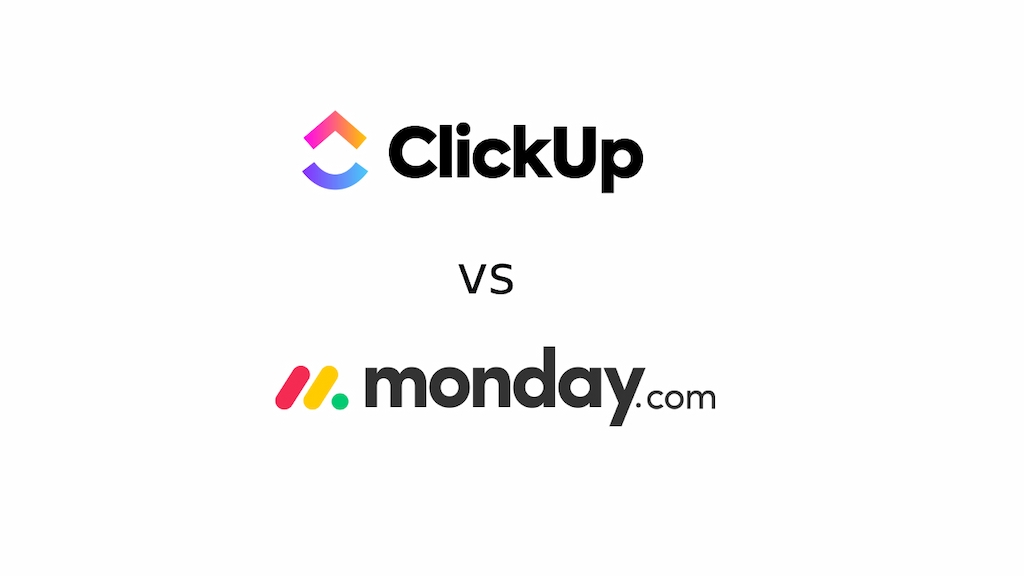 ClickUp project management tool and Monday project management tool are two of the most popular PM apps available today and for good reason. Both platforms offer a host of valuable features, including but not limited to project and task management, chat tools, goal-setting capabilities, comprehensive dashboards, automation options, app integrations, and much more. But which platform is the most suitable option for your specific needs? This article explores which platform wins out in the ClickUp vs Monday battle.
ClickUp
ClickUp markets itself as the all-in-one project management solution, proudly announcing it is the "one app to replace them all." The platform, which is used by over 800,000 teams globally, has won various prestigious awards and boasts a 4.5-star G2 rating. It promises a suite of features to streamline your workflow and generally make your life a little easier. So, without further ado, let's delve deeper into ClickUp's best features.
What is ClickUp best for?
Task management
ClickUp allows you to get more done by simplifying the planning, organization, and collaboration process. Customize your tasks for any project and save time with task automations, assign sprint points to estimate the amount of effort required to complete a task, and add custom field data.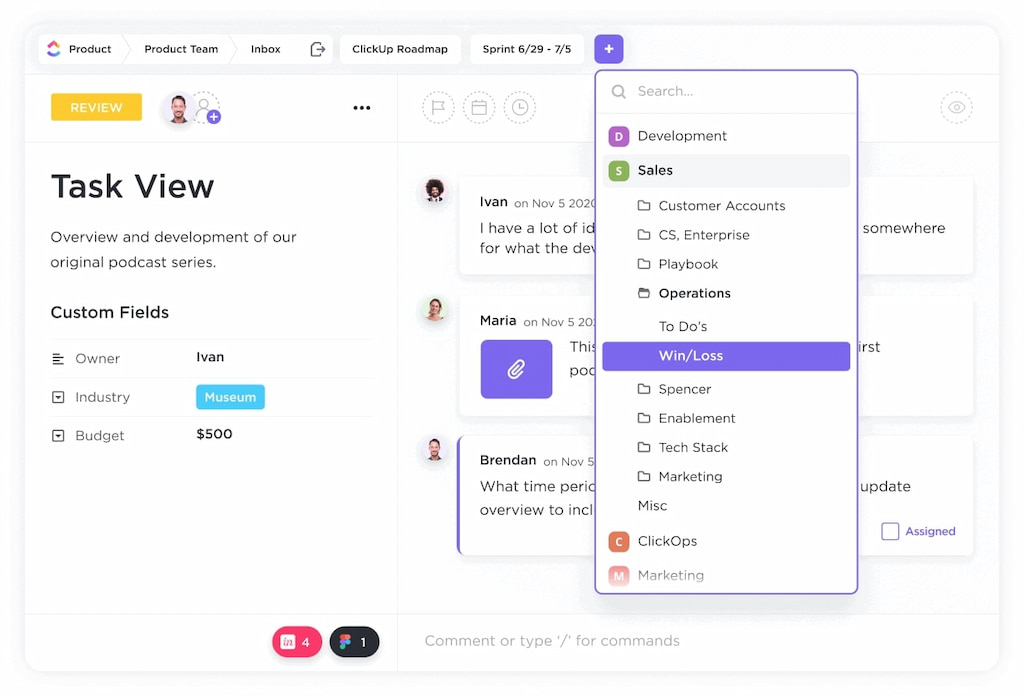 But that's not all—you can also break down big, intimidating projects into more manageable subtasks. Visualize your tasks and subtasks in whichever view you prefer and easily rearrange and edit entries in bulk with the Bulk Action Toolbar. Organise work in a way that makes sense by building a task database that allows you to identify tasks easily.
Project organization
Organize projects and tasks with ClickUp's Project Hierarchy, which breaks down work into different levels, including but not limited to Workspaces, Spaces, Folders, Lists, Tasks, and Subtasks. Each level offers a more detailed breakdown of the project, allowing you to categorize and carefully manage work. ClickUp also offers lots of third-party integrations that allow you to automate your work even further.
Collaboration and communication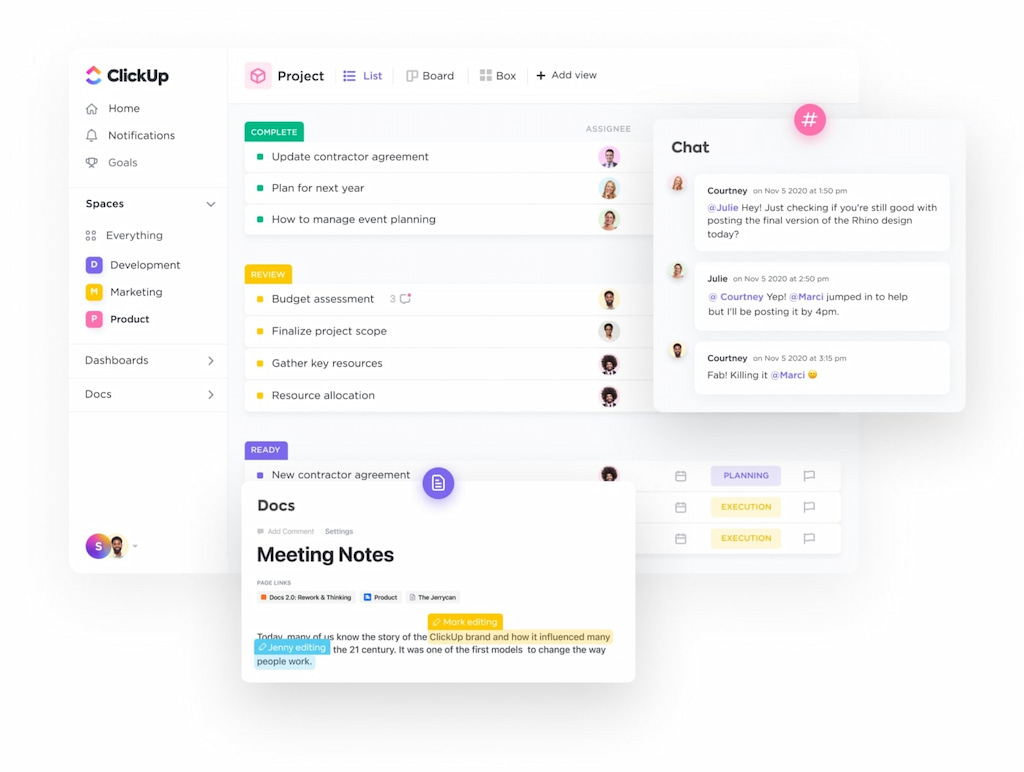 ClickUp provides various collaboration and communication tools, including a chat feature, document sharing, mentions, and notifications to keep you updated on the latest developments.
Time tracking and reporting
ClickUp offers built-in time-tracking features, allowing you to focus on your work without losing track of time. Track time from any device, start and stop time from anywhere, jump between different tasks, add time retroactively, or create entries by date range. ClickUp also offers various time-tracking integrations, including Everhour's ClickUp time tracking integration.
But what would be the point of tracking time without comprehensive reporting? ClickUp provides reports on tasks worked on, the accuracy of time estimates, who is behind on their work, who's ahead of their work, and what tasks they've worked on. Plus, choose from a range of other time-tracking integrations, including Everhour.
Integrations
ClickUp allows you to connect with over 1,000 communication, time tracking, code management, file storage, email, calendar, and browser integrations, ensuring your workflows are optimized for efficiency. Integrate with popular platforms such as Chrome, Outlook, Google Drive, and Slack.
Pros and cons of using ClickUp
✅ Pros
A comprehensive suite of features: ClickUp provides a comprehensive suite of useful features, including project and task management, time tracking, collaboration, and reporting tools.
Highly customizable: The platform is highly adaptable, allowing you to create customized ClickUp dashboards, task workflows, and views to suit your personal preferences.
Integrations: Integrate with over 1,000 apps to streamline your workflows.
❌ Cons
Learning curve: While ClickUp offers a myriad of valuable features, it can be intimidating for beginners with a steep learning curve. To make the absolute most out of the platform, you really need to be something of a ClickUp expert.
Internet connection required: It does not offer an offline mode, meaning users who lose their internet connection cannot access the platform.
Automation issues: Some users have reported that occasionally the automations experience issues.
Monday.com
Monday is another popular project management tool used by over 180,000 customers worldwide, including Canva, Coca-Cola, Lionsgate, and Universal Music Group. Boasting a G2 rating of 4.7 stars, Monday is a difficult platform to beat in terms of its likeability. Let's explore the features that make Monday the beloved platform that it is.
What is Monday best for?
Project planning and tracking
You might wonder: how to use Monday for project management, is it a good tool for that? Let us tell you: Monday is an excellent tool for project planning and tracking because it provides a structured environment made up of timelines, Gantt charts, and board views where team members can map out projects and track progress over time. The platform is also highly customizable, allowing the user to tailor task status updates to their needs, link assets, and assign task owners to ensure accountability.
Visual workflows and automation
Another standout feature of Monday is its visual workflow capabilities. You can create digestible workflow charts to help team members understand where their tasks fit into the big picture of the project. But that's not all—Monday also has automation capabilities. Take workflows a step further by creating your own automations or making use of Monday's pre-prepared template. For example, you can make it so that when a team member updates the status to a certain label, it is automatically archived.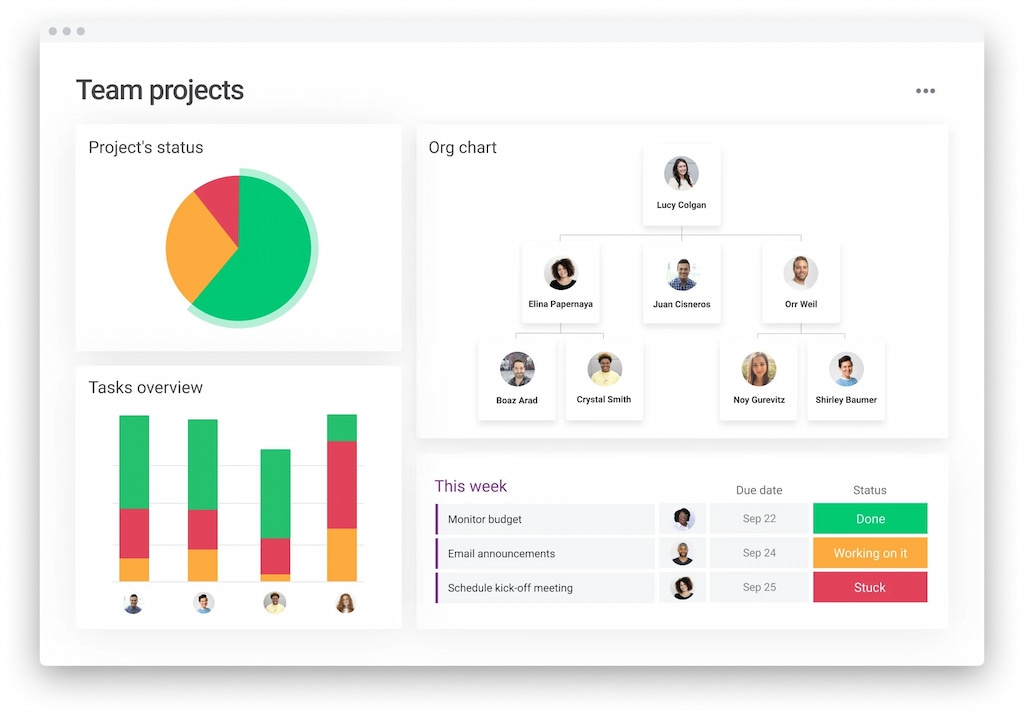 Team collaboration
Boost team productivity by inviting your team members to Monday and give them ownership of boards and tasks that are relevant to them. Track tasks and overall project progress by updating the board regularly—think of it as a living entity that keeps the team updated on where things stand, increasing the chances deadlines are met. Additionally, all communication on Monday is centralized and is in the context of the task or project being discussed.
Reporting and analytics
Data-driven insights are essential for optimizing workflows for efficiency and increasing the chances of project success, and Monday is a fantastic platform to use for this very reason.
Monday's advanced reporting and analytics features allow you to create detailed reports based on a range of criteria, ensuring managers have a clear understanding of project performance. Once created, reports can be easily shared with team members or clients, providing a clear picture of team efforts and project outcomes for all relevant stakeholders to see.
Integrations
Juggling multiple tools on separate platforms is a hassle. Say goodbye to tab hopping with Monday's third-party apps, including a Monday time tracking integration, CRM, communication, email, video call, and marketing tools. Integrate with a wide variety of tools, including but not limited to Outlook, Slack, GitLab, and QuickBooks.

Pros and cons of using Monday
✅ Pros
User-friendly: Monday's user-friendly interface makes the tool accessible for those with little experience using project management tools.
Automation: Monday offers powerful automation tools, streamlining your workflows to increase efficiency.
Templates: A standout feature of Monday is the many pre-made templates available, which significantly speed up the set-up process.
Integration: Integrate your favorite platforms into Monday in just a few clicks.
❌ Cons
Limited free features: Most features are available for Pro users or higher.
Excessive notifications: Some users have complained of excessive notifications.
Tiering issues: Users cannot give sub-items further sub-sub items, which may cause confusion around tasks.
Comparing ClickUp and Monday
ClickUp vs Monday boast many impressive and valuable features, making it difficult to pick which platform comes out on top. To see which platform is best for your needs, you need to learn more about ClickUp and Monday.com pricing, ease of use, feature comparisons, integrations, and the level of customer support available.
| Comparison point | ClickUp | Monday |
| --- | --- | --- |
| Ease of use | ClickUp offers extensive features, which means it has a steeper learning curve than Monday. | Monday is very user-friendly and perfect for those who want to get started quickly. |
| Features | Task management, customization, team collaboration, visual workflows, automations, reporting, and analytics tools. | Dashboards, integrations, automations, Gantt, kanban, docs, files, and forms. |
| Integrations | Over 1,000 communication, marketing, accounting, code management, and file storage platforms. | Over 200 apps to help you and your team work seamlessly. |
| Support | ClickUp offers live chat customer support through its help center and extensive documentation outlining how to navigate the platform. Additionally, ClickUp has a global community area where users can submit ideas to improve the platform and connect with other ClickUp users on social media platforms. | Monday offers various support options, such as live chat, email, the ability to request a call back to talk to a customer service representative, and documentation detailing how to make the most of the platform. Monday also has a community forum where users can take part in discussions about the platform and its many features. |
Here's the breakdown of ClickUp vs Monday pricing plans with detailed description of each plan:
ClickUp pricing
Free: Includes 100MB storage, unlimited tasks, unlimited free plan members, whiteboards, Kanban boards, real-time chat, and native time tracking.
Unlimited ($7 per member per month): Includes everything in the Free plan, plus unlimited storage, unlimited integrations, unlimited dashboards, email in ClickUp, resource management, and agile reporting.
Business ($12 per member per month): Includes everything in the Unlimited plan, plus Google SSO, unlimited teams, custom exporting, advanced automations, workload management, goal folders, and advanced dashboard features.
Enterprise (Contact sales team for price): Includes white labeling, advanced permissions, enterprise API, unlimited custom roles, team sharing for spaces, access to a Customer Success Manager, and live onboarding training.
Monday pricing
Free: Includes up to three boards, unlimited docs, access to over 200 templates, and more.
Basic (£7 per seat per month): Includes all Free plan features, plus unlimited free viewers, unlimited items, 5GB file storage, prioritized customer support, and a dashboard for one board.
Standard (£9 per seat per month): Includes all Basic plan features, as well as a timeline and Gantt views, calendar view, guest access, automations, integrations, and dashboards for five boards.
Pro (£14 per seat per month): Includes everything in the Standard plan, plus private boards and docs, Monday time tracking, chart view, automations, integrations, and dashboards for 10 boards.
Enterprise (Contact sales team for price): Includes all Pro plan features plus enterprise-scale automations, integrations, security and governance, advanced reporting and analytics, multi-level permissions, tailored onboarding,  premium support and dashboard creation for up to 50 boards.
Final Thoughts: Monday vs ClickUp
The ongoing ClickUp vs Monday debate shows just how influential these two platforms are in the project management world. Yes, there's plenty of discussion about ClickUp vs. HubSpot, ClickUp vs. Microsoft Planner, and Monday vs. Trello, but these two platforms have emerged as the most popular. Each platform brings its own unique and powerful features to the table, allowing teams to complete projects collaboratively. While ClickUp offers a comprehensive set of impressive features built around customization and depth, Monday provides a user-friendly experience built around visual workflows and automation.
So if you're finding yourself mulling over which platform to use, be it Monday vs. ClickUp vs. Asana, there are a few things to keep in mind. If you're relatively new to project management platforms and you're only going to use a handful of the core features, we recommend opting for Monday because of its usability and intuitiveness. Alternatively, if you're looking for an all-in-one solution and are comfortable investing time and effort into learning how to use the platform properly, opt for ClickUp. So, which is it going to be, ClickUp or Monday? Whichever platform you choose, you'll wonder why you didn't start using it sooner!