If your business involves a shift work, a good pick up shifts app could be a game-changer for your scheduling workflow. It makes picking up shifts for employees easier and gives managers a bird's eye view of everything happening within the team. That way, they can strategize and find ways to optimize the team schedule fully or fill up any available shifts that are yet to be booked.
That said, there are many apps to pick up shifts available on the market today. Some of them allow employees to book shifts within their company, while others allow freelancers to pick up shifts posted by businesses in their local area.
To help you find exactly what you need, first, we'll look at some of the most important features of apps for picking up shifts. Then, we'll take a closer look at some of the best pick-up shift software on the market today.
The Must-Have Features of a Pick-Up Shift App
Before choosing an app where you can pick up shifts, it's crucial to consider your needs. So, in the section below, we'll go over the most important features every app for picking up shifts should have.
📅 Simple scheduling and shift listing
At its core, a pick-up shift platform is an employee scheduling app. Ideally, this type of app should clearly show schedules for employees and managers. Additionally, managers should be able to drag and drop different employees on the calendar to schedule them. That way, a scheduling task that would take an hour only takes a few minutes, and you get the most out of your app.
On top of that, there needs to be a simple and clear shift listing. For employees to effectively pick up available shifts, they need to be able to see which shifts are available and which ones are already taken. This listing should be constantly updated whenever there's a change to keep everyone on the team on the same page. That way, there's a minimal chance of redundant schedules or employees picking up the same shift.
The best pick-up shift apps typically allow employees and managers to filter out shifts. That way, you can view shifts based on certain parameters such as date, time, availability, etc. This makes it even easier for employees to browse through schedules and pick up available shifts.
👩 User profiles
A good shift pick-up app allows each team member to create their own user profile. Now, this doesn't have to be a complicated profile. In fact, it can just be as simple as the employee's name, their photo, and their role in the organization.
What's important is that employees have unique profiles that they can use to log into the platform and view their schedules. That way, they only view their own schedule and don't have a detailed report of every team member's schedule.
Additionally, user profiles allow team members to view which shifts are available and which team members are picking up specific shifts. On top of that, user profiles also simplify the scheduling process for managers, as they no longer have to input names and employee data manually.
While it may seem like a simple feature, user profiles make a massive difference in apps for picking up shifts. It's always best when team members and managers can easily view who is assigned to which schedule and user profiles allow that. So, if you're looking for a picking-up shifts app, we highly suggest opting for a platform with user profiles.
🔔 Notifications
When you open up shifts for employees to take, it's essential that they're automatically notified when their shift is booked, coming up, and if one is available. That way, they don't need to open up the app to check for any updates constantly. So, when looking for an app for picking up shifts, make sure that automatic notifications are a feature that is available to you and your team.
🎫 Reservation capabilities
The entire point of pick-up shift apps is to reserve open shifts. If the app doesn't have a feature that allows employees to reserve open shifts in advance, it may not be worth your time and effort.
When employees can reserve open shifts freely, filling up an open schedule is much easier. After all, research shows that people are more productive when they are fully in charge of their schedules. When the reservation feature is available, employees can schedule shifts they are happy to take on.
👍 Confirmations & approvals
While having employees reserve and schedule shifts freely is great, allowing managers or team leaders to confirm or approve schedules is also a great feature to have. So, if the schedules have to go through management before they are approved or confirmed, you can avoid simple mistakes that can end up costing the team and the business dearly.
Some platforms allow managers to turn approvals on or off, while others have the feature constantly on. Both of these setups may work for your team, depending on your needs. So, it's best to take the time to determine the best option for your team based on your unique workflows, processes, and dynamics.
🔄 Integrations
The last feature that you need to make sure that your pick-up shift app has is the ability to integrate with a variety of different tools. This is especially important if you already use a number of tools within the business, as being able to integrate them all together will have a positive effect on streamlining your workflow and employee shift scheduling processes.
---
The 6 Best Free Pick-Up Shift Apps
There are many apps on the market right now, and most offer these basic features. This is why you need to look for the software options that stand out and can make a massive difference in your workflow. To help you out, we've scoured the internet to find the six best free pick-up shift apps available right now. The apps below aren't in any particular order, as we believe that each one of them offers a unique set of benefits to the user.
Shifts by Snagajob
Shifts by Snagajob is a different type of pick-up shift app in the sense that it helps workers find temporary or part-time shifts in their local area quickly and easily. In most basic terms, the app specializes in connecting hourly workers with job opportunities.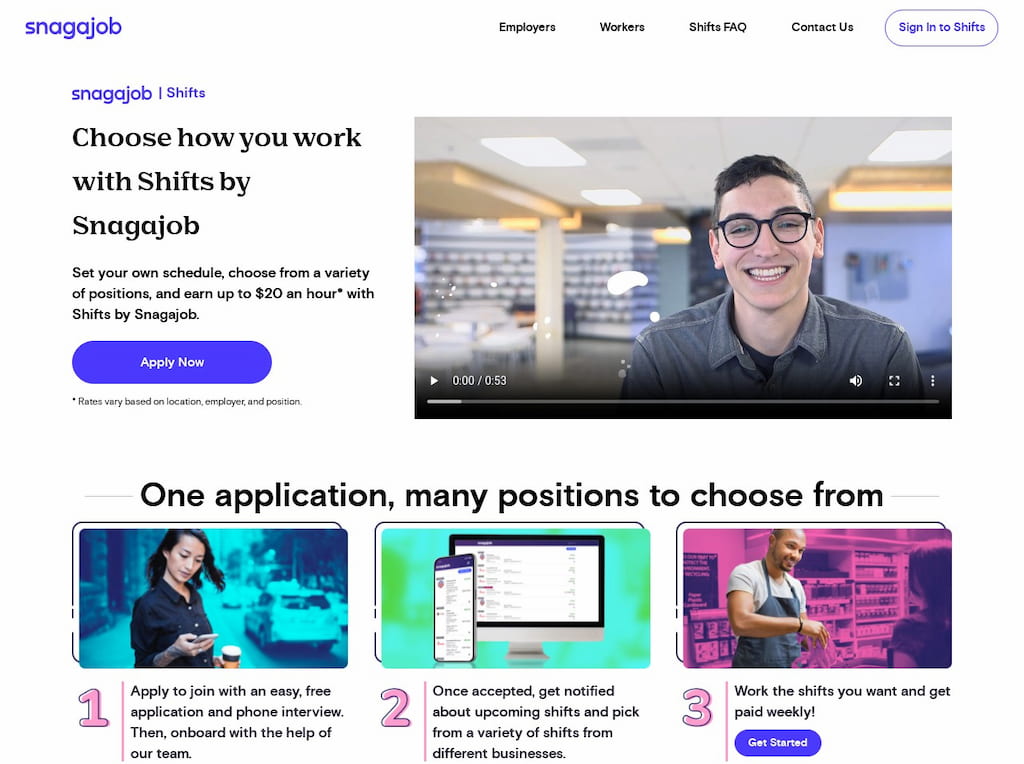 Employers can use Shifts by Snagajob and post any job openings they have that need to be filled. Then, freelancers can browse through the different jobs that are available and schedule themselves for any shifts that are suitable for them.
It's a really simple app that's easy to use and doesn't require a set schedule. If you want a non-traditional work setup with open hours and a non-set schedule, this might just be the right platform for you.
---
Zelos
Zelos is one of the types of platforms that intentionally simplifies things. To start, you can opt to self-schedule or have a team managing the entire organization's schedule. From there, you can set open shifts that employees can pick up. With Zelos, as a team leader or a manager, you can also set parameters for which type of employee can see that each specific shift is available. This makes it great for managing large teams with various permissions for different team members.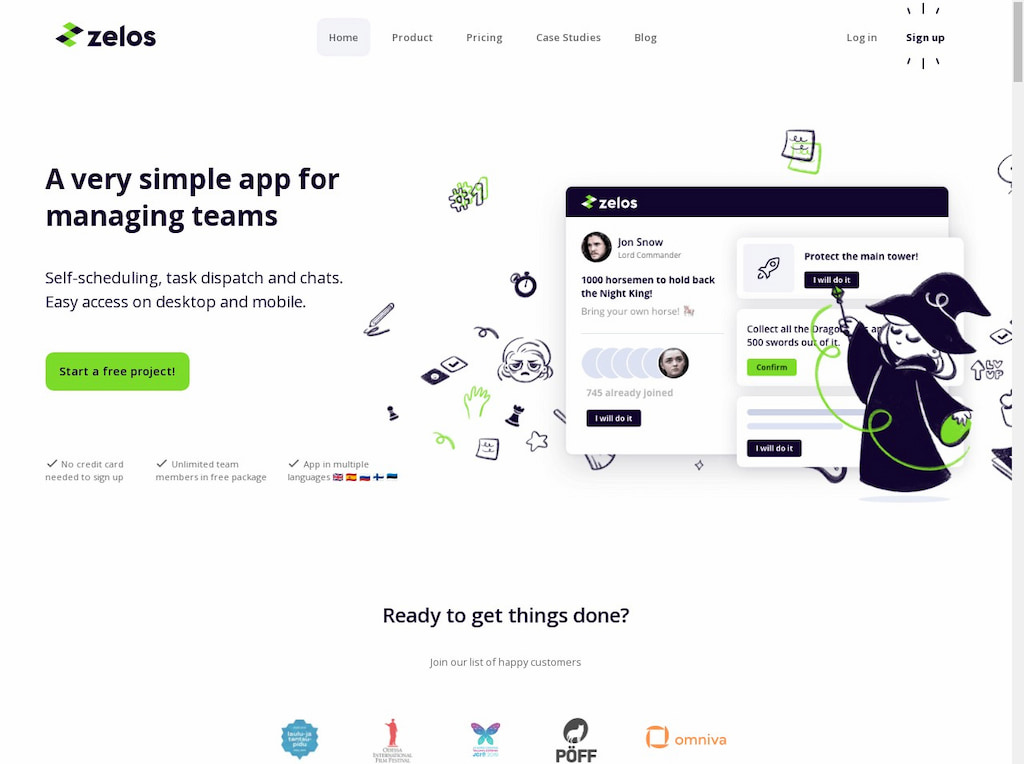 Another cool feature of Zelos is allowing managers to choose who gets a shift. For example, if there's an open shift that multiple employees apply for, you can choose which employee gets that shift. That way, you can ensure a fair and equal distribution of the workload while still allowing employees to take on additional shifts if they want to.
While the app is free for teams with low shift volume, you will have to pay a monthly subscription if you want to increase the volume of shifts you make available for employees to pick up. 
---
Shifts by Everhour
Shifts by Everhour is a dedicated shift scheduling and management tool designed to help users efficiently organize and pick up shifts. This specialized application offers a set of features tailored for shift-based work, making it an excellent choice for individuals seeking to optimize their shift schedules and manage their work commitments effectively.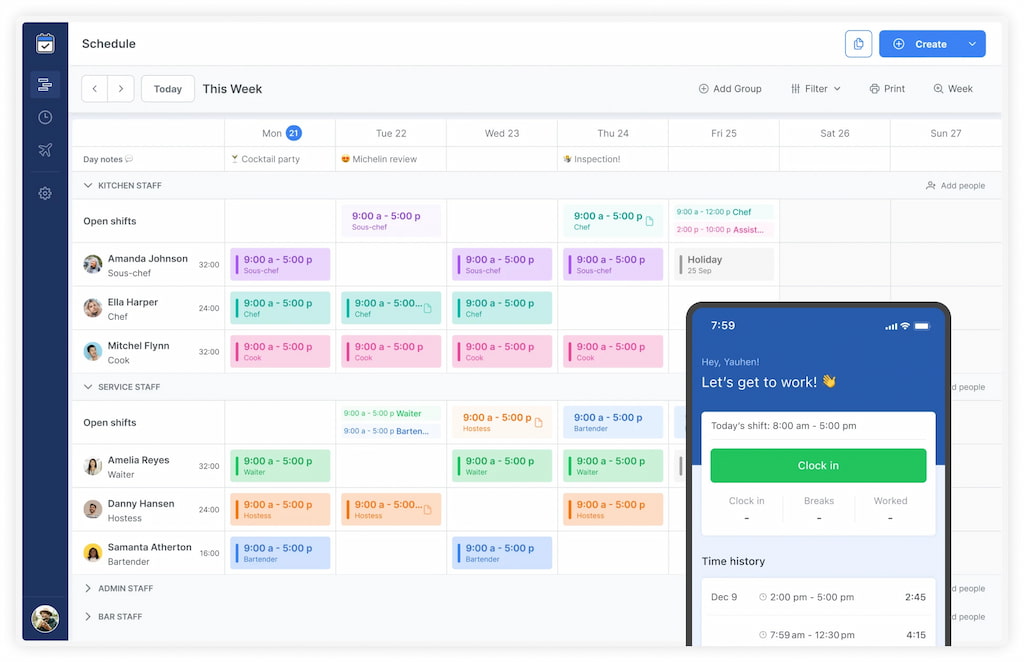 One of the standout features of Shifts by Everhour is its real-time availability tracking. It provides a clear view of the work schedule, highlighting the available time slots for picking up additional shifts. This feature is particularly valuable for preventing overcommitment and helping you maintain a healthy work-life balance. However, currently, only managers of teams can assign and edit shifts.
Shifts by Everhour also includes features for managing shift-related tasks and responsibilities. Users can create dedicated projects and tasks for each shift, set deadlines, and allocate specific time slots. This level of organization contributes to clear and efficient shift management.
---
Shiftbase
Shiftbase is a simple but highly effective scheduling app for small to medium teams. The simple interface allows you to easily pick up, add, or adjust shifts depending on the situation. On top of that, employees can clock in and out of shifts using their mobile phones, reducing downtime and increasing efficiency.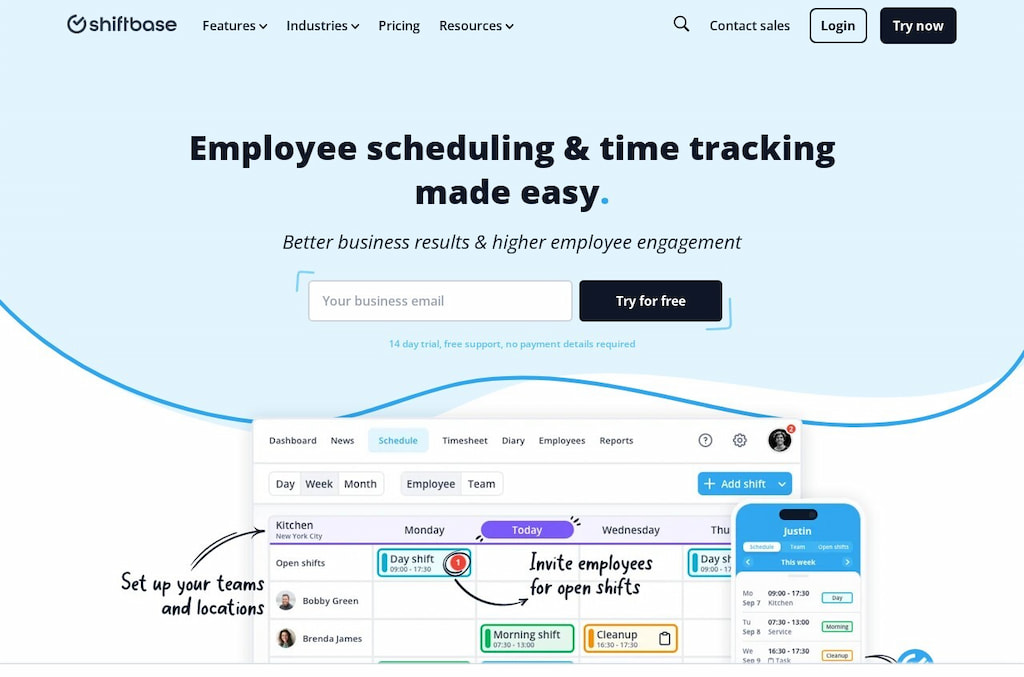 However, we mainly featured this app on the list because managers can create a shift list of open shifts and send it to all eligible employees. From there, the team can schedule themselves based on availability. Even better, the list automatically updates whenever someone takes on a new shift, which means that you won't have to update the schedule and make adjustments yourself.
That said, the app is only free for small teams. Once you reach the maximum threshold for employees, departments, or teams, you will have to pay a fee to use the platform fully. That said, considering all the great features that Shiftbase has to offer and how easy it makes picking up shifts, it may be a worthwhile investment for your team.
---
Sling
Sling is one of the most popular scheduling and pick-up shift apps currently available because of its simplicity. While sometimes a complex platform is necessary, most teams require a simple scheduling app that's easy to use and doesn't take that much time to learn. That's exactly what Sling offers organizations.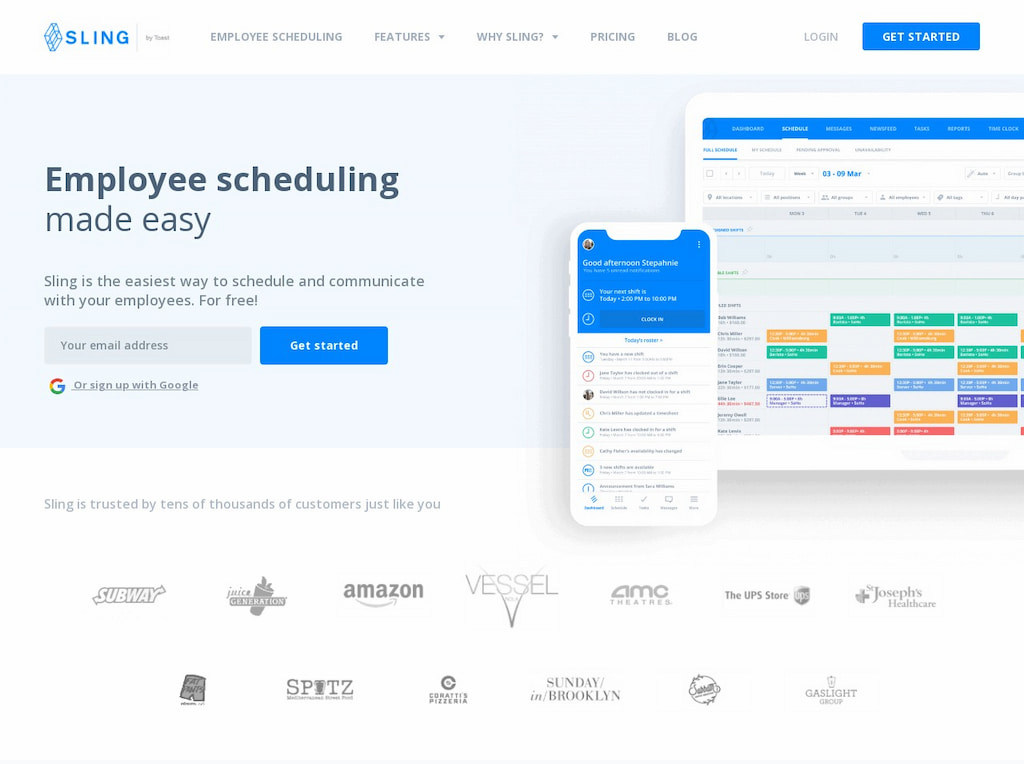 To start, managers can take the lead by building a basic schedule of shifts for employees to follow. From there, managers can mark different shifts as open, which employees can then pick up. You can add various tags and filters to the shifts so that they are only open to certain employees, making things much easier for everyone in the organization.
On top of that, Sling gives employees much more freedom over their own schedules. Aside from picking up open shifts, employees can swap assigned shifts, chat with each other, and even interact on a community news feed.
The basic scheduling version of this app is completely free for an unlimited number of employees. However, if you want to use the more robust and premium features, you will have to pay a fee.
---
Connecteam
Connecteam barely requires an introduction. This is because it comes with all the features you need for scheduling and picking up shifts while adding extra functions like a learning platform, feedback forum, and even building a mini social network for your employees.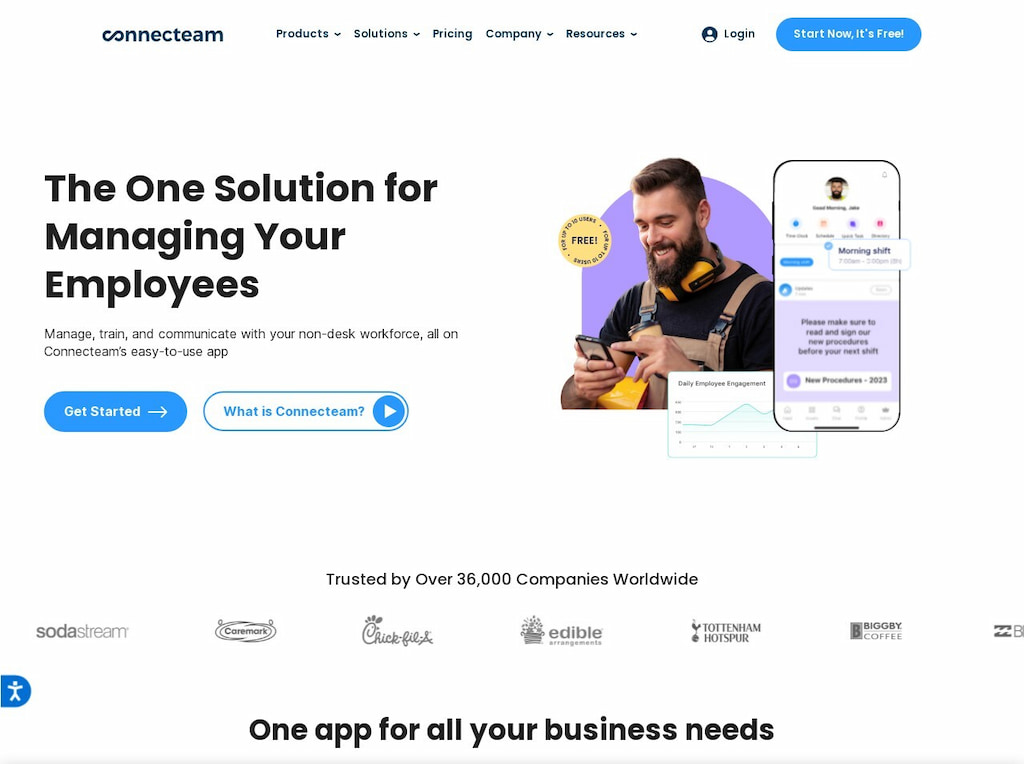 Using Connecteam, employees can clearly view the shifts that are open for pick up and apply for the shift. It also gives you a lot of control and options for customizing the platform. For example, you can choose whether or not shifts require admin approval. So, if you want to give your team complete freedom over their schedule, that feature is available on this platform.
With that said, while there are many features that you and your staff can benefit from, choosing the right plan can be quite confusing. This is mainly because all the different features Connecteam has are distributed across a dozen vastly different plans.
---
---
How to Choose the Best Pick-Up Shift App
The best pick-up shift app is the one that comes with all the features that your business needs. There are many apps on the market right now, each with its own unique features and advantages.
From there, it will be much easier to determine what features are necessary and what features you can skip out on. This might take some work, but rest assured that once you figure out what you need from a pickup shift app, you'll easily determine which app is right for you.
---
Best Pick Up Shifts App: Conclusion
A pick up shifts app can work wonders for productivity and efficiency within your business. With that said, finding the right one for you and your team is easier said than done. There are many things you need to consider when choosing the right pick-up shift app, including your business needs, the number and the type of staff you employ, your industry, and more.
Whatever your needs might be, above, we recommended a handful of market-leading pick-up shift applications, so all there's left for you to do is decide on which one works best for you.