Progress Update (Oct)
October 20, 2016
Hello everybody!
We have been muted for some time working hard on some cool stuff, which I'm happy to present to you now.
Beta Progress
Many of you are sure to notice that we have been running 2 different versions of EH for the last 2 months.
The new version is the future of Everhour, the end of October will be when we cancel new registrations in the old version. This will happen after some final arrangements on our side.
Old and new users can read in detail about the difference and what to do after only one version is available in our knowledge base.
Now Works With Trello, Basecamp, Github, Pivotal & Asana
The main news is that from now on our new Everhour version supports all the same integrations we had in the old one! Trello, Basecamp, Github, Pivotal are ready to show you time and estimates directly in their interface.
We changed a lot in our embedded functionality to make integration far better. It's vital for you to open the links above to read about those changes in detail.
Please keep in mind that you should work in Chrome to see those features, Safari, and Firefox support appear later.
Today Team Activities Dashboard
In our opinion, this is a killer feature! )) Using it internally for a while and it's so powerful!
Watch it in real-time who and on what is working at this moment, their past activities for today, and identify those who didn't report a minute today at all, ensuring everyone is on track and speed up those who are behind. Everything at a glance on a single page.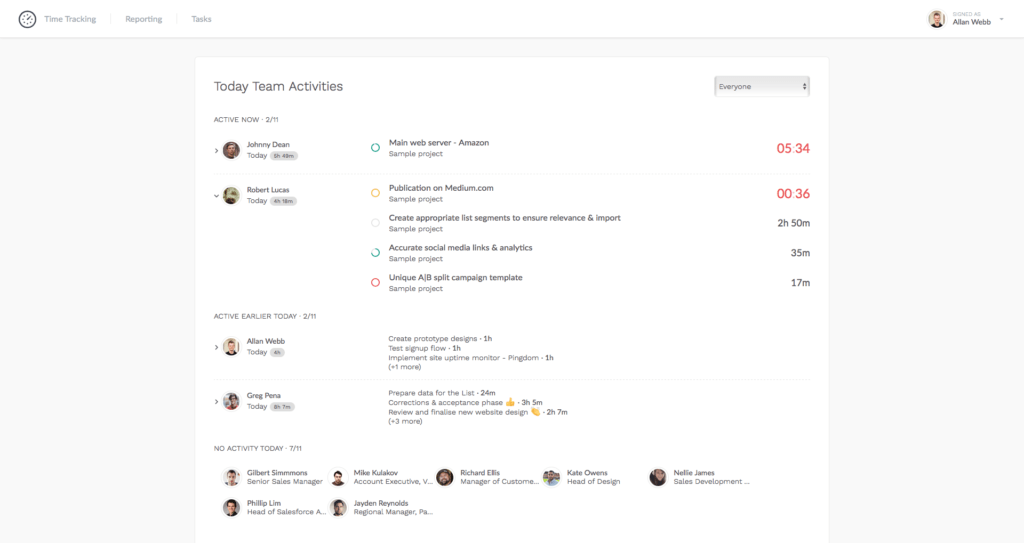 Export Reports
A must-have feature we were probably keeping in our backlog for too long.
To see reports on the website is great, but it's a regular practice when you need to share a report with your colleagues or clients. Or even download the report to do some math.
Starting today you have an option to download any report as a .csv and excel file. To do so, just open the report and hit the 3-dot icon in the upper right-hand corner: