Whether a manager, an entrepreneur, or a supervisor, you know that one of the biggest issues you face within the business world with employees is time management.
When time management is confusing or poor, workflow slows and productivity takes a huge hit. Like the proverbial herding of cats, employees can be hard to manage according to tasks and even harder to track and bill.
Time management really breaks down into four separate components, all of which can affect workflow and hurt productivity and profitability. Time tracking, time analysis and estimating, reporting to a client, and invoicing are all issues that managers face.
Below is (in our opinion) the ultimate guide to excellent time management practices for maintaining workflow and increasing profitability.
Time Tracking
Tracking time seems like it should be a simple endeavor. And, to be honest, it can be. Employees can usually manage to fill out a weekly timesheet showing 8 hours of work every day.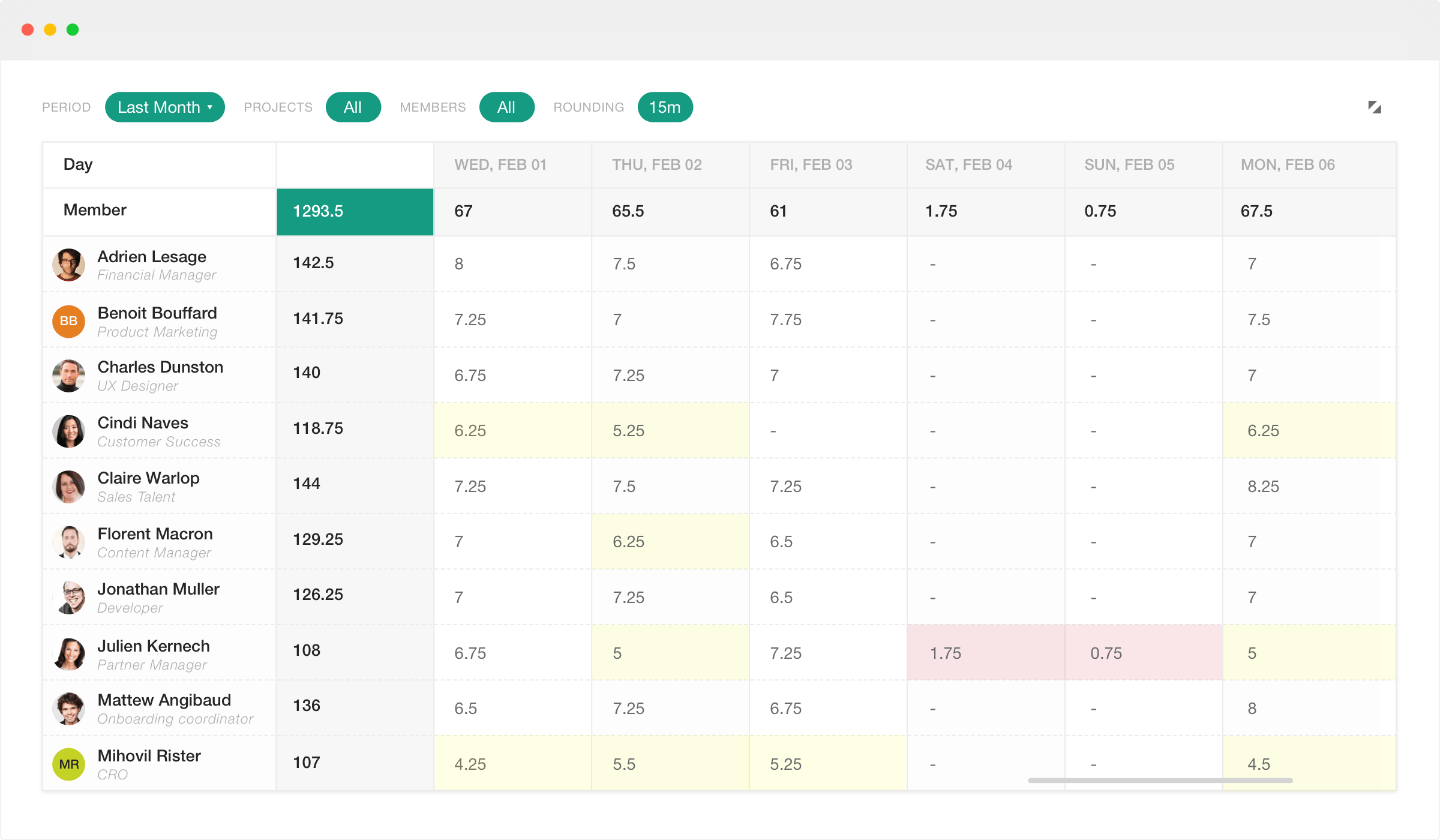 Timesheet report in Everhour
The issue, though, is that a simple timesheet showing time spent 'working' is not an accurate description of the time that is used productively.
This sort of hands-off system can lead to losses in productivity and unhappy clients as the workflow moves slowly. Managers know this is a struggle, and continue to be frustrated by it, but there are few, if any, tools available on the marketplace to fix the issue completely.
There are some time tracking utilities that allow an employee to track time and to make comments on the time used. The problem, of course, is that such time tracking systems do not provide for any direct accountability on the used time.
For example, 2 hours logged as 'meetings' may well have been used meeting friends around the water cooler. Or 4 hours logged as 'communication' may have been spent communicating about the weekend party that's coming up. This system, while allowing for some additional benefit over a simple time clock, does not provide a solution that has a real-world benefit for managers or business owners.
Further, at billing time, clients are not happy paying multiple hours of nondescript billings with titles like 'discuss plan'. Client approval, workflow, and productivity all screech to a halt.
Other systems improve on this by allowing employees to choose from a preset list of activities like development, marketing, management, etc., as well as allowing for employee notes. This system is definitely an improvement because it provides a method for billing and workflow management, but it is still not ideal because it is not necessarily task-specific, and only provides a limited scope of categories for employees to choose from.
Everhour provides a solution that seeks to meet every one of these needs.
The concept is that time is tracked by project and by task. Everhour time tracking functions as a methodology for time tracking within a project management framework. In this method, time is tracked organically within the specified task, allowing managers to hone in on where time is being used, and where productivity may be faltering.
What's more, employees will begin evaluating necessary tasks before logging in to the system and preparing themselves to complete the task in the specified time by gathering the necessary materials. The task-based time tracker, therefore, enhances employee organizational and time management skills and helps to focus on time used.
And, even better, Everhour integrates with all of the most popular project management systems (Asana, Trello, Basecamp, and others), so that managers and supervisors don't need to copy and paste tasks. They simply have to use the tasks already inherent in the project management software.
With these tools in place, managers are able to bill more carefully and also able to track employee productivity. Employee evaluations on workflow and time management are simple with the Everhour system.
So ultimately, Everhour creates a native system that allows for task-specific time tracking within existing project management software. Billing, invoicing, and internal employee management are all simplified and specialized to make managers' lives easier and clients happier.
Estimates for Time Management
As a manager or a supervisor, you have a pretty good idea in your head about how long a project should take.
When those ideas start to run over a little bit, you're still ok, but suddenly you're looking at 20 and 30% overages on your initial ideas for hours billed for a task, and your client is disappointed at the delays that will inevitably come.
Employees will tell you all the reasons why it's taking longer, but the truth is that a loose time tracking system has allowed for less productivity.
Again, Everhour has a really neat answer. The software allows you to make estimates for each individual task to whatever degree of specificity you like. Each task will have a time estimate built-in, and as employees work on the specified task, the time used is being clocked against the estimate.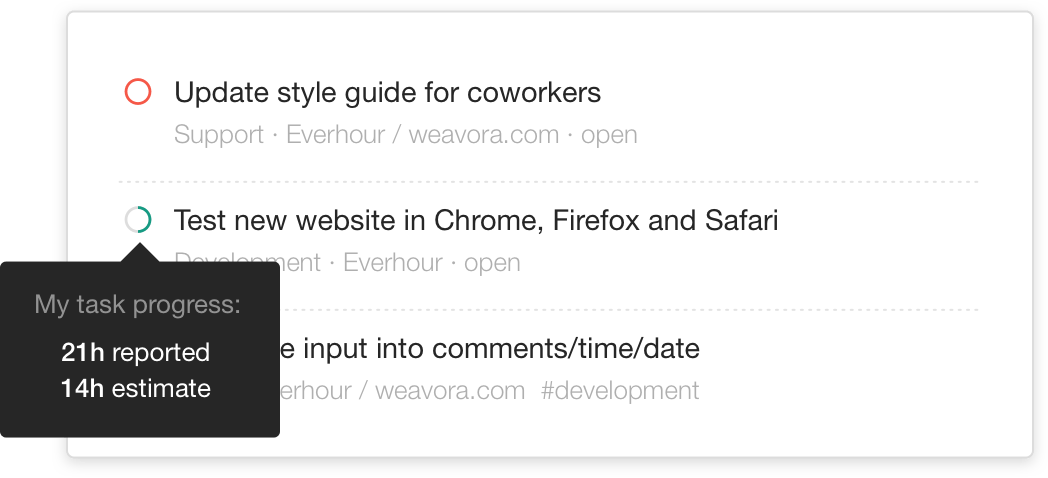 This keeps the employee aware of their place against the time that you've estimated the project should take. As the estimated time starts to run out, the employee can continue to evaluate if there are ways that the task can be completed within the allotted time.
Employees that continually exceed the estimates can then be evaluated on the basis of a fair and impartial methodology, given the estimates and their performance.
And again, Everhour's integration options make this estimating methodology even smoother! Everhour will integrate with the PM software that lacks this feature, and provide this very helpful tool as a component of your favorite software. With this connection in place, task evaluation and project completion become far more clear.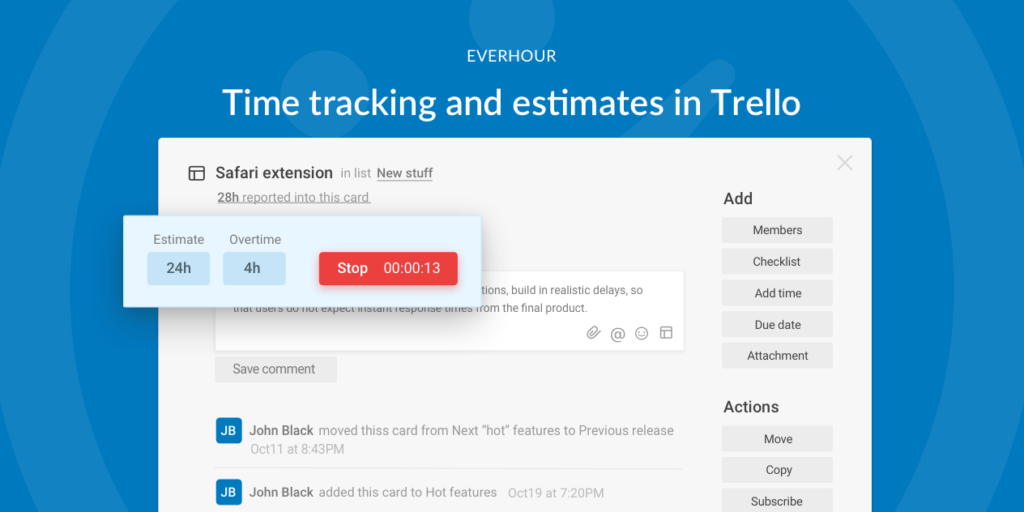 Everhour natively integrates with Trello, Asana, Basecamp, Jira, Pivotal and more
Even within an agile development system, each task can be individually evaluated, making project evaluation simple, clear, and straightforward, both internally and with clients.
Finally, the estimating tool allows for a simple and clearly defined methodology for providing clients with upfront estimates for projects.
Managers and supervisors can work through the project, assigning estimates to each task, and then providing a cumulative cost basis to the client before a single line of code is written.
The contract can then be completed on a task-specific basis and changes and delays can be accounted for on a per-issue basis.
Reporting
Next to managing the employees, reporting to the client is the least favorite job of a manager or a supervisor.
Sometimes it takes days or even weeks to develop a report on a large project, give future estimates, and explain the time and resources used. The manager's time is spent analyzing the countless data points and compiling them into a report that the client will approve of, complete with formatting time and presentability.
Because Everhour is providing and tracking all this data in the time tracker and estimating tools, it changes reporting from a monthly headache to a simple process.
Everhour offers the very best reports, guaranteed! They offer exquisite detail, useful flexibility, and simplicity of use like no other program on the market.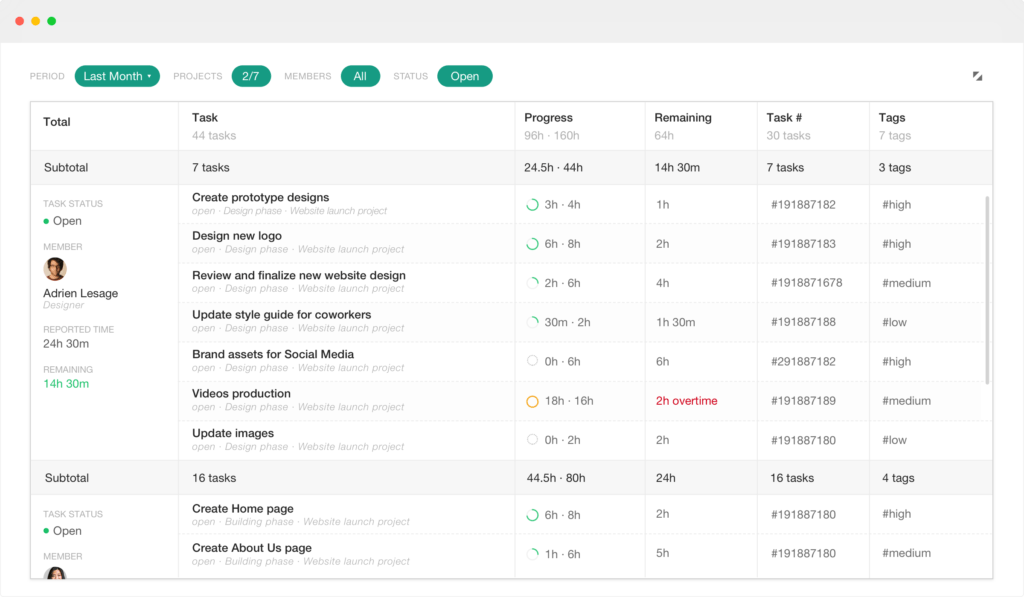 A detailed report of tasks in Everhour each team member worked on during the chosen time span
For a business that simply needs to show hours worked per employee per month, Everhour is an overkill. But for companies that need detailed accountability and reporting for their employees, Everhour uses its data awareness to make beautiful and professional reports for clients and internal supervisors.
These reports show a detailed analysis of the time spent per task, of time vs. estimates, of overall project completion, and much much more. With so much information available, users are able to provide complete transparency to clients, encouraging trust and helping to show where expectations have been missed or exceeded.
All of this functional goodness is simply a few clicks away for managers.
Everhour also has a useful and helpful internal tool for reporting which tasks are being worked on at any time of the day.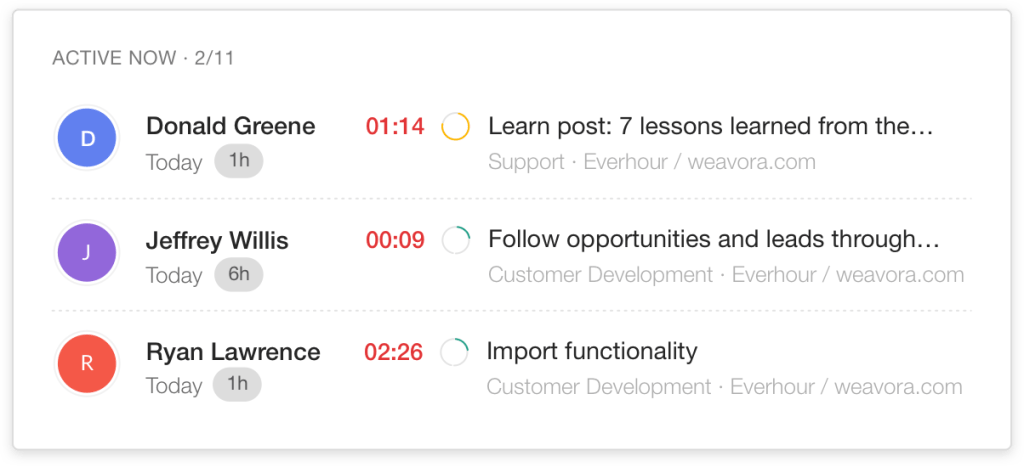 Rather than constantly pinging employees on Slack and asking for what they're focusing on, managers can monitor employee productivity and focus with a single click. This report helps to lessen distractions between managers and employees and helps to maintain good work environment relationships by limiting micromanagement.
Employees feel empowered to work without constant oversight, and managers feel content, knowing that tasks are being completed in a timely way.
Check out this list of sample reports and see for yourself how useful they can be for making your job simpler, and your team happier.
Invoicing
The fourth piece of time tracking that can get really difficult is invoicing.
Clients want productivity and workflow with a maximum amount of clarity. Task specific reporting and estimates allow invoicing to be a simple and clear process that can keep the client abreast of what is going on with their project.
When a client has two projects running at the same time, they are able to make clear what the projects are and where they are in the completion process. Clients can see exactly what is happening and what they are paying for before they send out the check and pay the invoice.
Within the invoice, a manager is able to set individual billing rates for each team member. This allows for a simple rate scale for clients to see.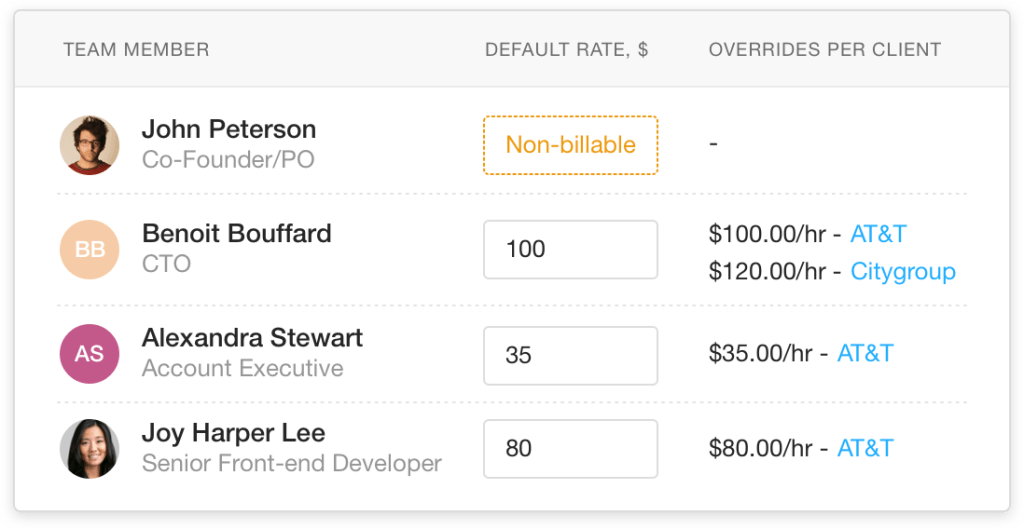 Where managers need to make discounts for the client, a manual client-specific override function is available for the invoice. After the billable rates are set and the overrides are processed, a client billing is a simple and clear cut without a manager spending additional hours changing billable rates manually.
Additionally, with manual editing on billable time, a manager can check and make sure that the time used is matching with what the client will expect. Nothing hurts more than when you exceed billable time with a client and have to manage the fallout. However, in Everhour, when billable hours exceed client expectations, a user can mark those hours as non-billable and keep the client happy.
Further, line items within the invoice can be grouped according to the client's wishes, making invoicing and client care simple.
When the invoice is correct, Everhour produces a downloadable PDF that looks super professional and clean for you to send to the client.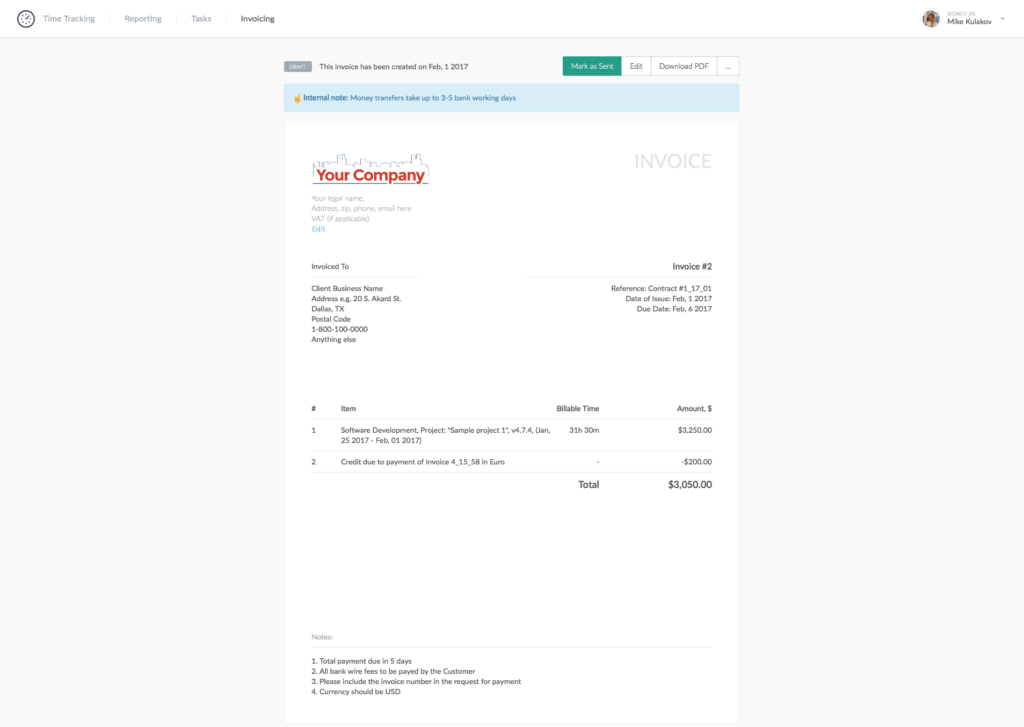 As invoices stack up, a user can see the entire invoice history over the client lifecycle, providing a clear picture of payment times, invoices due, and totals invoiced for any client. Using this feature, managers and keep tabs on clients and understand their payment practices over the long haul.
The goal with invoices is to limit headaches, get paid for your work, and to make sure to keep the client happy in the process. The best way to do that is to use Everhour to process and create your invoices.
Are We Biased?
Yes. Of course, we are! But we also think that the tools that are built into Everhour are some of the most useful and helpful tools on the market. If you're wanting to maintain client relationships, manage employee productivity and workflow, and keep your team happy at the same time, Everhour is the best system available.
And yes, while we're certainly sharing some of what we do, others have agreed. Just check out these reviews. Daniel Gallegos over at devAcademy gives a really helpful review of Everhour vs. Hubstaff, and Kenny Lange at Keep Rising has some personal experience to share as well.
Take a few minutes to see how both of these guys put the tools above into place in their corporate environments and made their lives simpler and hassle-free.
If you're in the market for a way to improve time management for the first time, or if you're thinking of making a change to something that integrates more smoothly with your current PM software, give Everhour a try.
Our time tracker model with estimates, reporting, and invoicing will make time management simple and easy for you or your manager or supervisor.
With the tools available at your disposal on Everhour, you'll also find that your team workflow and productivity will increase, your reporting will get simpler, and your clients will be happier.
And who doesn't want a simple life with happy clients??