Slack Time Tracking Integration: Real-time Team Performance Insights
October 18, 2017
Slack is a great product for team communication and deeply penetrates the workflow of many companies. According to the fresh stats, it boasts above 6 million DAU.
When a team uses Slack heavily (like we do), it's instrumental to have a way to push all important notifications and company-related announcements there.
Many of our customers have claimed time as the most relevant resource they manage on a daily basis. Namely saying that time tracking, estimates, and budgeting are key factors behind their productivity and delivery on time.
That's why today we are so thrilled to present you our Slack integration.
Time Tracking Events in Slack
Who starts a timer and for what task
This could be useful to see if the person works on the right task. Suppose you have a team meeting and after it, you see a person starts a timer for an absolutely different task. Why? Did we misunderstand one another? React quickly to find out and rectify.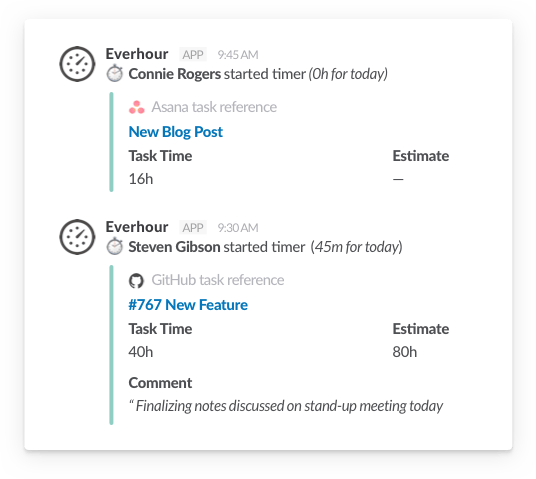 Time adjustments
Let's imagine a situation when you asked a colleague to edit time in a report a client is waiting for. When you see a notification about the change, there is no need to waste time asking a colleague whether it is done or not.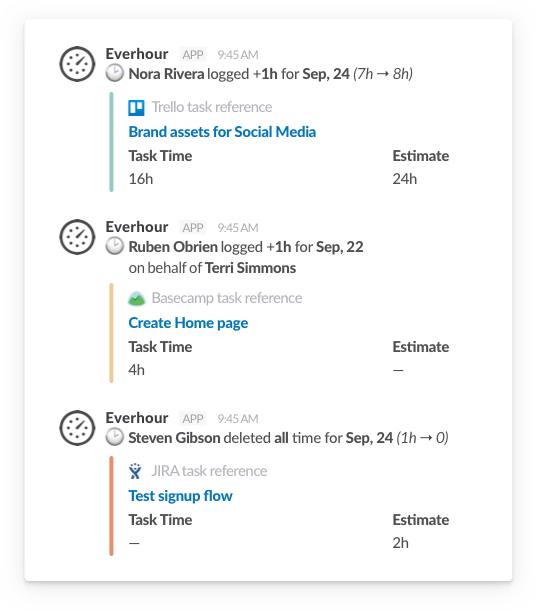 Another scenario is to be alerted about a changed time prior to sending a report or an invoice. And it goes without saying that the major benefit of this notification is to see when people adjust the time to exclude any fraud and instill a habit to track time in the right and accurate way.
Estimate adjustments
This is cool to have to know that the estimate was changed for some reason or wrongly set at the beginning.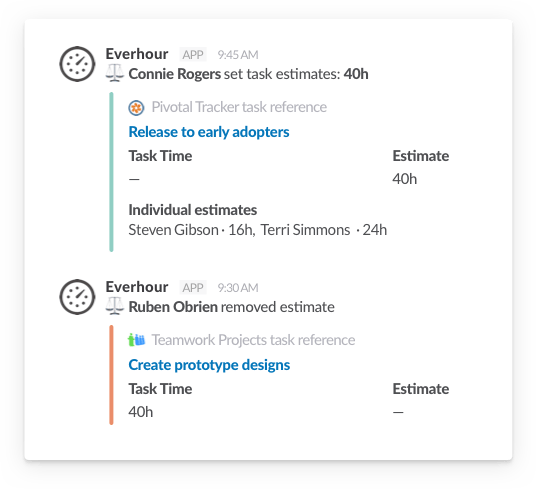 Using One or Multiple Channels
You can send all the above-listed events into one dedicated channel, ex. #time_tracking. Alternatively, you can create a channel for each project. This keeps everyone focused only on things they do.
How to Connect
When you don't have an account with Everhour, you should create it first, then go to the Integrations page and click "Add More Applications" button. Only team admins can connect Slack, the rest of members can be just invited to your channel to see these notifications.
Future
We are going to improve this integration, so when you have ideas, feel free to leave them in the comments.