Reports: New Filters and UI Changes
April 16, 2021
This time we decided to add new filters to our reports and also re-work the UI a little. Let's take a look at how it worked out!
UI Changes
Previously, each filter has its own tab on the report builder. Now all of them are located under the Filters tab. By default, there are 2 filters — Projects and Members, but you can add others if necessary: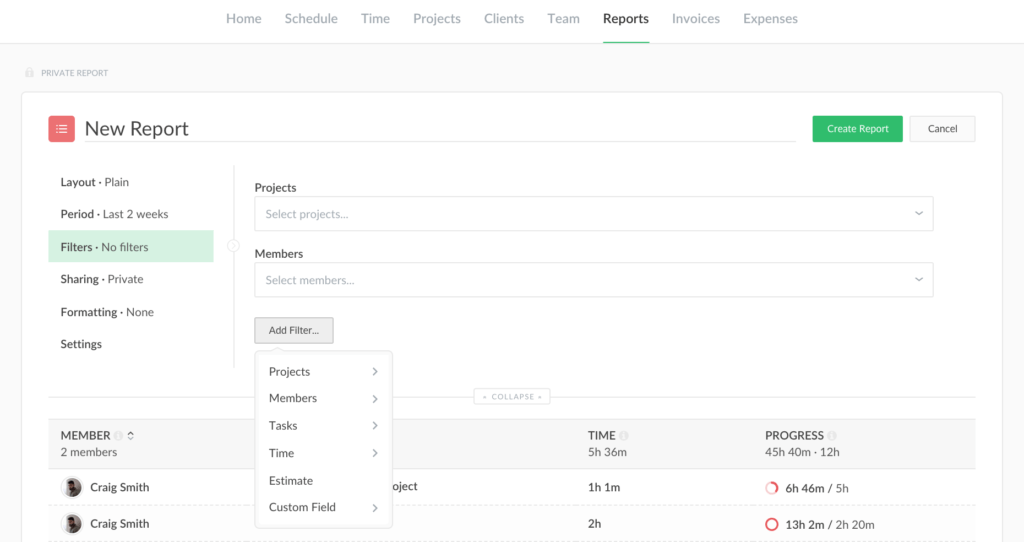 All the filters that were previously grouped under the Meta tab are now located under separate sections: Projects, Tasks, and Custom Fields. Filters by tags, iterations, and task statuses can be found under the Tasks section: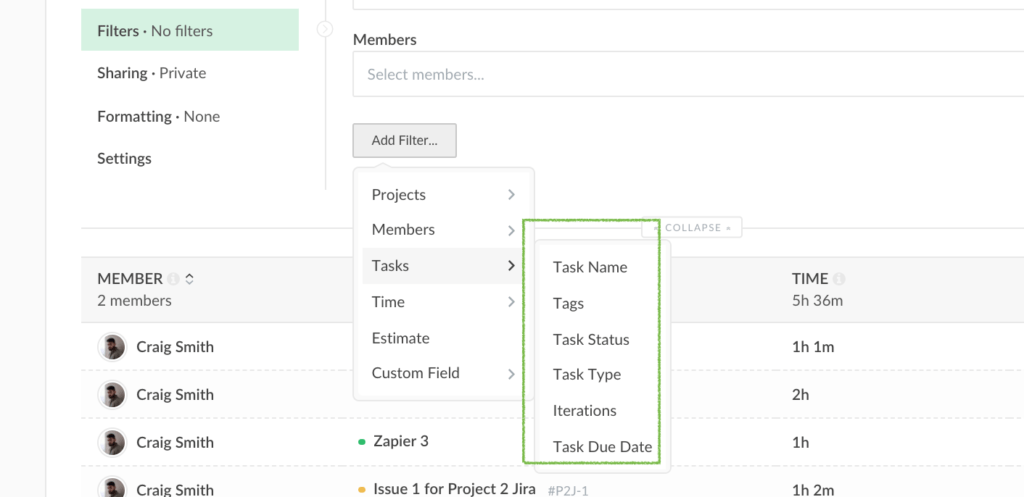 As for the Projects filter, you can now exclude certain projects from a report. Also, you can select a certain client or workspace in a filter and all of its projects will be included in a report.
Note: from now on all of the new projects created in this workspace/ client will be automatically added to the report. Simply refresh your report to see data from a new project.
Additionally, all the report actions are now under the report's menu list. Also, there is quick access to report's filters, the 'Sort by' and 'Period' dropdowns on the right:

New Filters
We added a number of new filters to the reports, namely:
Project Status: lets you filter your report by active or archived projects;
Project Billing: here you can filter your reports by the billing type of your projects (non-billable, hourly, fixed fee);
Project Budget: filters the report by your projects' budgets (total project hours, total project fees);
Members: here you can choose the team roles whose data you'd like to see on reports (admins, supervisors, members, limited members);
Tasks: here you can filter your report by word or word combinations from your tasks' names, due date, status, and type;
Time: allows you to choose the duration of time entities and the types of time displayed on the reports (billable/ non-billable, invoiced/ uninvoiced, greater or less then … );
Estimate: filters your report by the specified duration of task estimates (greater or less than … ).
We'd love to know what you think of this update. Please send your feedback at ask@everhour.com