Time Tracking with JIRA
March 30, 2017
At Everhour, we always think about what other external tools our timer can enhance. This time we stopped on Jira.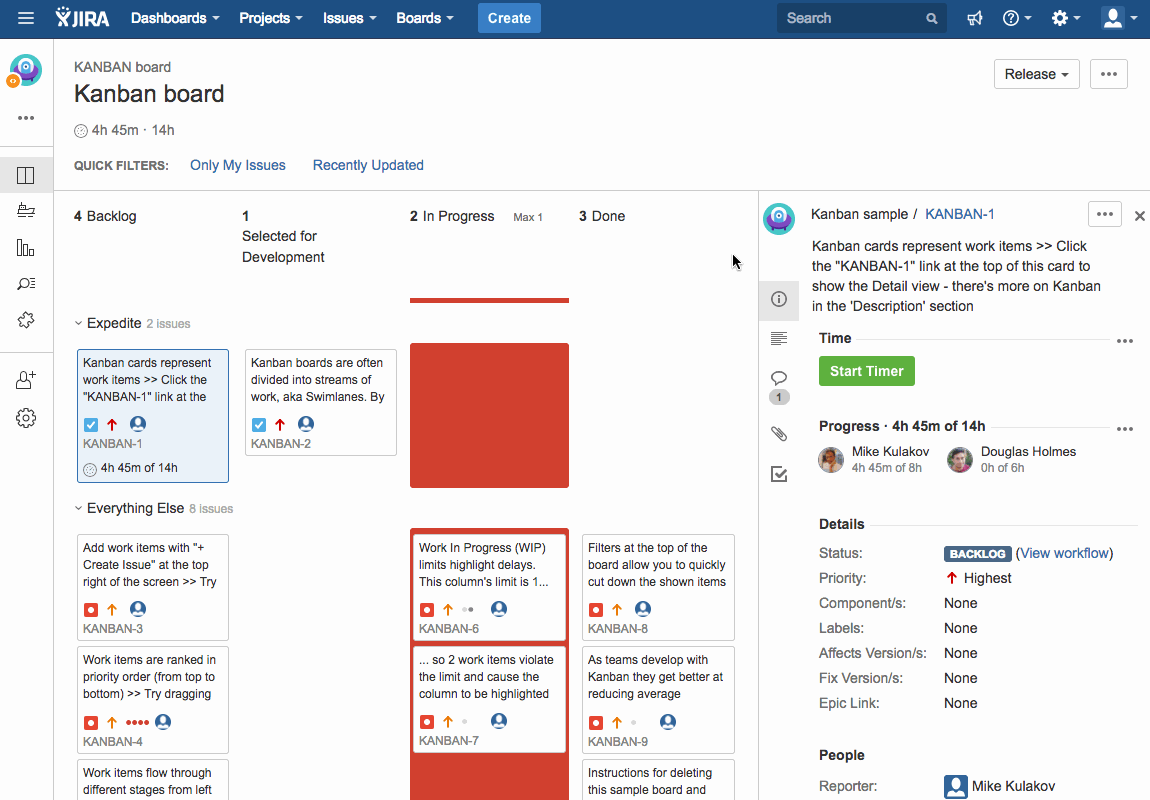 The Jira integration is ready and you can activate it from the Everhour applications page in your account settings. This manual explains in detail the setup process.
It is important to know, that an administrator of your Jira account should first set up integration with us on a Jira side to allow the whole team to add it.
What's So Special About Everhour + Jira Integration?
Quick setup
When you setup Everhour's Jira time tracking plugin, we sync all your projects so that your team can start business time tracking right away. No manual project setup is required.
Less employee teaching
You don't need to explain to your staff how to use additional software. Time tracking controls will appear right inside their Jira interface, making it easy for them to track time.
Accuracy
Employees often forget to track time as it's not convenient for them to switch between apps. Everhour eliminates these steps and improves time tracking accuracy.
Estimates are always in front of you
Everhour shows time vs. estimate beside issue titles. When the entire team sees progress on tasks, they will hold you accountable to ensuring work is done.
Automatic updates
When you add a new repository or change the name of the existing tasks in Jira, we will sync this change automatically in Everhour. That means your reports will always show the freshest data.
Detailed reports
Our reports let you organize reported time using various information from your Jira tasks such as labels or milestones. So you can dive deeper into analysis to get more accurate results.
What Real People Say?
Teams of different sizes and industries choose Everhour to track time and expenses, properly bill their clients and better understand how long specific jobs took for future quotes and estimates for a reason. But don't just take our word for it. Here's what some real people say (taken from Capterra, G2Crowd and TrustRadius):
"We are using Everhour as a core business software, because our business is to sell our time. When you use such software, what you care the most is speed, flexibility, ability to integrate with all major project management software. And Everhour is exactly that kind of software" – Ivan M., Owner, 1-10 employees
"The most important gain from using Everhour is that we can track our tasks in real time without having to leave the browser. The Chrome add-on helps us initiate the time for a specific task. If we are already on Asana a simple click does the job" – Dimitris R., Partner, 11-50 employees
"Everhour helps me manage/plan my weekly activities a lot more effectively, since I know how much time I have to work on things each day, and can quickly update estimated times to reallocate tasks as needed". – Dan S., Team Lead, 501-1000 employees
"Everhour's integration with Asana is wonderful for a remote team. We track all activities in Asana, but before Everhour I often wondered how long it was taking to do a task, now I know exactly. I can see who is working right now and a summary each day" – Doug H., Principal Laboratory Informatics Scientist, 11-50 employees
"With Everhour, time reporting and project follow-up is so much easier and faster. We have total visibility of the estimated time and reported time. One plus feature that would be great to have would be a gantt view that would receive the information of the estimated times and calculate the available time for the resources depending on their allocated tasks/time" – João V., Head of Digital Communication & Lead Motion Designer, 11-50 employees
"Everhour has already paid for itself for the year by helping me track time I was missing in client projects. It is easy to use, has friendly customer service people and the reports make it easy to invoice clients and track projects" – Jenifer D., Owner
"We are a 15 people team working remotely from different cities of Latin America and Europe, and time tracking for each client, project and task has been always a major issue. We've been using Everhour for the past year or so, and it has become an essential tool for our team. Is not just that gives us the ability to track how much time we have dedicated to a project, but also to estimate how much time a particular task will need in order to be completed next time and by who. Easily create sand save reports with just a few clicks" – Daniel Y., Creative Director, 11-50 employees
"Love Everhour's integration with Asana. It allows my team to record time against the tasks so that I can review their effort – all within Asana. Reporting and monitoring is in Everhour itself. My contractors support their invoices with reports from Everhour" – Trevor K., CEO / CTO, 1-10 employees
"We looked at a lot of software to integrate with Asana and Xero to track our project time and Everhour one was the only one that ticked all the boxes. The feature set is great at achieving what we need and helping us better understand how we spend time on projects. It works seamlessly with our other apps! The support is also really responsive, answering any questions we've had and taking our recommendations into account on product updates" – Kim H., Creative Director, 1-10 employees
"Everhour is bar-none the best software for time tracking I've used. I needed to capture our team's hours in Asana, but didn't want to slow them down too much. Everhour makes it easy to start time tracking in a task, your browser or in their app. It feels native to asana. It's a well-built app too. The user interface is simple yet smart. It works like you expect it too. And it seems like every time I go to their online app there is some small, smart, new functionality. Lastly, the support has been spot on and responsive. So there you go. I don't often write reviews but felt these folks deserved one" – Steve C., CD, 501-1000 employees