Integrating Everhour with Notion
July 18, 2022
Notion is another platform that Everhour now integrates with. As with all the other integrations, you can connect it to your Everhour account and start tracking time directly in Notion.
Here is how we integrate it into Notion's UI: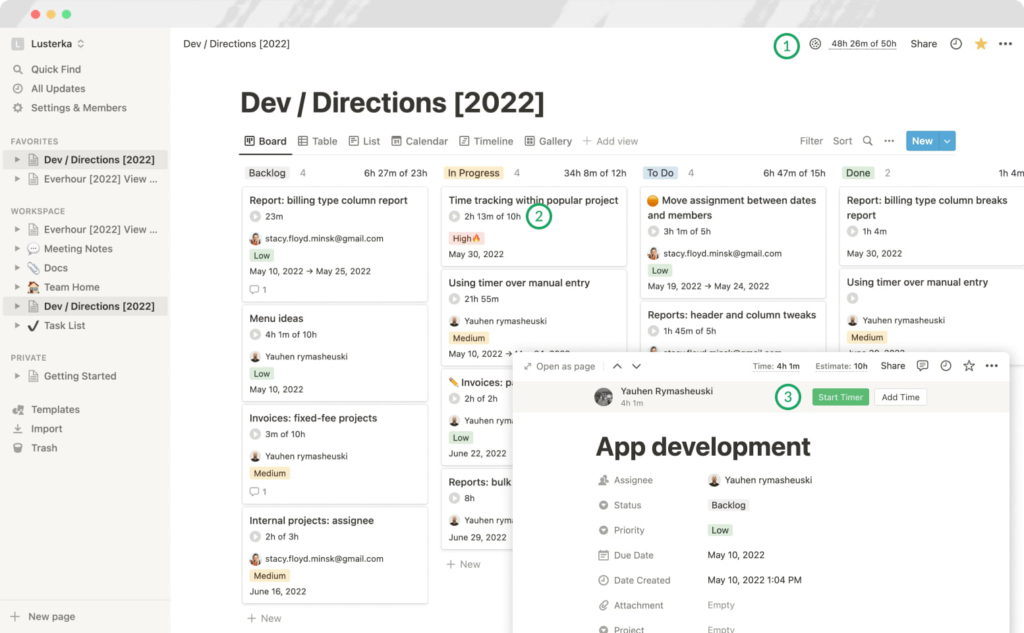 Header: see total project hours and estimate;
Task: see task total time and estimate, click on the play button to start the timer;
Task window: track time using the timer or log time manually.
---
How to set up
Each Everhour team member, who is going to track time in Notion will need to:
Connect Notion when onboarding to Everhour, or on the Integrations page in their account settings;
Install the Everhour browser extension. We use the extension to display the Everhour controls in the Notion UI;
Grant access to our extension after it is installed.
---
How the sync works
Once you connect Notion, Everhour will ask what projects (pages) you would like to track time on. Everhour will only appear on the selected pages.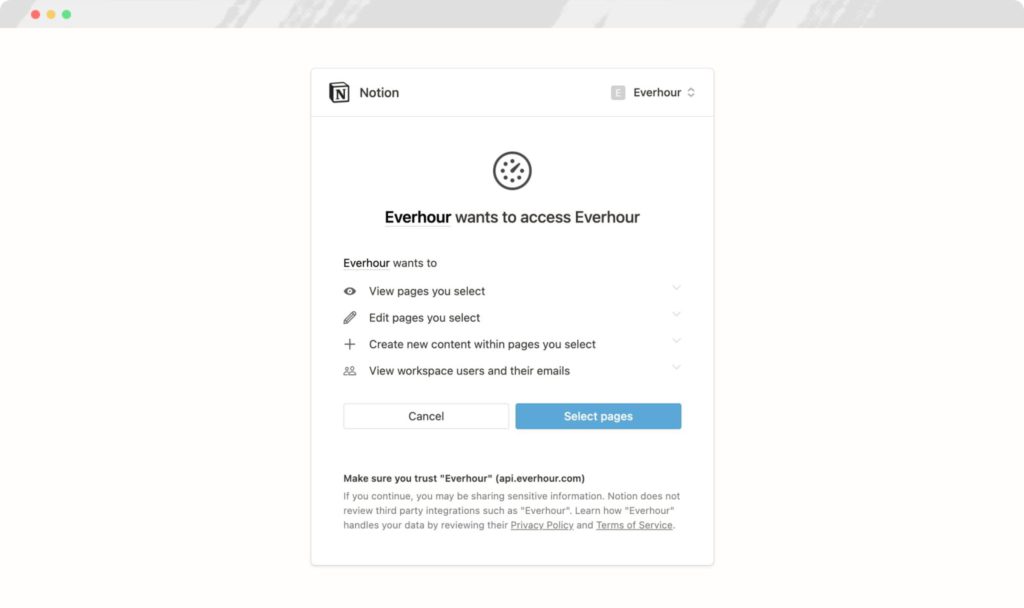 You will be able to add other projects later. To do that, open a project you want to sync > Click the "Share" button > Add "Everhour". After that, click "Resync projects" on the Integrations page. Finally, refresh your Notion page to see Everhour controls.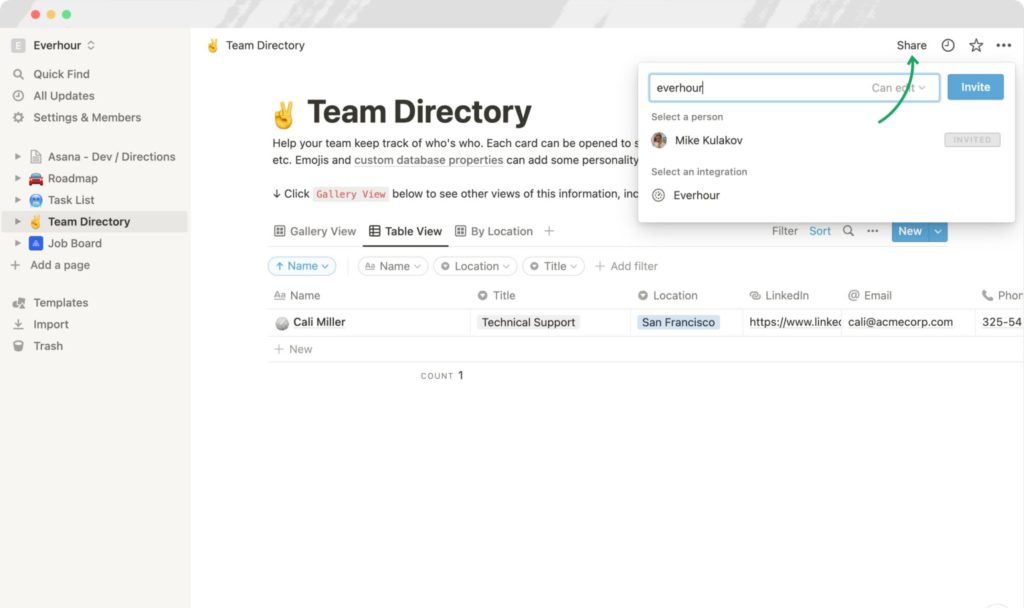 We run autosync between Everhour and Notion periodically during the day, so Everhour will auto-update the names of tasks and projects after you rename them in Notion.
---
How to trigger instant sync
It may take some time for an autosync to pull the updates from Notion. If you want them to be synced immediately, you can trigger an instant sync on the project and task levels.
To pull the project-level updates (a new project, a new name to an existing project, etc.), you need to click "Resync Projects" on the Integrations page.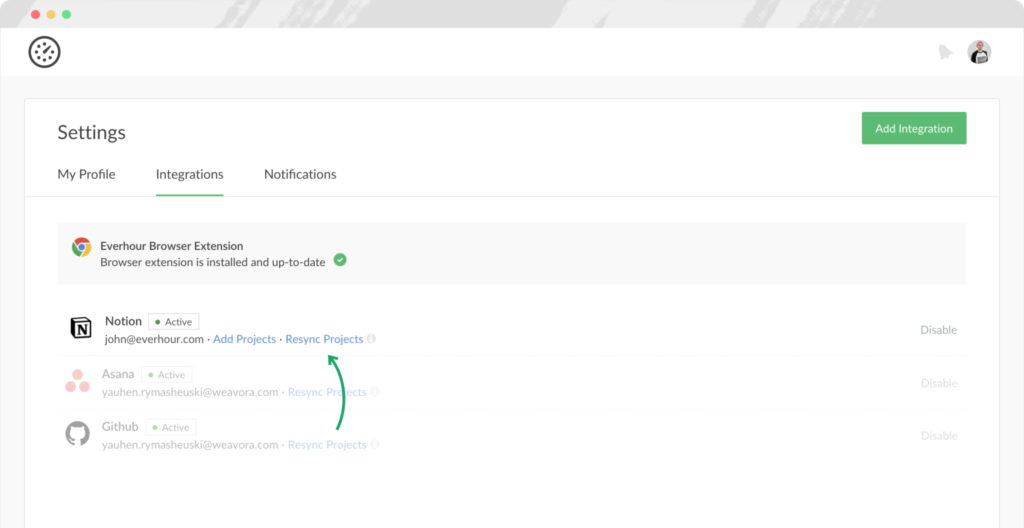 For task-level updates, you need to go to the Projects page, select the project(s) where you made the edits and hit the 'Resync Data' button.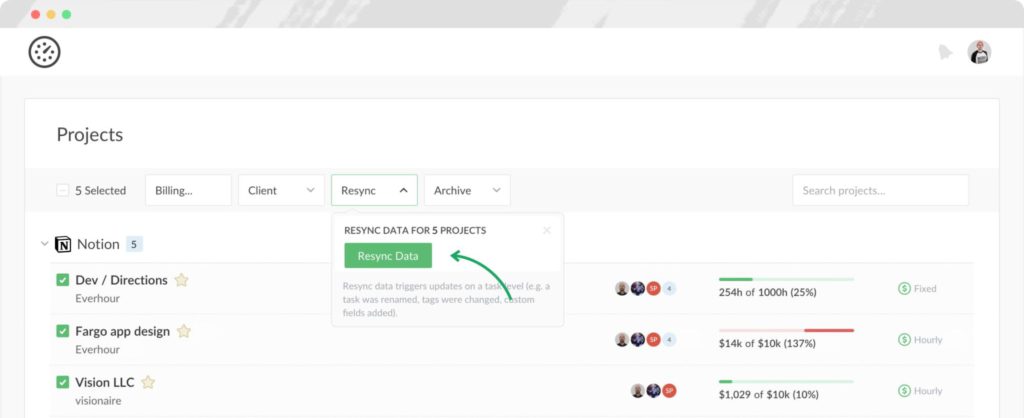 ---
Permissions
You need to invite your team members to your projects in Notion for them to be able to track time on those projects with Everhour. If you remove someone's access to a project in Notion, this member will no longer be able to track time into its tasks and see the previously tracked time.
Only team admins can configure budgets, mark tasks as non-billable and assign clients to projects.
Regular users cannot track time in archived projects. Admins can only do it manually (the timer feature is disabled in archived projects).