Everhour Works With ClickUp 2
August 7, 2019
ClickUp is about to launch its new enhanced version of the project management tool, which is now in Beta. They claim "will be a completely redesigned experience of the platform you've come to love, with tons of new features, improved speed, and overall simplicity".
Everhour extension now supports time tracking in ClickUp 2.0.
What is new in ClickUp 2.0?
ClickUp reps aren't able to give out any details yet, but you'll find all of the same tools in the new platform and there are hints littered across their feedback board of what's to come.
Some items got new titles in ClickUp 2.0:
Team called-> Workplace
Projects -> Folders
Users -> People
Team vs. Me Dashboards -> Everyone vs. Me Modes.
You will see your folders coming as projects to Everhour to which you can assign budgets and schedule team's time.
New places with the timer on

As before, the timer will be shown both on the List view and the Board view of the task when unfurled. We want to point your attention at Inbox view, Folderless Lists and Member profile modals.
Inbox field is your centralized place to work in ClickUp 2.0. It's your mission control center for tasks and reminders in the past, now, and in the future. The timer is available to start on each task tab on.

The folderless list is another feature that was recently added. Now you can create a list (section) out of the folder (project) and then move it within the folders. The timer is available in each task created within this list.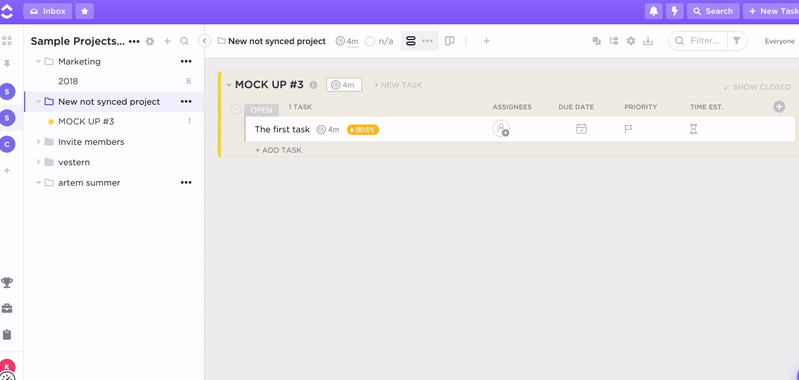 Member profile modal is another new place for the timer to appear on. When you click on a person's name from anywhere in new ClickUp, then you can see the option Profile. By clicking, a user's profile sidebar will expand on the right side of the screen.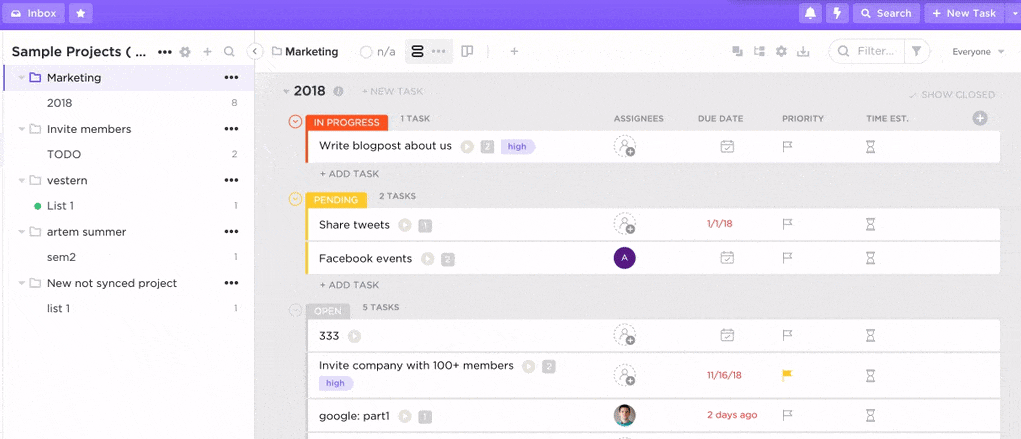 Here you can check the number of tasks assigned to the member and start tracking an appropriate task right from the opened tab.