On the way to optimizing time tracking with Everhour more and more, we're always looking at the most popular project management tools as potential integrations. After exploring what our users can benefit from, we have already added such beasts as Trello, GitHub, and Asana to the kit, but that's not where we're going to stop 🙂
Our team is happy to announce that from now on, Everhour can become a go-to time tracker for numerous Basecamp users as well.
Basecamp is a powerful project management solution chosen by millions of people, our own customers included. And we by no means wanted to deprive them of an opportunity for seamless and handy integration with their project activities.
I guess this might be especially big news for those who have switched to the all-new version of the tool and experienced the lack of the time tracking feature. We know that some Basecamp customers even prefer to stick with the Classic app instead of upgrading just because they are afraid to lose priceless functionality. But that's not the case anymore.
By connecting your Everhour account to Basecamp, you get time tracking and reporting related to specific tasks and projects. The great part is that you'll deal with no more manually copy-pasting to-dos since activities will be synced and regularly updated in Everhour.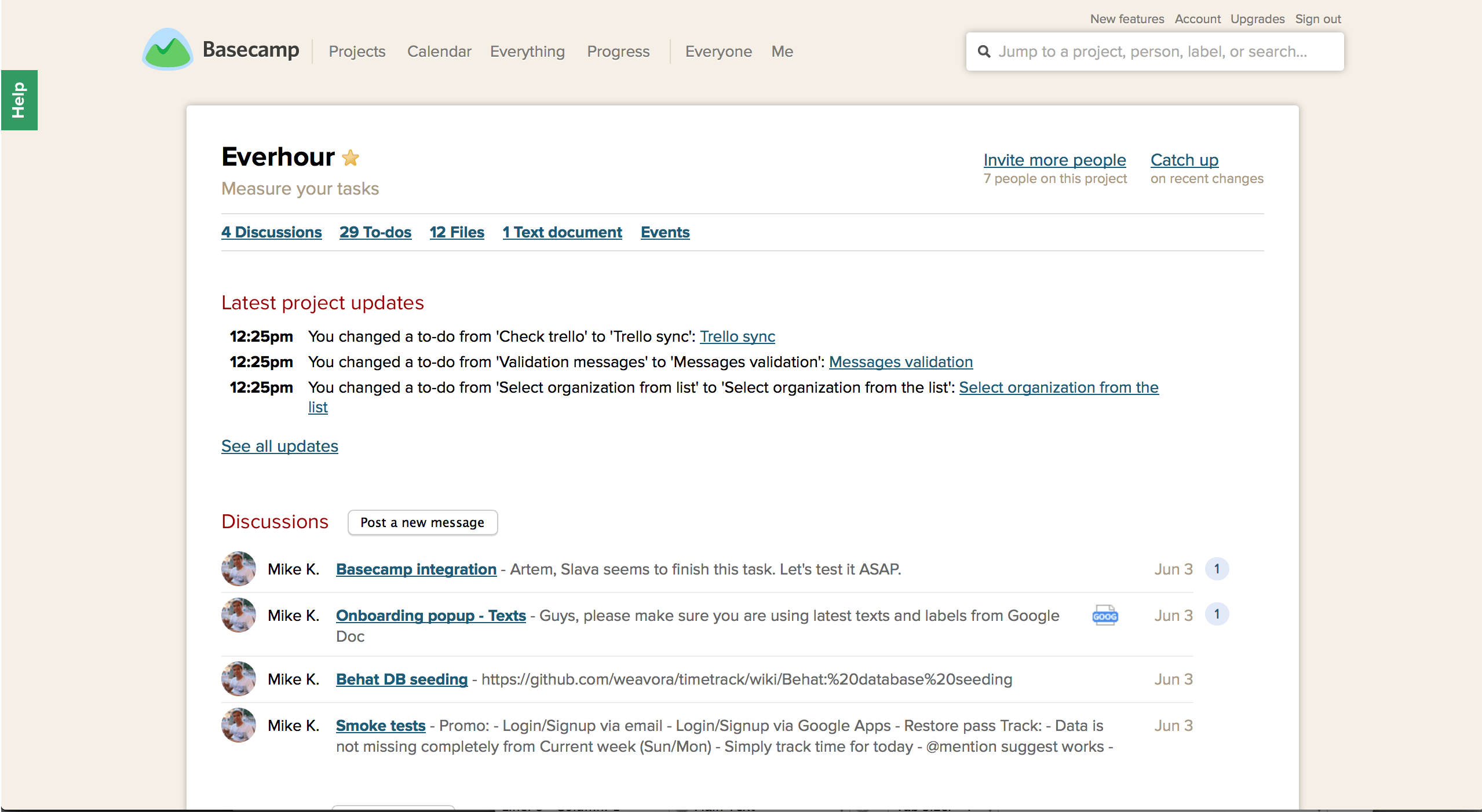 Why Everhour?
There are already plenty of tools offering a time tracking solution for Basecamp users. So why do we think ours will make a good match?
Firstly, our way of integration involves no plugins or browser extensions. Just a clean and clear time tracking from within Everhour.
Note: we ourselves are lovers of a plugin-free approach as it helps avoid messing around with extra components.  However, we know that some of you guys don't mind using plugins/extensions so we'll definitely keep in mind the possibility of implementing them later.
Secondly, you'll be surprised by the level of simplicity and comfort. Refer your to-dos directly in the time input field and add any extra comments right there as well. We won't overload you with checkboxes, drop-down lists, or any excess stuff.
Thirdly, Everhour offers more than solely a timer with a possibility to mention tasks. To-do referrals in Everhour are not just clickable comments in the time tracking history but a means of getting detailed, comprehensive analytics for any task handled by any team member.
How does it work?
Tying Everhour with Basecamp is easy as one, two, three and won't take you more than 5 mins, trust me. In case you haven't yet signed up for Everhour, then it's high time to do it here, and those already in need to:
Go to Profile > Set up a new project or Edit an existing one
Click "Connect with Basecamp"
Choose a Basecamp project to sync with

And this is it – as soon as you click "Save", your project will be queued for synchronization which might initially take about an hour. Later on, any changes you make to project to-dos will be displayed in Everhour every 5-10 mins.
Time tracking of to-dos
Referring to to-dos via their names happens when creating a new entry, e.g. @project #110 Basecamp integration. As soon as you start typing, you'll be immediately provided with a list of to-do suggestions featuring their names, lists, and statuses. Every task will be additionally assigned with a unique Everhour number so you may use them for quick reference as well.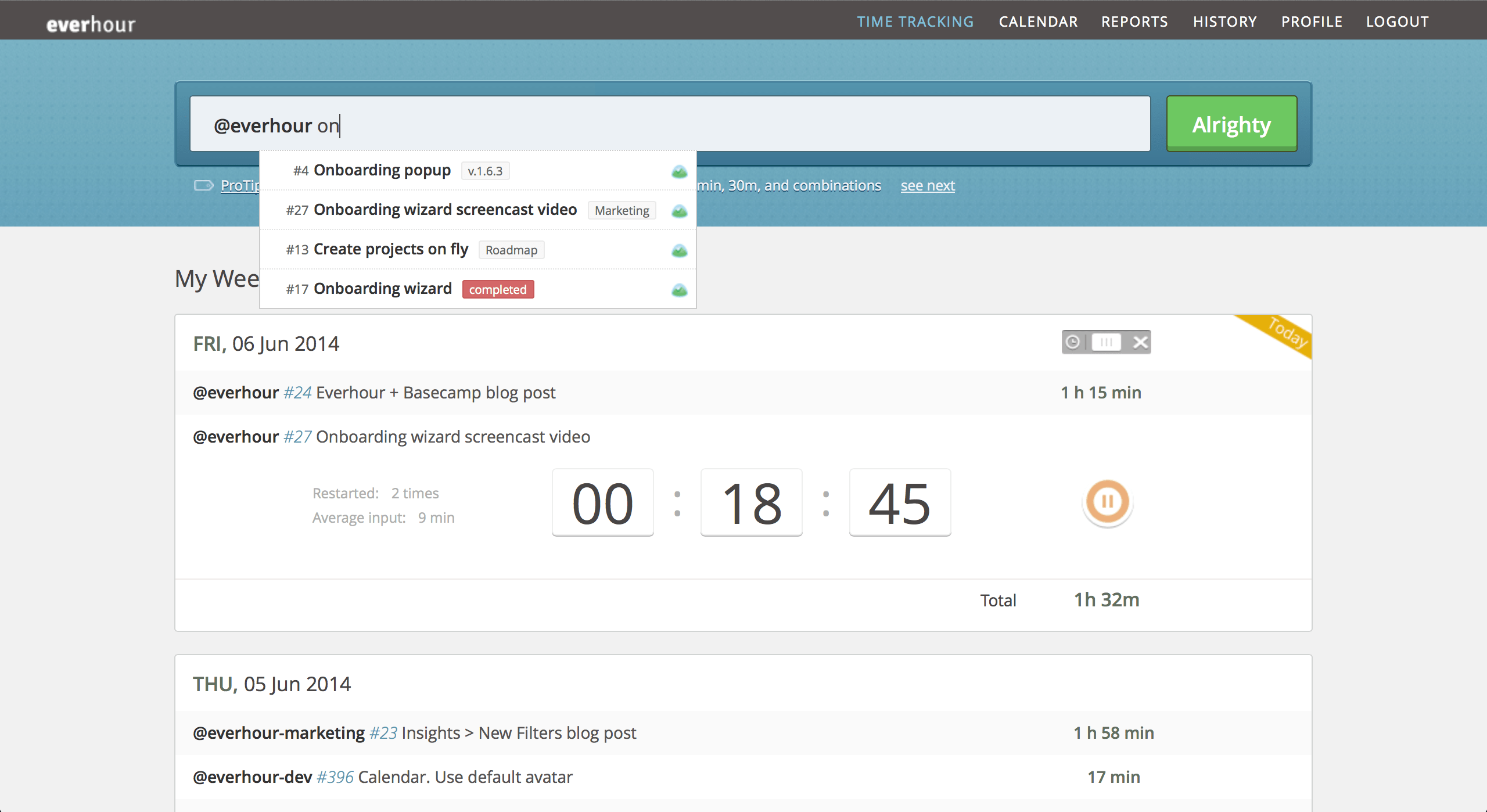 To-do analytics
Analytics can be accessed via Reports by task giving a big picture of your Basecamp project's progress. By playing around with info grouping options (Aggregate by, Group by, Sort by), it's easy to customize the look of reports for your convenience.
Explicit time stats on any Basecamp task you pick will let you provide clients with precise figures and thus bill for the right amount of project man-hours (you can do that via Xero invoicing). Besides, you'll always be able to come up with close-to-reality estimates based on previously completed activities.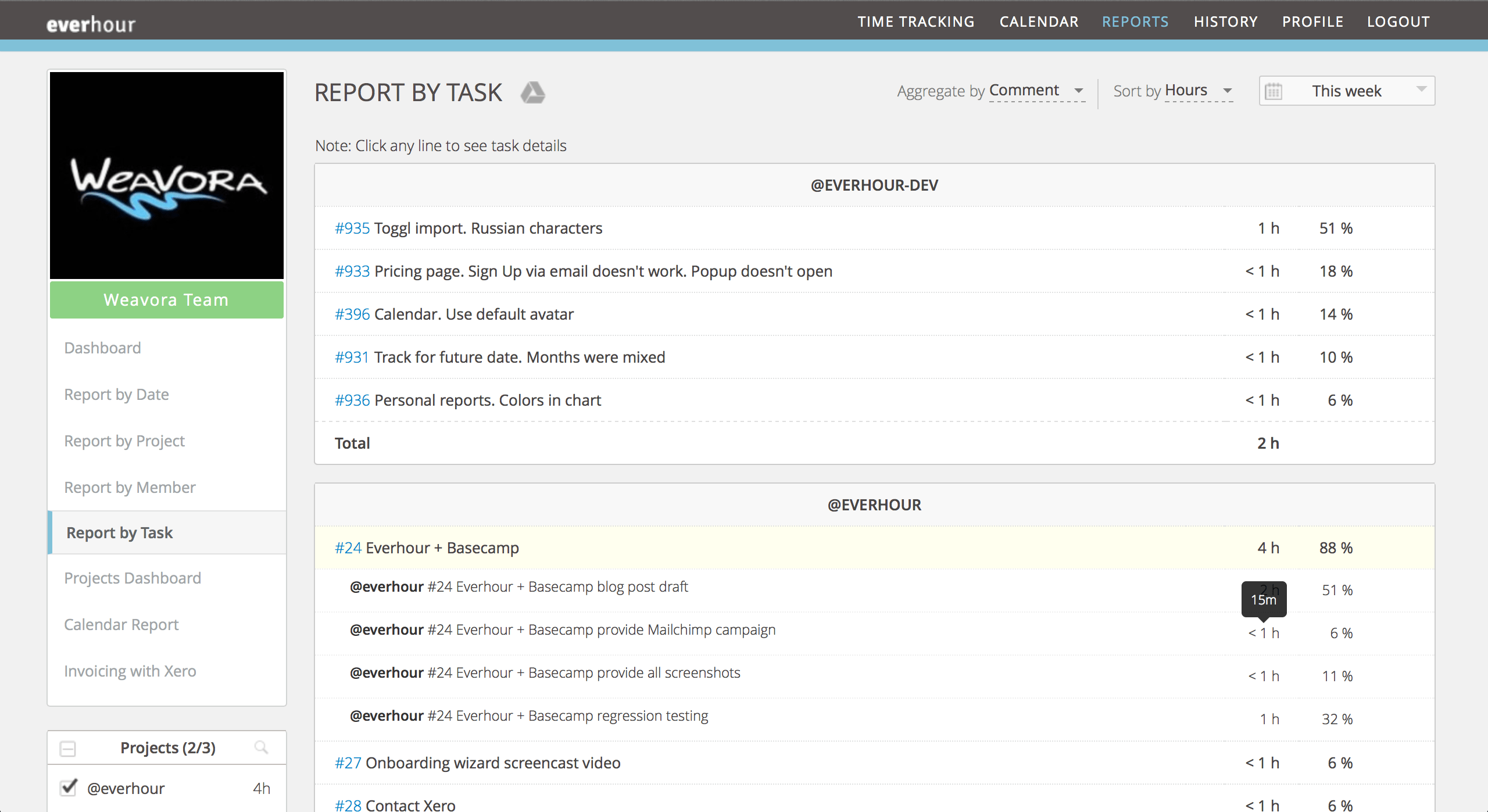 Basecamp dashboard
In addition to thorough time reports, there are extra Basecamp stats available via informative Projects Dashboard. You get a lot of useful data on how you and your team are handling to-do tasks:
key to-dos: top to-dos in terms of hours reported;

distribution by member: get to know who has contributed to tasks the most;

distribution by list: see how much time your team has contributed to a certain to-do list during a selected period of time;

distribution by status: this widget shows time allocation between open, completed, new to-dos;

distribution by the due date: see hours allocation between scheduled, unscheduled, on-time tasks.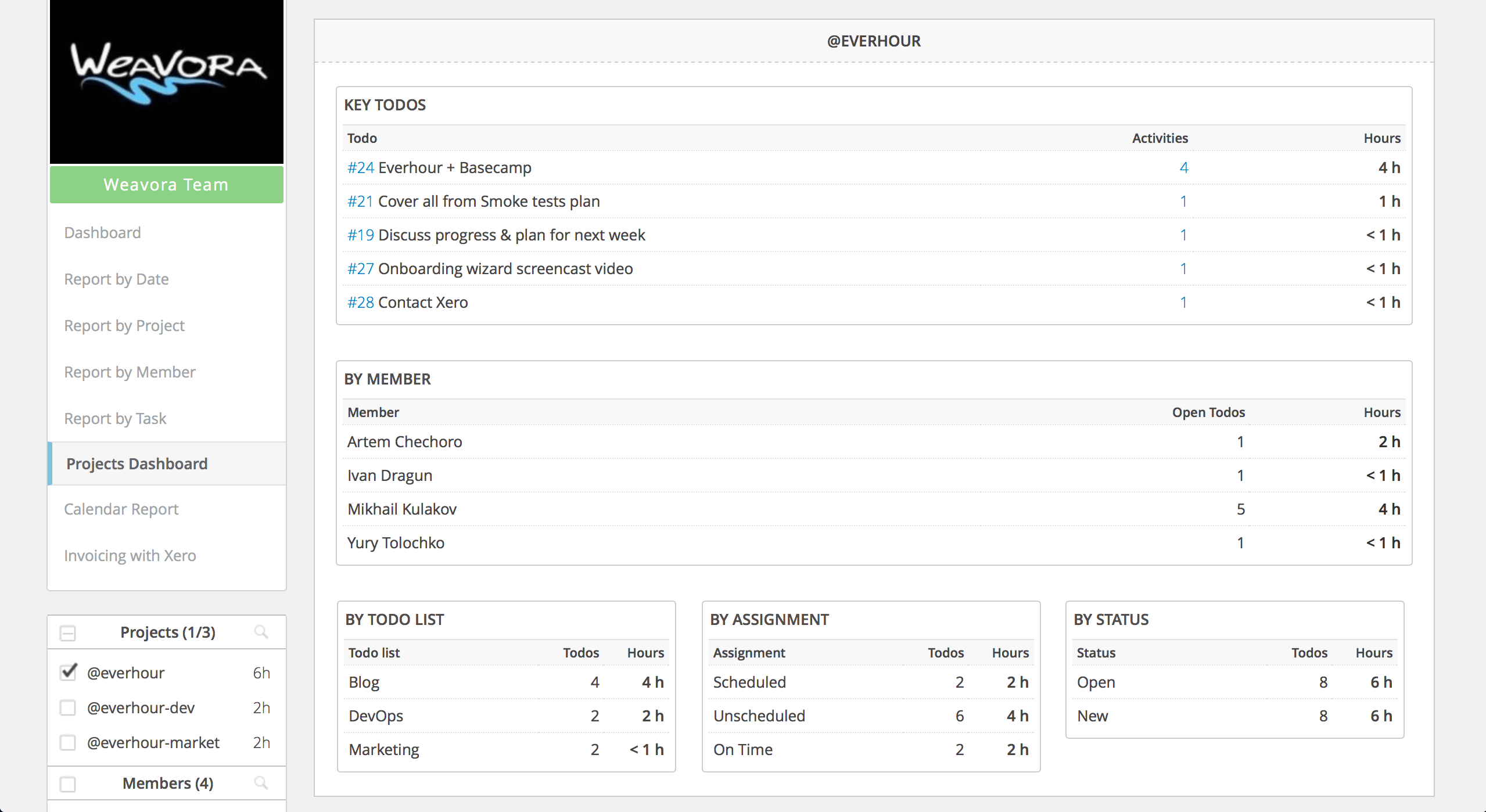 What do you think?
You know how things are working and now it's your turn to speak 🙂 Don't hesitate to try out Basecamp integration and tell us if we have lived up to your expectations.
Your feedback on every piece of new functionality is the way to move forward so hey, Basecamp fans, we hope you'll help us out. The drill is the same: leave a comment below or drop a line at ask@everhour.com. Can't wait to see what you think!