Employee Management Software: Navigating the New Age of Workforce Efficiency
Maria Kharlantseva, November 17, 2023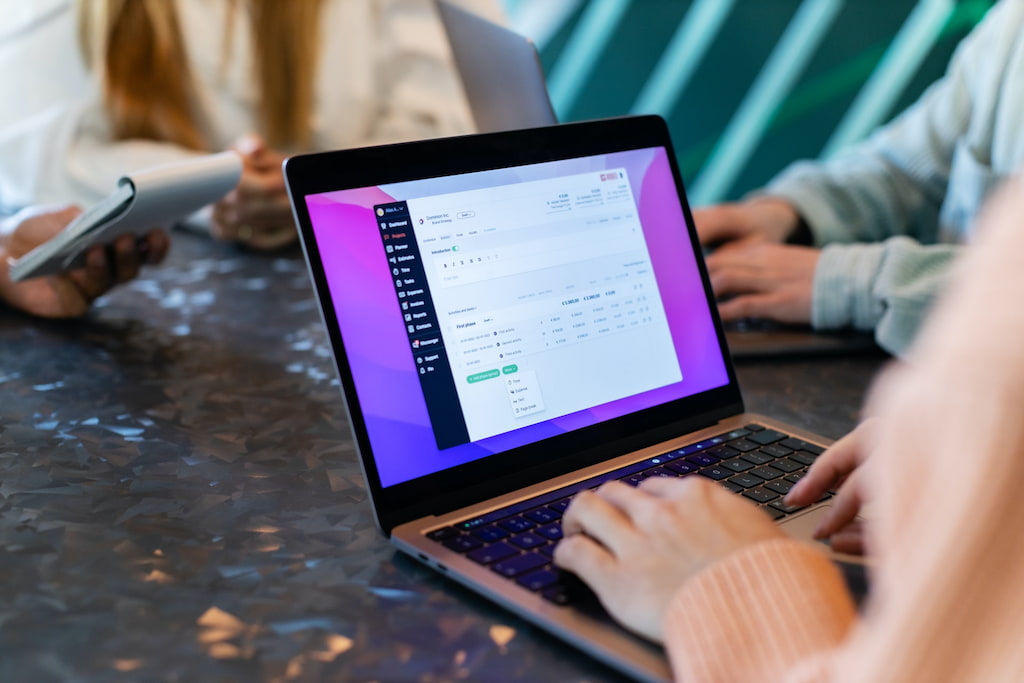 Navigating the complexities of workforce management requires more than just organizational prowess; it demands the right tools. Employee management software stands at the forefront, reshaping how businesses optimize their human resources. This guide delves into the leading solutions, unraveling the capabilities that empower teams and elevate productivity. Explore the essence of efficient staff management software through cutting-edge solutions designed for modern workplace challenges.
What Makes the Best Employee Management Software?
Employee management software, also known as an employee management system, is a powerful tool designed to streamline and enhance various aspects of workforce management. It serves as a centralized platform to oversee and optimize HR-related processes, fostering efficiency in managing personnel across an organization.
When we were working on the list of tools, the following features were taken into consideration:
Centralized employee data management: When exploring employee management software, a pivotal feature is its capability to centralize and organize essential employee data. This ensures quick access to up-to-date information, enabling seamless HR operations and informed decision-making.
Intuitive scheduling and task allocation: Efficient workforce scheduling is a critical component. The software should offer an intuitive interface for creating and adapting schedules, facilitating smooth task allocation and management of varying workflows.
Performance tracking and analytics: The ability to monitor and analyze individual and team performance is paramount. Robust performance tracking features provide insights, enabling organizations to identify strengths, and areas for improvement, and make data-driven decisions.
Effective communication channels: Communication is key in any organization. Employee management software should integrate communication tools, fostering both individual and group interactions. This ensures streamlined information flow and collaboration across the workforce.
Adaptability and regular updates: The software's adaptability to evolving organizational needs is crucial. Regular updates and improvements showcase a commitment to staying current with industry trends, ensuring the software remains a valuable asset in a dynamic work environment.
By focusing on these key features, organizations can harness the full potential of employee management software to create a more efficient, organized, and collaborative workplace.
---
The Best Employee Management Tools Overview
| | | | |
| --- | --- | --- | --- |
| Tool | Pricing | Free Plan | Best For |
| Everhour | Starts at $5 per user per month | Yes | Time tracking and team/project management |
| Shifts by Everhour | Free | Yes | Employee scheduling |
| monday.com | Basic: $8/user/month | Yes | Versatile workflow and team management |
| Connecteam | Starting at $39/user/month | Yes | Mobile workforce management, effective communication |
| BambooHR | Custom | No (free trial available) | HR management, centralized employee records |
| Zenefits | Essentials: $10/user/month | Yes | All-in-one HR solution, streamlined benefits administration |
| Rippling | Custom | No (free trial available) | HR and IT automation, seamless employee onboarding |
| Paycor | Custom | No (free trial available) | Comprehensive HR and payroll management |
---
8 Best Employee Management Tools
Everhour
The first tool on our list is Everhour. It is a time tracker uniquely tailored to enhance your time management experience. With a commitment to flexibility and efficiency, this time clock app empowers users with a diverse set of features to optimize their work schedules. Everhour excels in employee management by providing intuitive time tracking, efficient task allocation, and comprehensive reporting for streamlined workforce supervision.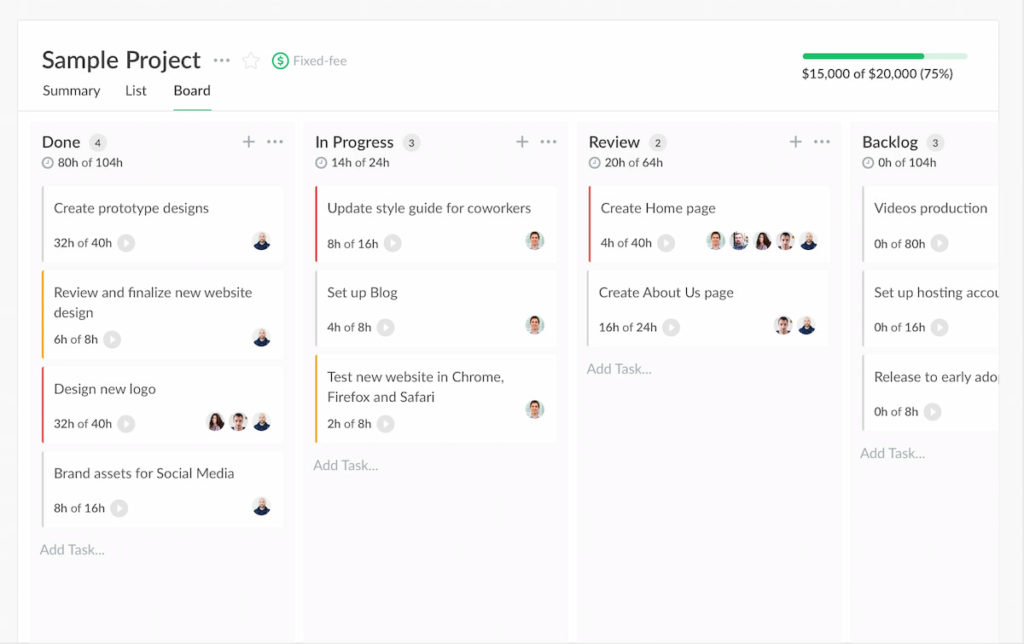 Key features
Precise time tracking: Everhour offers accurate time tracking down to the minute, empowering you to monitor and optimize your team's workload effectively.
Seamless integrations: Integrate Everhour effortlessly with popular project management tools such as Asana, ClickUp, and Notion, creating a unified platform for streamlined collaboration.
Real-time reporting: Gain invaluable insights into your team's activities with real-time detailed reporting. Make informed decisions and keep projects on track with data-backed decisions.
Task management excellence: Organize your work with Everhour's robust task management tools. Create, prioritize, and break down projects into manageable steps with ease.
Resource allocation: Wisely allocate resources by tracking team member workloads and project timelines, ensuring optimal productivity and efficient project completion.
Customizable reports: Tailor your reporting experience with customizable reports, providing either detailed project breakdowns or a broad overview of your team's workload.
Pricing
Free Plan
Lite Plan: $5 per user per month
Team Plan: $8.50 per user per month
---
Shifts by Everhour
Shifts by Everhour emerges as a versatile gem among employee management tools, with a primary focus on efficient employee scheduling. Tailored for small to medium-sized businesses, this employee management app offers a robust solution to streamline and optimize your workforce management processes. Whether you're a retail establishment, healthcare provider, or any industry relying on shift-based work, Shifts empowers you to optimize your workforce efficiently.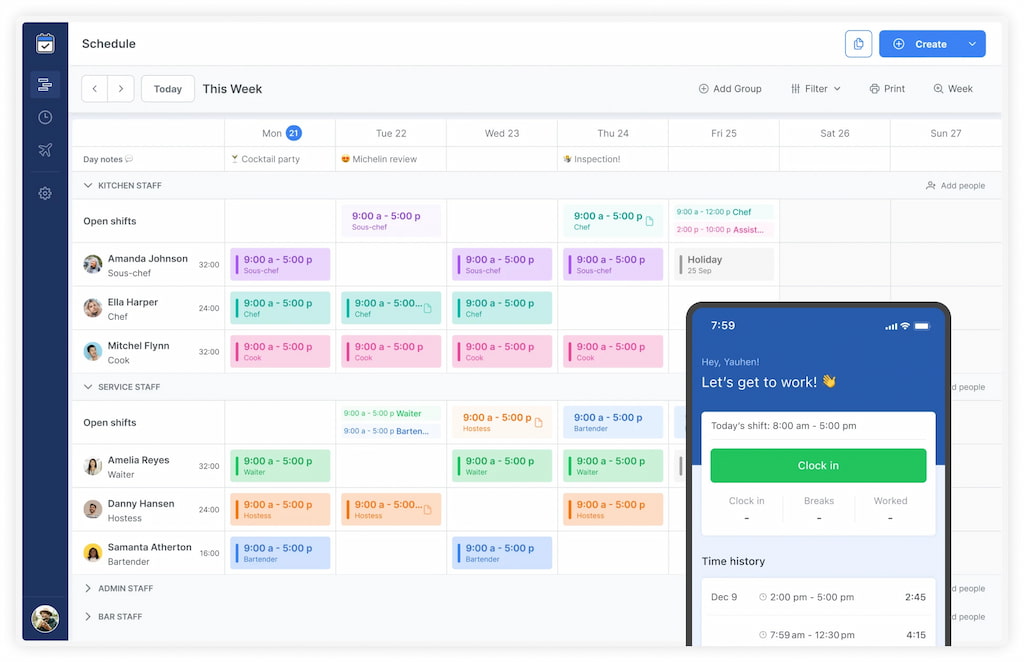 Key features
Effortless shift management: Its user-friendly interface, featuring an intuitive drag-and-drop functionality, allows you to assign shifts seamlessly and make adjustments with ease.
Availability insights: Shifts provides a transparent view of each team member's availability, helping you make informed decisions and preventing scheduling conflicts.
Real-time collaboration: Through the mobile app or web portal, employees can access their schedules, initiate shift swaps, and request time off instantly, ensuring everyone stays informed and aligned.
Kiosk time tracking: This time clock terminal allows employees to clock in and out seamlessly, eliminating the learning curve and ensuring accurate time tracking.
Mobile clock-In/out: Employees can conveniently track their working hours on the go using their smartphones, adding a layer of convenience to their daily routines.
Tailored reporting tools: Through Shifts by Everhour's customizable reporting tools, you can tailor reports to analyze data specific to your business, gaining a deeper understanding of your workforce dynamics.
Pricing
Free
---
Monday.com
Monday.com stands out in the realm of employee management systems, becoming one of the most popular choices for businesses seeking versatile and effective solutions.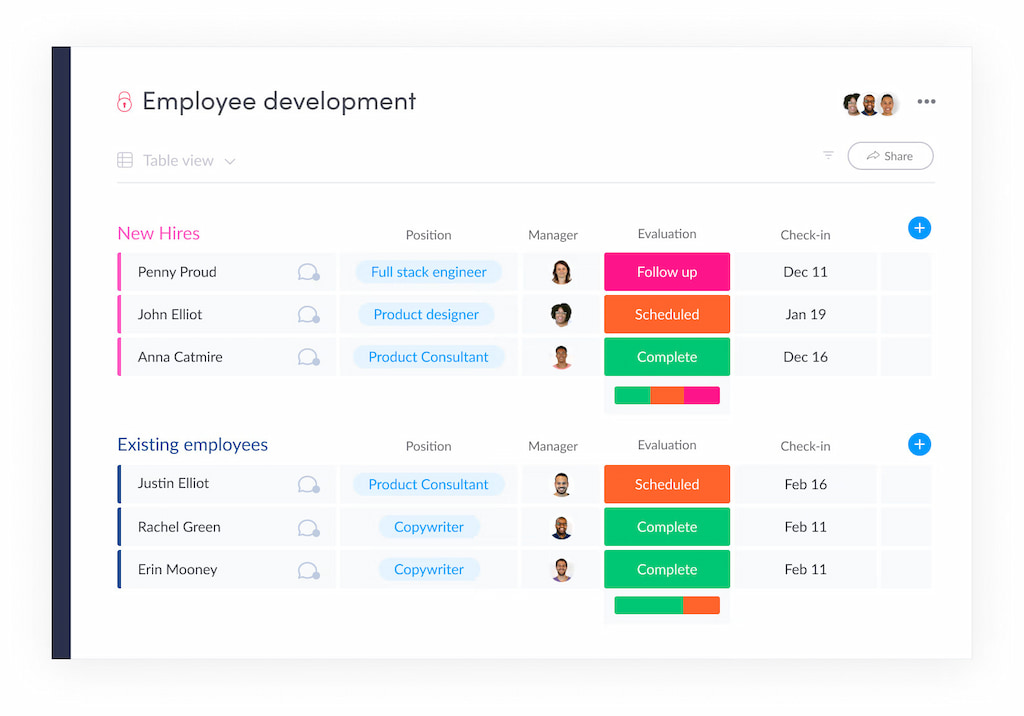 Key features
Visual workforce coordination: Elevate your workforce management with Monday.com's visual project management. Its intuitive platform simplifies task organization, making it a cornerstone for effective employee management.
Collaboration hub for teams: Cultivate collaboration through robust features like file sharing and transparent communication. Monday.com fosters instant feedback, fostering unity crucial for streamlined employee management.
Adaptable workflows: Tailor workflows to your organization's unique processes. Monday.com's flexibility ensures that your employee management system aligns seamlessly with specific industry requirements.
Automated task tracking for efficiency: Streamline workforce processes with automated task tracking. By minimizing manual efforts, Monday.com empowers your team to concentrate on strategic aspects, enhancing overall efficiency in employee management.
Pricing
Free plan
Basic Plan: $8/user per month
Standard Plan: $10/user per month
Pro Plan: $16/user per month
Enterprise Plan: Custom pricing
---
Connecteam
Connecteam stands out as a comprehensive employee software solution designed to elevate workforce management. Tailored to meet the diverse needs of businesses, it offers a robust set of features to enhance employee engagement and streamline organizational processes.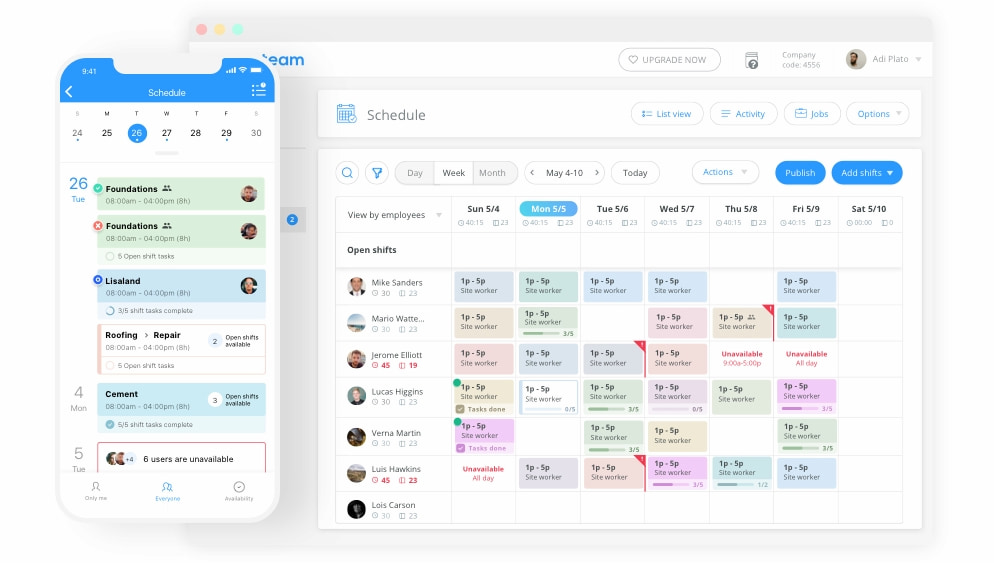 Key features
Communication hub: Connecteam serves as a centralized communication hub, facilitating seamless interaction and collaboration among team members. Features like group chats, announcements, and feedback forms ensure effective communication within the organization.
Task and project management: This employee software excels in task and project management, allowing teams to organize and prioritize assignments efficiently. With features like task lists, checklists, and project timelines, Connecteam enhances productivity in a structured manner.
Mobile workforce management: Connecteam caters to businesses with a mobile workforce, providing tools for on-the-go management. Mobile clock-in/out, location tracking, and scheduling flexibility empower businesses to manage remote or field employees effectively.
Training and knowledge base: An integrated training module enables organizations to create and deliver training materials. Connecteam empowers businesses to build a knowledge base, ensuring employees have access to essential resources for skill development.
Pricing
Starts at $29 per user per month when billed annually.
---
BambooHR
BambooHR emerges as a dedicated employment management software designed to simplify HR processes and elevate the employee experience. With a focus on user-friendly solutions, BambooHR empowers organizations to manage their workforce efficiently.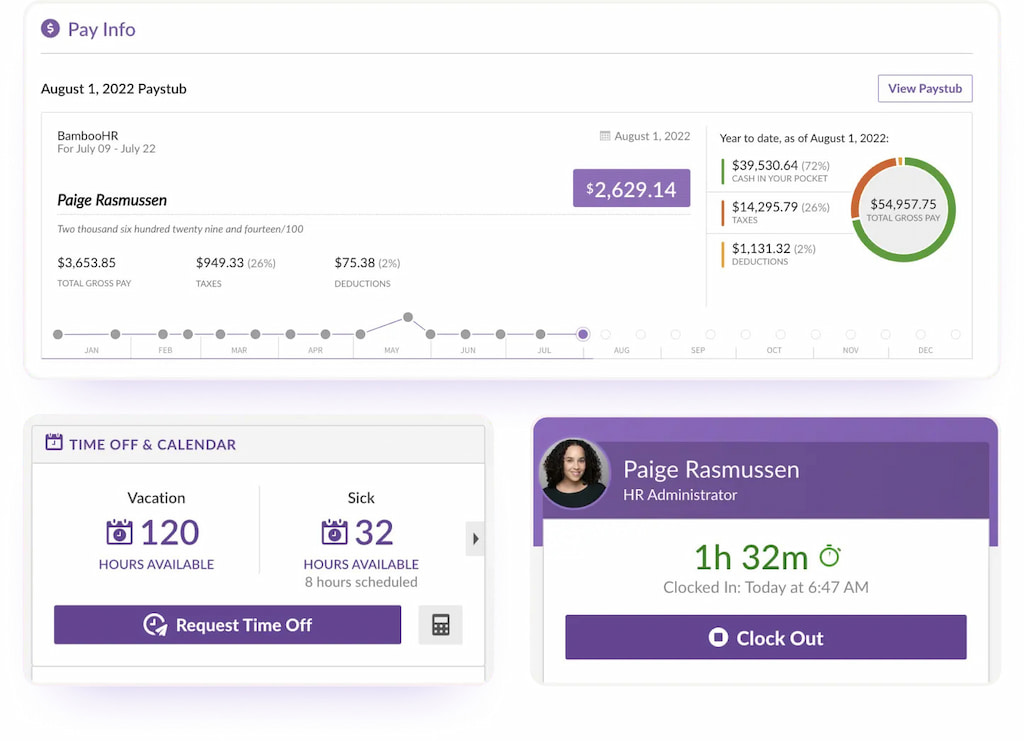 Key features
Employee self-service: BambooHR promotes employee self-service, allowing individuals to access and update their personal information, submit time-off requests, and view company policies. This feature fosters transparency and empowers employees in their HR interactions.
Applicant Tracking System (ATS): A robust ATS streamlines the hiring process, from posting job openings to managing candidate communication. BambooHR's ATS helps organizations attract top talent, ensuring a smooth and organized recruitment experience.
Performance management: BambooHR includes features for performance management, facilitating goal setting, continuous feedback, and performance reviews. This ensures a collaborative approach to employee development and aligns individual goals with organizational objectives.
Custom reporting and analytics: The software provides custom reporting and analytics tools, enabling HR professionals to derive meaningful insights from employee data. BambooHR's reporting capabilities support informed decision-making and help organizations track key HR metrics.
Pricing
Custom pricing
---
Zenefits
Zenefits stands out as a comprehensive employee management solution that goes beyond traditional HR software. Recognized for its user-friendly approach, Zenefits empowers businesses to manage HR tasks seamlessly, allowing them to focus on their core objectives.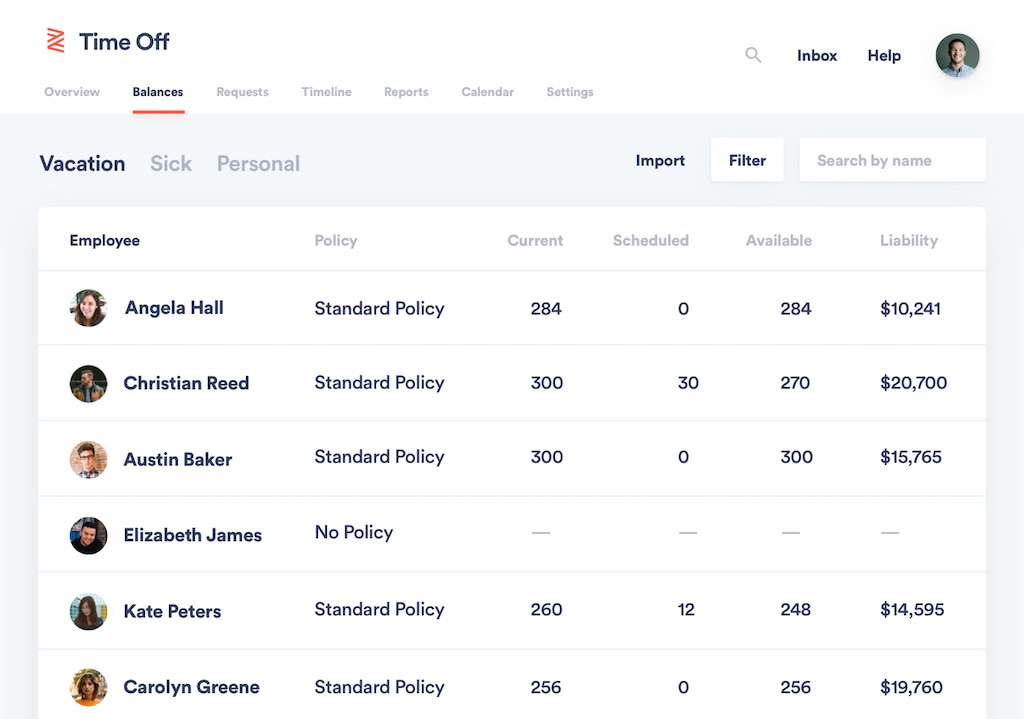 Key features
Integrated HR platform: Zenefits offers an integrated HR platform that consolidates various HR functions, including payroll, benefits administration, time tracking, and compliance. This streamlined approach simplifies HR processes and ensures data accuracy.
Automated payroll processing: The platform features automated payroll processing, reducing the complexity of payroll management. Zenefits automates tax calculations, deductions, and compliance, ensuring accurate and timely payroll disbursements.
Employee benefits management: Zenefits excels in benefits administration, allowing businesses to manage health insurance, retirement plans, and other employee benefits effortlessly. The platform provides employees with self-service options for benefits enrollment and changes.
Time and attendance tracking: With Zenefits, businesses can streamline time and attendance tracking. The platform integrates with various timekeeping systems, providing accurate insights into employee work hours, overtime, and attendance patterns.
Pricing
Starting at $8 per employee per month for the Essentials plan, with full access to all features, including payroll.
---
Rippling
Rippling stands out as a comprehensive employee management solution that goes beyond the ordinary. With a focus on simplifying HR processes and ensuring a seamless experience for both administrators and employees, Rippling offers a unique approach to workforce management.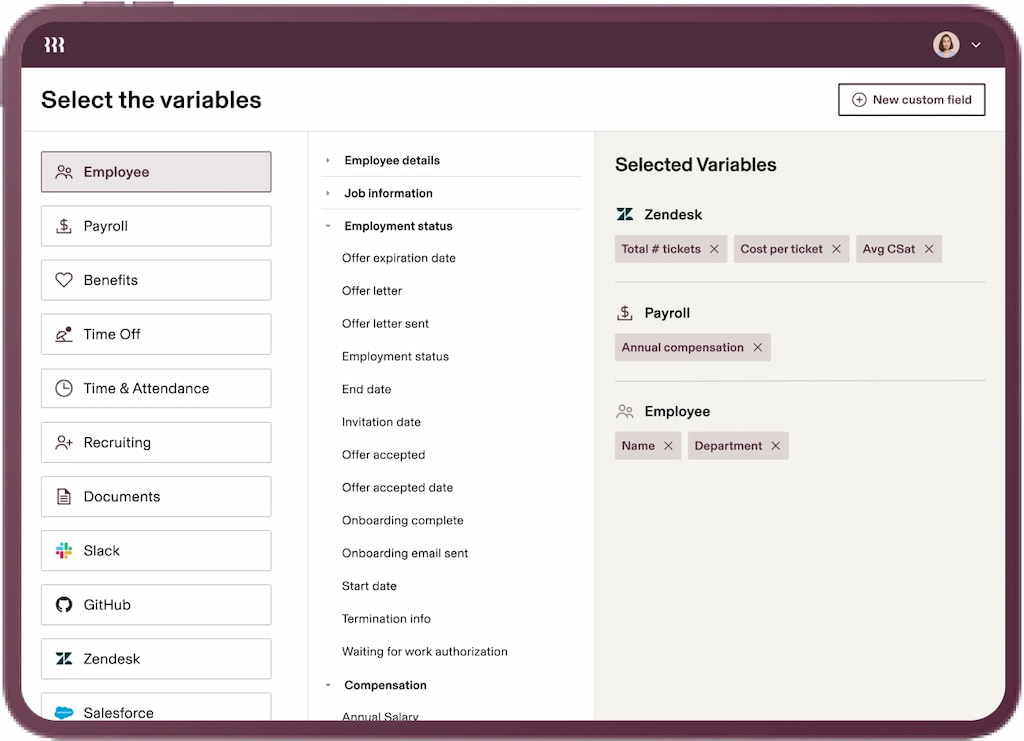 Key features
Unified employee profiles: Rippling consolidates employee information into unified profiles, streamlining HR tasks. From personal details to job-related information, everything is easily accessible, reducing administrative burdens.
Automated onboarding: Rippling automates onboarding tasks, guiding new hires through the necessary paperwork, system setups, and introductions to team resources.
Payroll made easy: The platform handles complex payroll calculations, tax filings, and compliance, ensuring accuracy and efficiency in every pay cycle.
Benefits administration: The platform allows employees to manage their benefits seamlessly, while administrators can handle enrollments, changes, and compliance effortlessly.
Pricing
Starts at €7 per month per user with other custom pricing options
---
Paycor
Paycor is a dedicated employee management platform designed to simplify HR processes and elevate the overall employee experience. With a focus on efficiency and compliance, Paycor empowers businesses to manage their workforce seamlessly.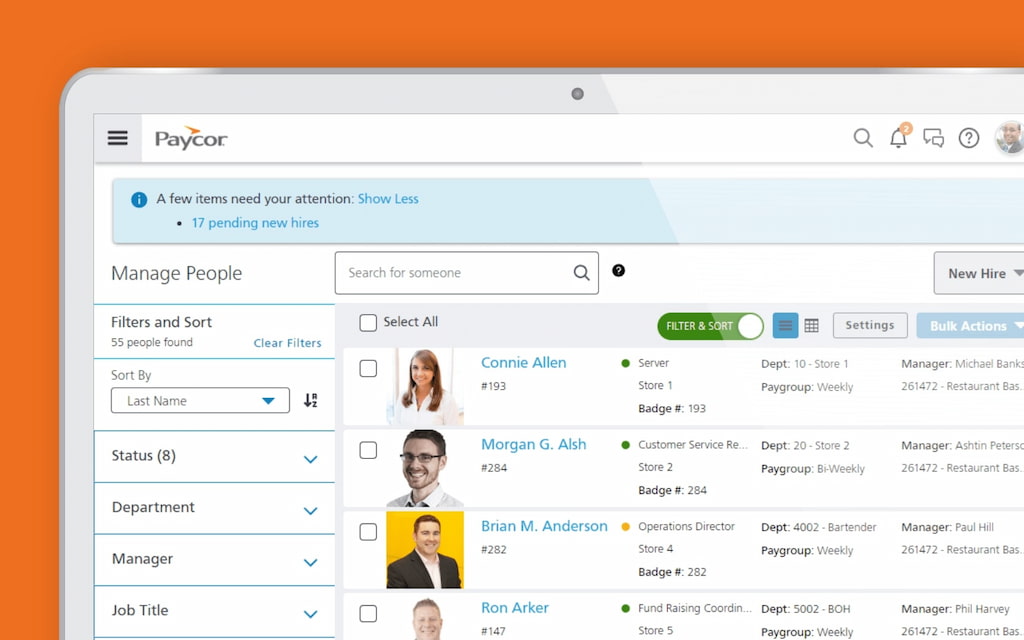 Key features
Time and attendance tracking: Paycor streamlines time and attendance tracking, offering accurate insights into employee hours and attendance patterns. This feature enhances scheduling and ensures compliance with labor regulations.
Employee self-service: Paycor provides a user-friendly portal where employees can access pay stubs, update personal information, and handle routine HR tasks independently.
Compliance management: The platform automates compliance tracking, reducing the risk of errors and ensuring your HR practices align with the latest legal requirements.
Customizable reporting: Tailor reports to meet your specific needs, whether it's analyzing payroll data, monitoring employee performance, or tracking compliance metrics.
Pricing
Custom pricing
---
Extra Apps for Employees for Specific Purposes
Leapsome: Employee engagement and performance management
Leapsome stands out for its robust employee engagement and performance management features. With tools for feedback, recognition, and goal setting, Leapsome fosters a positive and collaborative workplace culture.
Eddy: Streamlined HR operations
Eddy focuses on simplifying HR operations, offering tools for onboarding, benefits management, and time tracking. Its user-friendly interface ensures a smooth experience for both HR professionals and employees.
Lattice: Performance management and feedback
Lattice specializes in performance management and continuous feedback. It empowers organizations to drive employee growth through goal setting, real-time feedback, and performance reviews.
Justworks: Comprehensive HR and payroll solutions
Justworks provides end-to-end HR and payroll solutions, making it a comprehensive choice for businesses. It covers everything from benefits administration to compliance, simplifying the complexities of HR management.
Deel HR: Global payroll and compliance
Deel HR is renowned for its global payroll and compliance solutions. It enables businesses to navigate international hiring with ease, ensuring compliance with local regulations and payroll accuracy.
Kissflow HR Cloud: Workflow automation
Kissflow HR Cloud excels in workflow automation for HR processes. From employee onboarding to leave requests, Kissflow streamlines tasks, allowing HR teams to focus on strategic initiatives.
Litmos: Employee training and learning management
Litmos specializes in employee training and learning management. It provides a scalable platform for creating, delivering, and tracking training programs, ensuring continuous skill development.
Workday: Unified HR and finance
Workday integrates HR and finance functionalities, offering a unified platform for managing workforce data and financial operations. Its cloud-based approach enhances collaboration and data accessibility.
ClickUp: Task and project management for teams
While known for project management, ClickUp also supports team collaboration and task tracking. Its versatility makes it a valuable tool for teams aiming to enhance productivity and communication.
---
What Employee Management Software to Choose?
In the grand choreography of work life, these employee management solutions are the backstage crew ensuring a flawless performance. From scheduling to engagement, they're the unsung heroes making sure nobody misses their cue. Say goodbye to HR headaches; with these tools, it's all harmony and no off-key notes in the symphony of employee management solutions!