When you need to collect information about your customers' or users' preferences or simply gather feedback from them, free-form and survey apps can come to your rescue. The latest form apps make it a really pleasant experience to fill in the form fields. While even the most traditional form app can be exciting if it's helping your business grow.
There are dozens of great form builders and survey tools that you can use. So which should you use? Below you'll find the best from our point of view.
Another important metric you can use is the so-called Net Promoter Score (NPS). It is a number that represents how loyal your customers are. This article gives you a holistic idea of them too.
Let's go!
Free Form, Form Automation Apps
Google Forms
Best for:

Free forms built into Google Sheets;

Free for:

Unlimited forms & entries;

Price:

Free with a Google Account (f

rom $5/month with Google Apps for Work);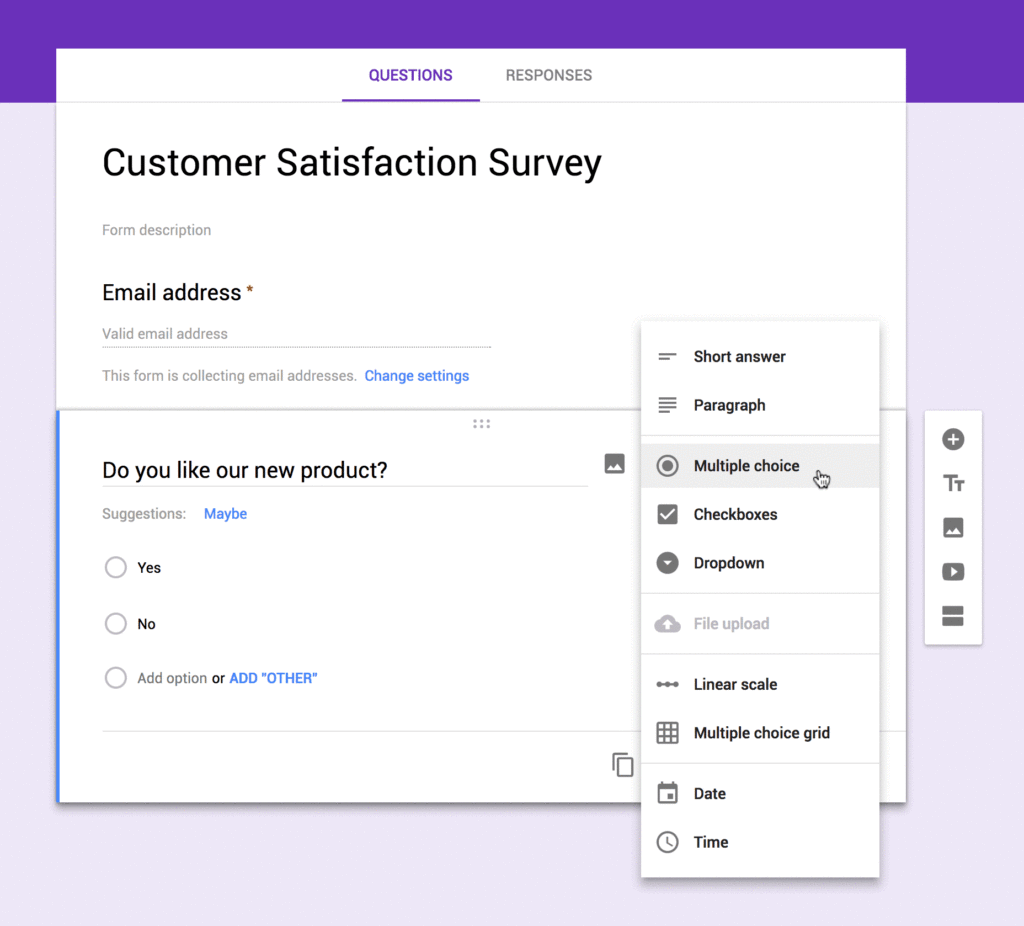 I might be a bit too subjective, but Google Forms is one of the best free-form and survey apps ever. And you know why? It's really easy to start. It includes all the basic form fields you'd expect. And, it can automatically save your form data to a Google Sheets spreadsheet and you can conduct advanced analysis with the help of it. Cool, isn't it?
With Google Forms, you have fields for text, multiple-choice questions (basically, there are 9 question types in Google Forms), drop-down menus, some basic color-and-photo themes to quickly adjust forms. Also, you can add extra fields and features that are backed by Google Forms add-ons. This last one is a unique feature as compared with other form apps. The forms are shareable so that you can work on them with your team and come up with the best form.
With Google Forms, you can share the form privately with only people inside your Google Apps team, or with anyone with the link. Also, you can opt to embed it on your website or share it via email or social media channels. As soon as you get the responses, you will see them in simple graphs under the Responses tab. Or as mentioned above, you can see them on the Google Sheets spreadsheet.
And once again, it's super-fast: editing form fields in the Google Form editor takes no time at all.
With Google Forms, you can do the following:
Make forms and surveys free of charge;

Receive a quick graph of the responses or get them on a spreadsheet;

Choose a header background;

Add YouTube videos and images to your forms;

Create interactive forms;

Collectively build forms with your team;
With Google Forms, you cannot do the following:
Create fields for payments;

Create fields for uploads;
So, basically, if you want to make a quick survey or a nice registration form, Google Forms is the perfect fit. It's one of the simplest free form and survey apps you can find. And, while it might not be as sophisticated as other form tools, it's definitely one of the quickest to set up and run.
Wufoo
Best for:

Creating reports;

Free for:

3 forms, 100 entries/month;

Price:

$14.95/month;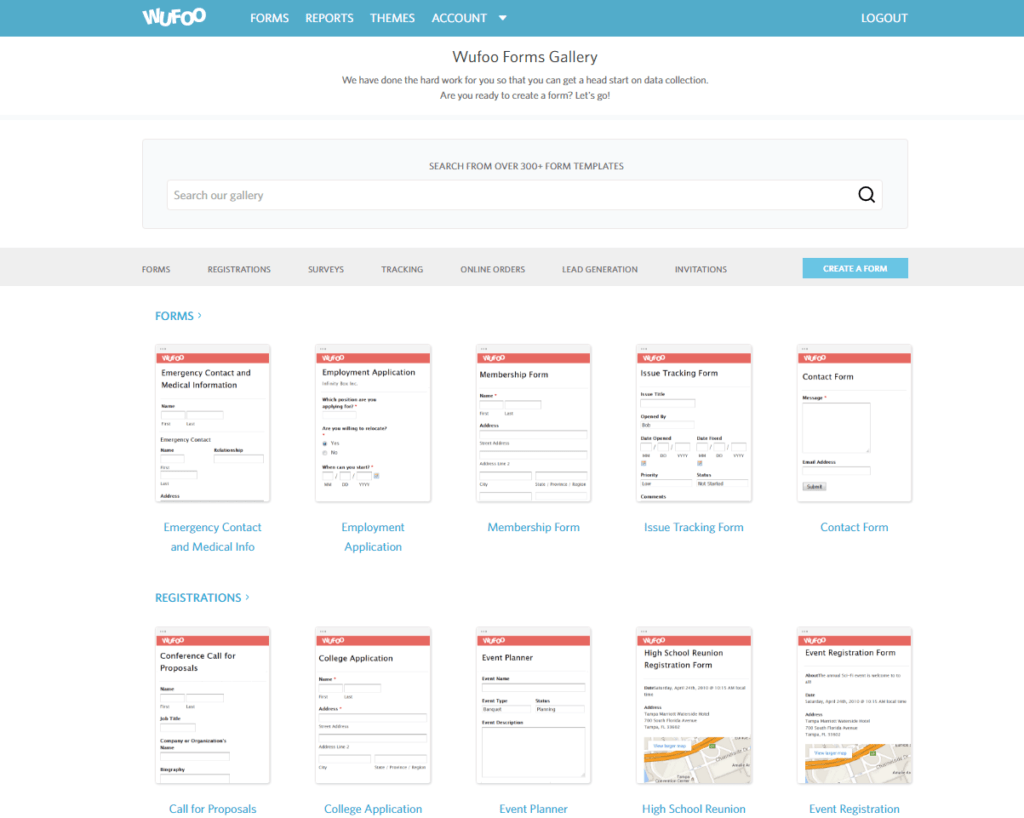 Wufoo is one of the oldest free form and survey apps. Besides being one of the first players in the game, Wufoo is also a really nice-looking tool with lots of helpful features. Let's mention it first that, unlike Google Forms, Wufoo has got a few more features including payment processing services and a file uploader that lets people submit images and documents. In addition, over a hundred form templates and themes are at your disposal so you can get started quickly and easily.
You might think I am all into praising Wufoo, but I cannot help but say that it also has got a powerful report generator tool that is really easy to use. You can choose the graph or table style you desire to show you your data. Also, with a few clicks in the settings, you can get a really detailed analysis of the answers without the need to open a spreadsheet.
With Wufoo, you can do the following:
Easily create forms with a drag-and-drop form builder;

Get advanced reports and analytics;

Seamlessly integrate forms with Facebook Pages, WordPress, and Confluence;

Accept payments in forms;
If compared, Wufoo has many features, integrations, designs which come with a price, as most good things do. Google forms, on the other hand, is a free and simple yet hard-to-customize tool. Choose the right tool by determining your needs first. What may work for me, might not work for you.
Survey Builder Tools
Typeform
Best for:

Beginners, Startups;

Free for:

Unlimited forms, 100 entries/month;

Price:

$35/month;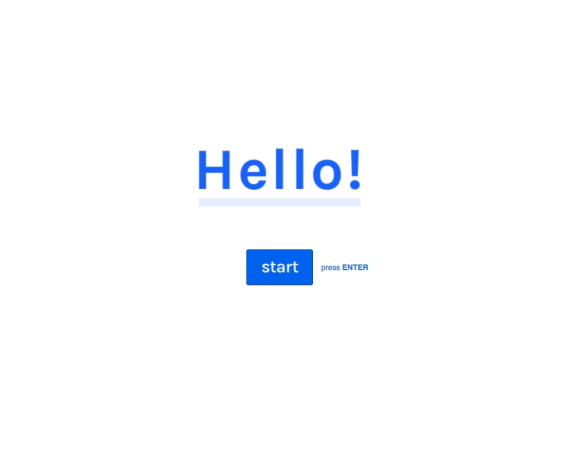 To me, Typeform is one of the most gorgeous and well-designed free form and survey apps. The interface design is God-level! While other apps show the whole page with the questions, Typeform makes each question appear separately in a beautiful and new interactive design. Which results in a more "human" approach in terms of interface. And this is very important nowadays as people expect forms to be more "fun" and have good design.
If you are a fan of original solutions, then you will definitely fall in love with Typeform!
One more thing that makes Typeform stand out from the crowd is that it is extremely mobile-friendly. Its buttons are really huge and this makes it easily usable on mobile devices.
With Typeform, you can do the following:
First of all, enjoy the great interface;

Add images, videos, and more to your forms;

If you are using pro-forms, you can do payments and more;

Use images as buttons;

Real-time analytics dashboard. Which is fantastic for seeing key metrics like completion rates across devices, time to complete, etc.;
The pricing is pretty simple. Note that the Pro version which includes quite a lot of things like custom branding, webhooks and more is starts from only $70 per month.
SurveyGizmo
Best for:

Occasional simple surveys;

Free for:

100 responses per survey, up to 3 active surveys at a time;

Price:

$25/month;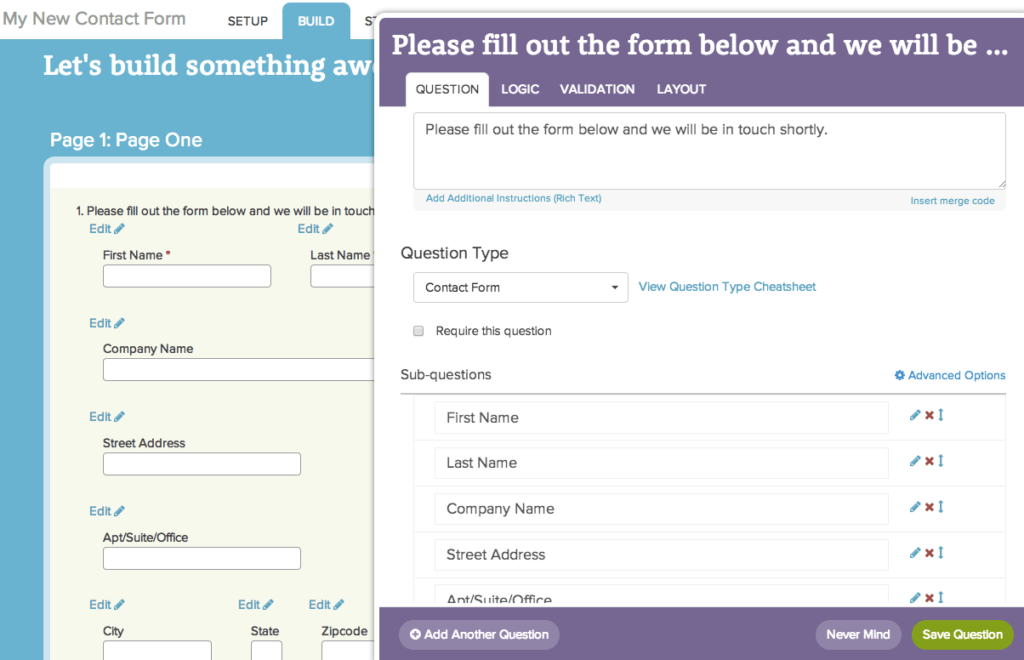 SurveyGizmo might be a bit slow as compared with other free form and survey apps. However, it has got great customer service and a lot of nice features. For example, the free version alone has got over 20 question types. If you need more features, you can always move up to the next paid level and then back home again to your free version.
One important feature that SurveyGizmo offers is that you can make your own custom questions. For me, it's a deal-breaker if I cannot add custom questions. This is mainly because sometimes you simply don't want to have to move the entire survey somewhere else just because one small question needs customization.
In addition, SurveyGizmo also does a good job of offering answer reports. And the data is never removed from your account. So, you can always get back to your older reports to throw a fresh look at them.
With SurveyGizmo, you can do the following:
Use layered and more complicated questions;

Get really insightful results;

Receive really good customer service;
NPS Score Tools / Customer Satisfaction Software
Promoter.io
Best for:

Getting insights about your company's performance;

Free for:

250 surveys;

Price:

From $29/month;
This is a Net Promoter Score (NPS) tool that allows collecting scores via a simple email that is sent to your customers or users. It offers a lot of flexibility in designing emails.
When starting the campaign, you will be asked to fill out a form email that you are then going to send to your users. You can customize nearly anything in these templates like the email address, subject line, logo, description, and the NPS question. So this means, you are offered complete freedom for personalizing your email. People usually tend to answer emails that are more personalized. And your customers, of course, need to identify your company or brand through the email they get.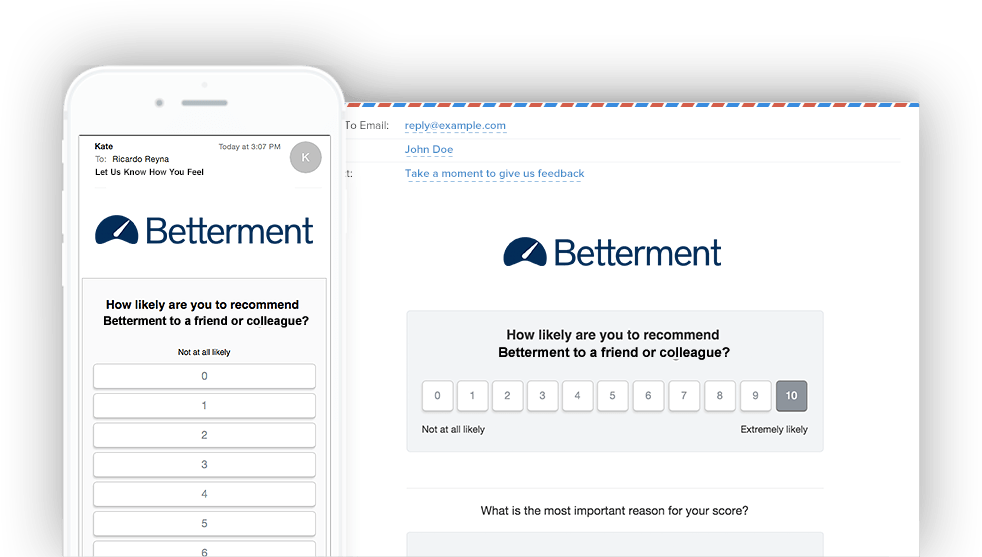 With Promoter.io, you will be able to see feedback from your customers, more concretely, your NPS score right at the top of your dashboard. In addition, in the "responses" tab, you can see the comments from your customers if any. Also, you can answer directly to your customers with the help of this feature.
With Promoter.io, you can do the following:
See "trends" in customer comments and analyze feedback quickly;

Personalize your NPS emails;

Respond directly to customers inside the tool;
Delighted
Best for:

Those who love intuitive interfaces;

Free for:

250 customer surveys;

Price:

From $25/month;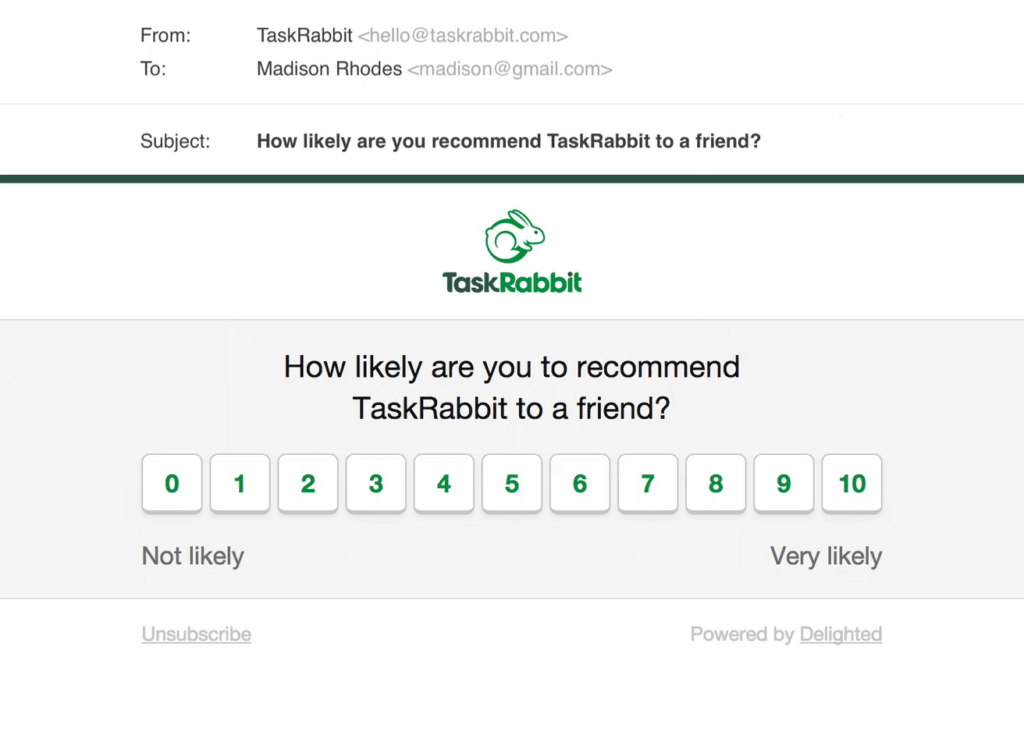 Delighted brands themselves as the fastest and easiest way of gathering actionable feedback from customers. It is a pretty intuitive tool with a nice interface and easy navigation. With the help of Delighted you can find out who likes and who doesn't like your products and/or services.
Delighted works just like Promoter.io. It requires that you add your customer's data like email address and name (optional). You then can send the customers emails with the NPS questions asking them about how likely they would be to recommend your company to a friend. Your customers can answer using the 1-10 rating scale. Also, they can leave additional comments in the comment box. Thus, all this data is added to the system that automatically calculates your NPS. Easy as one-two-three, right?
With Delighted, you can do the following:
Get your NPS really easily;

Segment the data across different categories;

See your data in graphs;

Send multiple surveys to different groups of users;
Final Ideas
So, hopefully, you will try a few of the aforementioned free form and survey apps and will choose the one that suits your business (or even personal) needs best.
Feel free to let us know which one you liked most or which one you would recommend using. Maybe we have missed an important tool out. Let us know in the comments!