Time Intervals Functionality: An Interim Release [UPD]
July 18, 2023
UPDATE as of July 26th: We have restored the previous functionality and behavior of time records, where time entries for the same task are grouped into one line per day. We apologize for any inconvenience this may have caused.
---
UPDATE as of July 19th: In response to the feedback we have received from our customers, we are currently in the process of developing a patch that will restore the previous behavior where separate records are not created. Our dedicated team is actively working on implementing this fix. We sincerely apologize for all inconvenience this have caused.
---
Over the weekend, we unveiled a preliminary release of a new feature – time intervals, along with an API to support it. The initial release has garnered mixed feedback, and we want to provide you with more context and a sneak peek into the future tweaks we have planned.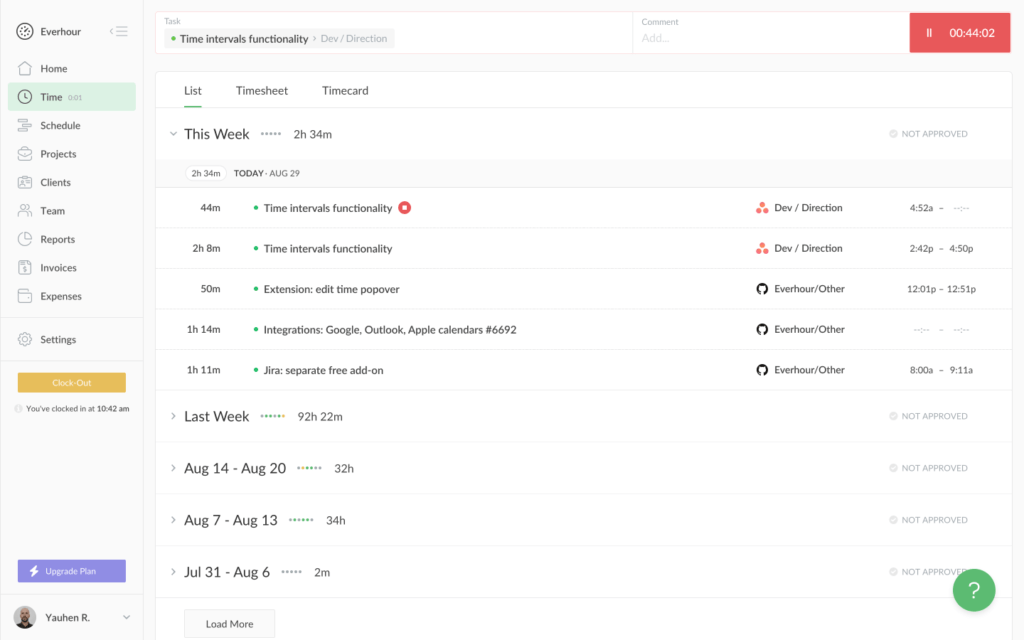 The essence of this new functionality is that when you start a timer, even for the same task, a new record will be created, capturing its own time interval and allowing you to add a specific time comment.
The duplication takes place on the Time page where the data is displayed in the form of a list. However, this will not occur on the Timesheet tab, where the data is always grouped.
While this release may seem a bit rough around the edges, it serves as a crucial first step towards several exciting improvements we have in store. Let's delve into some of the enhancements that this feature will pave the way for:
Enhanced Workday Overview: Soon, you'll be able to effortlessly review your entire day's work, easily identifying any mistakes or missing time entries. This detailed view aims to provide valuable insights and help streamline your productivity.
Comment on Time Spent: We recognize the importance of leaving comments on specific time intervals. You'll have the ability to provide context and additional information for each interval, making your time tracking even more detailed and informative.
Seamless Integration with Project Management Tools: Many of you use project management tools with their own time tracking systems. We are gradually working towards a closer integration that allows smooth synchronization between these tools and our platform. Our old structure presents challenges, so we're determined to find a solution for a more harmonious workflow.
Calendar-based Visualization: The new structure will help us provide a visual representation of your time spent on various tasks and projects. This intuitive display will enhance your ability to manage and plan your time effectively.
And this is just the tip of the iceberg. We have an extensive roadmap of additional improvements and enhancements based on your feedback and evolving needs.
---

The first version of the time intervals functionality may appear slightly disjointed due to the absence of some information, which gives the impression of duplication. Rest assured, this is not the final version, and we are committed to refining and perfecting this feature over time.
Importantly, this interim release does not impact the accuracy of your data and calculations; all the necessary calculations remain correct. We're actively working on addressing minor flaws and omissions, and you can expect these to be rectified in the near future.
We sincerely appreciate your valuable feedback and detailed comments. Your input plays a vital role in shaping the development of our product and ensuring it continues to evolve with your needs. We are dedicated to delivering a seamless and user-friendly experience, and your support is instrumental in achieving that goal.
Thank you for joining us on this journey as we strive to create the best possible time tracking solution for you.
Stay tuned for future updates and improvements!