Personalize Your Shifts: Introducing Custom Shift Titles
September 19, 2023
We're always on the lookout for ways to make managing your team's schedules even more intuitive and efficient. Today, we're excited to introduce our latest feature – Custom shift titles.
With this new addition, you can add a personal touch to your shifts, making them more descriptive and easier to differentiate.
What Are Custom Shift Titles?

Custom shift titles are short, text-based labels that you can assign to your shifts. Each title can be up to 25 characters long and serves as a brief message to better explain and distinguish a shift from others.
Traditionally, a shift is displayed with the time interval on the first line and the position on the second line. However, with custom shift titles, you have the option to replace the default first-line display with your own title. This gives you the freedom to code specific information into a shift in a concise and informative way.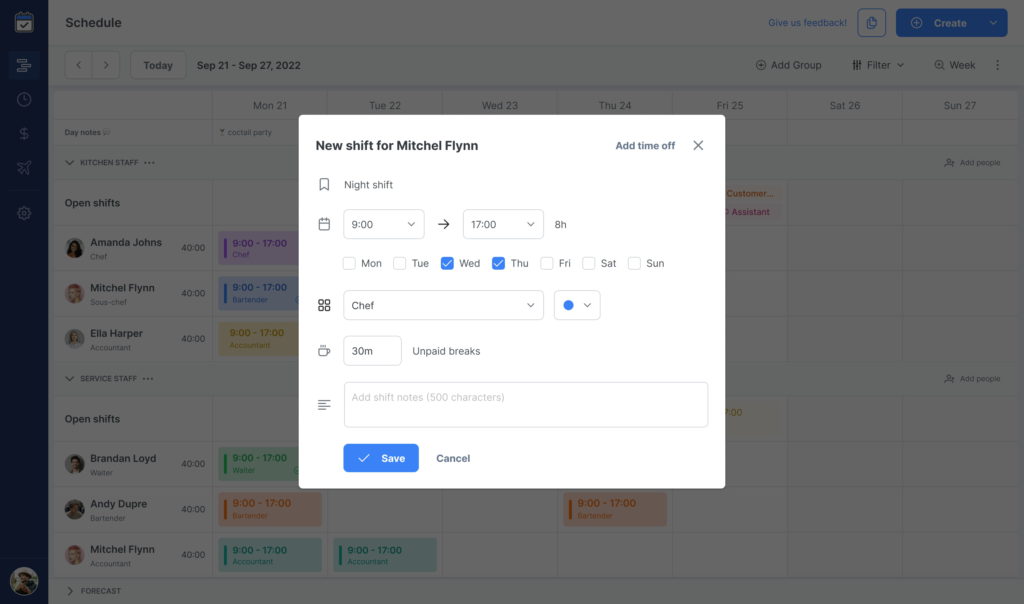 When you're creating a shift, you'll now see an option to add a custom title. Simply type in your title, and it will replace the default first-line display.
If you choose to leave the title field empty, it will display the shift with the time interval on the first line and the position on the second line, just like before.
Why Use Custom Shift Titles?
The possibilities with custom shift titles are endless and can be tailored to your specific needs. Here are some scenarios where this feature can be incredibly useful:
Differentiating Shifts: Easily distinguish between shifts by assigning titles like "Night Shift" and "Day Shift." This makes it clear at a glance what each shift entails, helping your team stay organized.
Location or Client Name: Include client names or specific locations in shift titles to ensure that your team knows where they need to be. For example, you can use titles like "Client: XYZ Corp" or "Main Office" to provide context.
Special Instructions: If a shift has unique requirements or instructions, you can convey them directly through the title. For instance, a title like "On-Site" or "Training" can help your team understand the nature of the shift.
---
Custom shift titles are all about providing you with the flexibility and precision you need to manage your team's schedules more effectively. Whether you want to differentiate shifts, include client names, or convey specific instructions, this feature empowers you to tailor your scheduling experience to match your unique requirements.
As we continue to enhance Shifts app, we're dedicated to listening to your feedback and evolving our features to meet your evolving needs. Stay tuned for more updates and features from us.