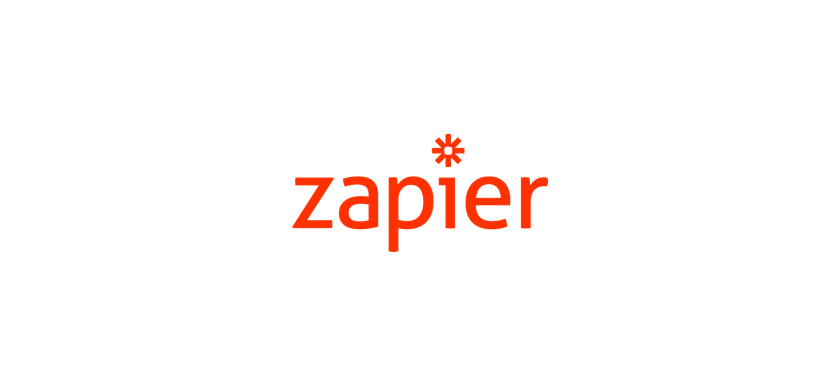 Everhour Integrates with Zapier: Use It To Automate Your Workflows
March 19, 2018 · 3 min read
We are very pleased to announce our Zapier integration today! It means that non-tech people could now integrate Everhour with hundreds of other apps.
Before you start
Please use the following link to join private beta.
Beta does not mean that we aren't sure it works well, but due to a Zapier policy towards all new integrations. A beta means you can't find us on their official list of integrations. But when we reach a certain number of users, Zapier will add us to their public list.
Just use the link and press Accept invite button. Having done that, you can find Everhour while creating a new Zap.
How does Zapier work?
Zapier is often referred to as a translator between web APIs, as it allows you to create connections that push data between apps. Each trigger or connection is called a Zap, which is essentially just a blueprint for a specific task you want to be done continuously.
So essentially, you tell the program, "When I do this in A, do this in B." In this Zap, the first part is referred to as the Trigger and the second the Action.
Through these Zaps, Triggers, and Actions, you can easily move information between web apps and build your own workflows with just a few clicks, all without any coding or development experience. Which is great and incredibly convenient for users, especially if you are a non-technical founder.
We wrote a separate article about Zapier and hacks to use it not so long ago.
Which Triggers and Actions does Everhour offer?
Here is a full list of available triggers: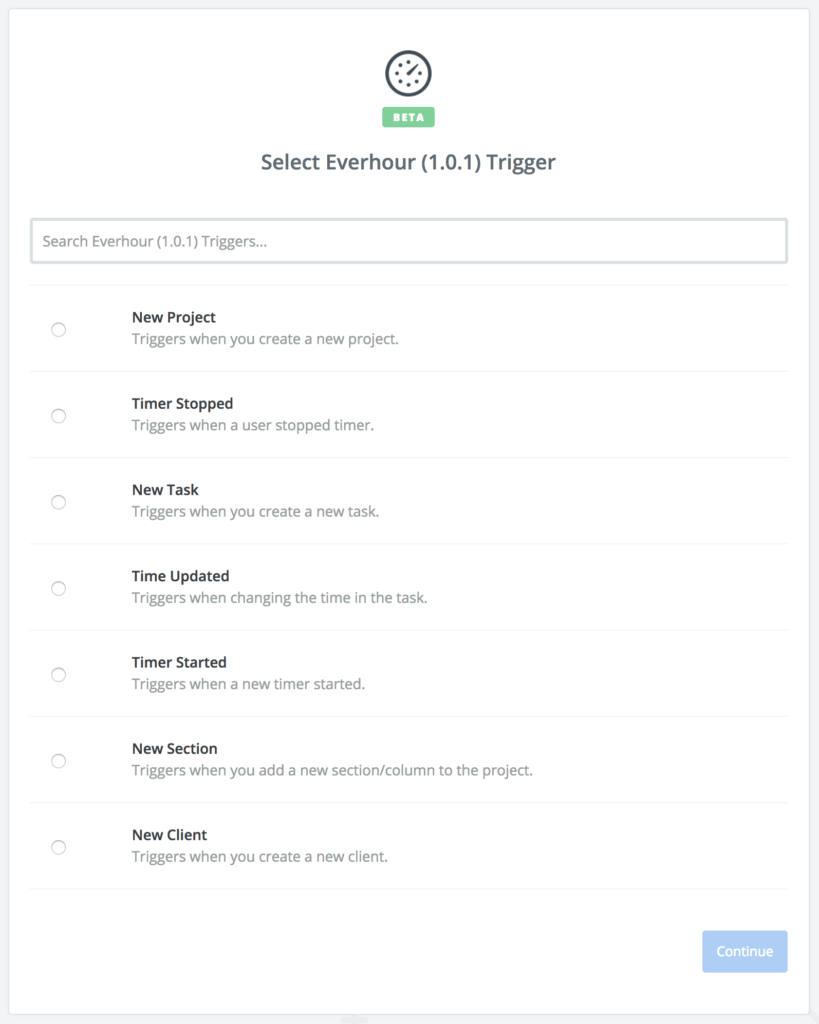 and actions: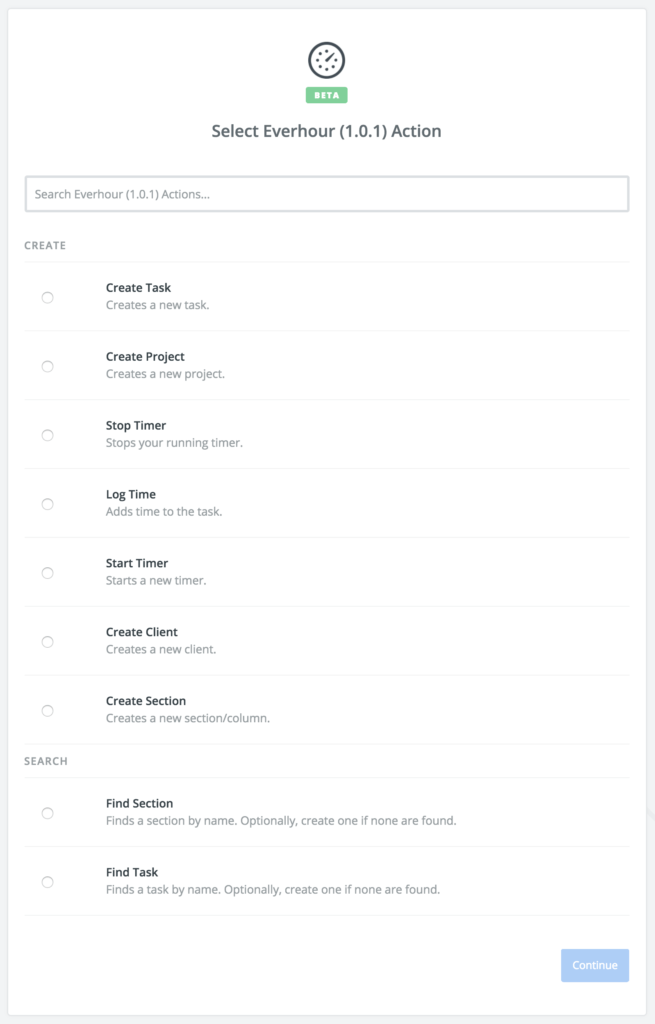 Setting up the Zapier Integration
Let's try creating two simple Zaps together to demonstrate you how to use our integration.
Case 1
I want to check every day whether I have a running timer and stop it automatically when leaving the office if I forget doing so.
Log in Zapier to create a new Zap;
The first thing to do is to set a trigger. Mine is a particular hour of the day. To detect that, I select a built-in app called "Schedule";
My settings: "Every Day" + "7 pm";
I end my trigger by pressing "Fetch and Continue" button;
Then I create an action, i.e. what will happen. I select "Everhour" app and "Stop timer" as my action;
Then I simply authorize, save my Zap and activate it. Now all timers will stop at 7 pm.
Case 2
There is a customer asking for a demo. I schedule it through a Google Calendar and want to automatically create it as a task in my internal Everhour project to track time for.
Go to Zapier to create a new Zap;
Set a trigger which is a new event from my Google calendar (need to select a particular one);
Go to settings: "New event" + "My calendar name";
Now I set an action by selecting "Everhour" and adding "Create a task" as an action;
I need to choose a project and a section to send this task and add the name of the task;
Later I test, save and activate this Zap. Now each time I book a new event in my calendar, a new task appears in Everhour.
There are plenty of variants, some other ideas for you:
Slack + Everhour: create an event in Slack by certain rules from Everhour;
Wave + Everhour: create a new client in Wave when you create it in Everhour;
Zendesk + Everhour: make a new Everhour task when you get a new ticket.
We are looking forward to listening to your variants!
Questions?
Have a question? Leave a comment below or write us at ask@everhour.com!
Have questions or want to learn more? Contact Us!